tl;dr: In my opinion, the best beginner drum sticks are a pair of 5A sticks because its weight and size is easy for most to get used to. I personally use the Vic Firth 5A Hickory sticks. People with smaller hands may want to try 7A sticks which are lighter.
If you've ever walked into a music store thinking that getting a pair of drumsticks would be a breeze, you've probably felt the same despair and confusion when you saw their "wall of sticks".
If you ever had such an experience, fret not this guide is here to help.
Here, I list are some of the best beginner drum sticks for different types of drummers:
There are many choices out there, hence I've narrowed down the range that you can zoom into to make a quick and smart decision.
After looking through 100s of drumsticks for beginners, I've narrow down the selection to just 6:
Comparison of the Best Drumsticks for Beginners
You can click on the name of the drumstick to skip to the section where I share a little more about the sticks and what I thought about it.
Best Beginner Drum Sticks
*Writer's Choice*
Vic Firth 5A – Hickory Drumsticks
If you are an adult learning to drum, the Vic Firth 5A is what I'd recommend you to start with.
In the universe of drumsticks, there are 3 common weights; 2 , 5, and 7. (if you are thinking of purchasing the drumsticks for a kid, read the next section)
On top of the numbers, there are A, B and S drumsticks – the alphabets co-relate to the diameter of the drumsticks. If you are purchasing your first drumsticks at a music store, test out the different sizes and weights. But, if you are in a hurry and busy, and want the drumsticks delivered to you, go for the mid-range drumsticks.
Start with the mid-range if you are beginner. In this case, I'd recommend Hickory 5A drumsticks.
And oh, drumming can be tiring on the arms.
You can probably protect your arms by using hickory wood sticks that are known to absorb shock.
How the Vic Firth 5a 'feels'
The Vic Firth 5A are sticks are lacquered and tend to be less slippery compared to the raw wood finish.
Many drummers agree that they are a pair of balanced sticks that are easy on the wrists, and are friendly to beginners.
Something to note, wooden tips are known to be less durable, especially if you are a heavy cymbal rim thrasher.
If you want them to last longer, you might want to consider the Vic Firth 5A sticks that come with a Nylon tip.
Best beginner drum sticks for kids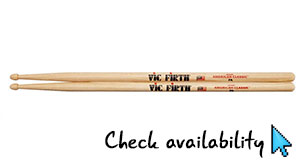 Vic Firth 7A – Hickory Drumsticks
Now…if you are purchasing the drumsticks for your kid, you might want to go for the 7A drumsticks instead.
Younger kids who are learning to play the drums for the first time will find the 7A more comfortable to play with because they are generally lighter in weight than the 5A sticks.
Drummers in the forums and on reddit are still debating on the actual durability of these sticks.
I think that it's probably due to a case of poor quality control
If you notice that your kid is blazing through his sticks and breaking too many of them too quickly, you might want to get the 5A sticks for him to try instead.
Best Beginner Drumsticks for those with sweaty palms
To prevent the drumsticks slipping away from your hands, you might want to consider this: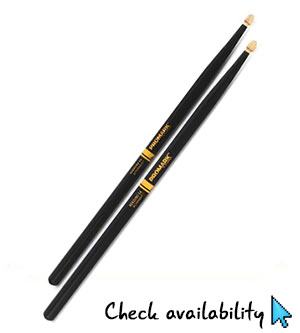 Promark R5AAG Rebound 5A Active Grip Acorn
If you have sweaty palms and don't wish to harm to your instructor, band mates with flying sticks…
Promark seems to have captured the hearts of drummers with sweaty palms with their range of Pro-grip drumsticks and stick wraps.
Now, they have outdone themselves with the Active Grip series which features drumsticks with thin heat activated coating that becomes 'stickier' as your palm temperature increases.
And it seems drummers are raving over it.
The Promark Rebound 5A sticks are a pair of well-balanced drumsticks that are usually smooth and non-sticky.
However, once you (the drummer) start sweating in the palms, the coating on the Promark Rebound is activated and it'll start to feel stickier.
and do not feel sticky until you start sweating during your drumming session.
Plus, the coating doesn't transfer onto your hands, so there's no need to worry about making a mess.
If you want drumsticks that are more responsive, you might want to try the version with Acorn tips instead.
However, in all honesty I could not tell the difference with these tips. And I doubt most beginners would either.
Read what 160+ Promark Active Grip 5A users say about the drumsticks here.
Best Beginner Drumsticks at below $10
What?!
You spent all your moolah on your drumkit and those drumming lessons and have only 10 bucks in your wallet?
5A Maple Drumsticks
A pair of no-frills drumsticks, if you're not looking for a 'branded' pair of sticks, this will be a great beginner option.
You'll want to note that some performing drummers have complained that these sticks break easily. Although I don't forsee this causing any issues for beginner drummers though. You can read what drummers of these 5A maple drumsticks say here.
Regardless of how much you have in your pocket, this drumstick will allow you to get started with drumming. And the better news is that you should be able to afford to get several pairs of these Maple Wood drumsticks…if you can find spare change at the back of your couch.
Do remember that compared to hickory, maple wood is less dense. So you'll be right to expect these sticks to be light and maybe even less durable if you are a heavy hitter.
Who should consider these?
If you are not brand sensitive, this is a great pair of sticks for you.
Or, if you are a beginner who is looking to explore drumming and don't want to spend too much on this new hobby just yet.
However, you should note that these 5A sticks do not come with a finish and may slip while you play.
You might want to consider getting a Stick Grip Spray (like this) if you face any issues with slippery drumsticks.
This stick may not be as long-lasting, but hey, you'll be able to start drumming at a budget!
Frequently Asked Questions
Since I first published this article, we have received some questions from readers.
Here, I answer the common questions we've received and I hope these will help you to choose a suitable pair of drumsticks, as a beginner drummer.
Otherwise, feel free to drop your questions in the comment section below.
How to choose your first drumsticks?
You should always choose your drum sticks based on your playing style and your comfort level.
I've shared some of my thoughts in a previous article, you can read it here: Complete Beginner Guide to Drumsticks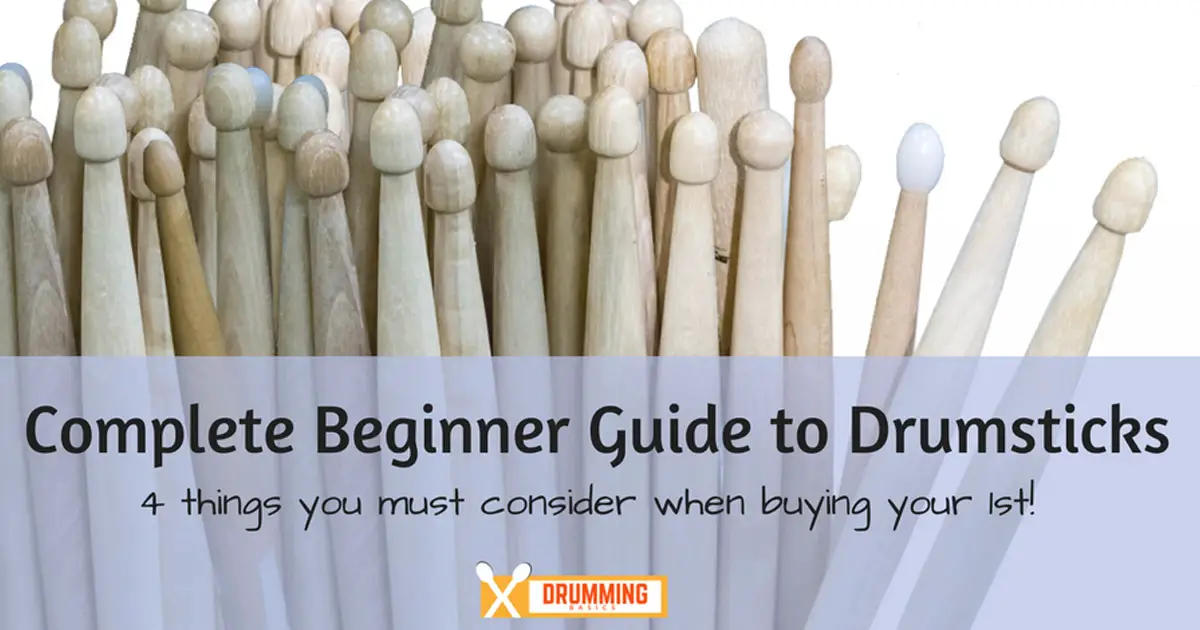 Choosing Drumsticks: What do the Numbers and Alphabets mean?
When choosing your drumsticks, you'll noticed numbers and alphabets that differentiates their sizes.
What do they mean?!
Well, it's simple:
Numbers = weight of the drumstick
Beware, the numbers are inversed to the weight; the higher the number, the lighter the drumstick. 
Standard numbers are: 2, 5, and 7.
Fun Fact; the number originally represented the circumference of the drumsticks. The thicker the sticks, the heavier they are.
Alphabets = thickness of the drumstick
A are the thinnest drumsticks and S are the thickest drumsticks.
Standard alphabets are: A, B, and S.
Fun Fact; the alphabets were originally used to refer to the purpose of the drumsticks, which happened to correspond with the thickness of the stick.
Most manufacturers produce drumsticks with these annotation. However, with the advancement in technology and research, most of them also offer signature drumsticks or unique drumsticks that no longer follow these numbers and alphabets.
You should always seek to test your sticks before purchasing them.
Now that you know what the numbers and alphabets mean;
Which drumsticks are best for a beginner?
Beginners should start with a pair of 5A drumsticks.
You'll find that 5A drumsticks are of average weight and size, hence it is good to start from there.
Girls who are new to drumming might want to start with a pair of 7A drumsticks instead. I personally found the 5A sticks a little too heavy for me when I picked up my first sticks.
What is the difference between 5a and 7a drumsticks?
A 5A drumstick is heavier than a 7A drumstick, but both of them are of the same thickness.
As mentioned above, the numbers on the drumstick gives you an idea of the weight of the drumstick while the alphabet gives you an idea of the thickness.
What size of drumsticks should I use?
Your choice really depends on your playing style and your music genre.
It would be advisable for you to test out drumsticks of different sizes and designs whenever you can.
Here's a quick guide:
Pop music drummer: 5A drumsticks
Heavy metal drummer: start with 5B sticks if you are new. Try 2B sticks if you want something heavier.
Read our guide to the best drumsticks for heavy metal drummers for more.
Marching Band drummer: Look for 'S' series sticks, these were originally created for you.
How to stop drumsticks from slipping from my hands?
One of the most common issues with drumsticks is grip.
No drummer would want a stick to fly across the stage during a performance.
If you have sweaty palms, you probably have it worse. Consider the Promark Active Grip (skip up to our review) or consider any of these accessories:
Tape
Drummers tape their sticks for different reasons, but the main reason is grip.
Experienced drummers often recommend the Promark Black Stick Rapp drumstick wrap in forums.
You do have to note that you'll need to paste the stick wraps onto your drumsticks manually.
Fun Fact: Drummers in bucket brigades or marching bands tend to decorate their drumsticks for visual reasons.
If you are looking to decorate your stick, consider electric tapes as a cheaper alternative.
Grip Spray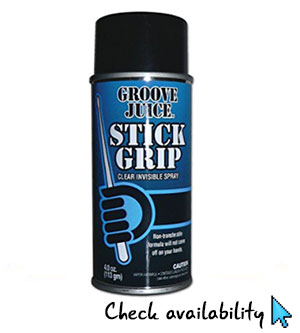 Stick grip by Groove Juice is a product that has been highly recommended in many drum forums.
It's a transparent rubber based spray-on adhesive that improves the grip on your drumsticks.
So, you don't have to worry that the stick grip spray adhesive will stick onto your hands after they are dried. (Sweaty palms, rejoice!)
Plus, the stick grip adhesive does not (significantly) affect the weight or dimension of your sticks so you won't have to readjust to your sticks after applying the grip spray.
Drummer gloves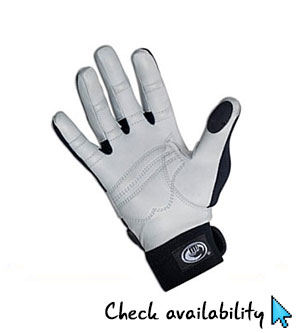 There are long standing debates on whether you should use drummer gloves.
However, I'm on the side that drummers should make use of whatever equipment they can get their hands on, to drum better.
Drumming gloves are usually worn for 2 purposes;
To improve grip or to,
To reduce the occurrence of callus on your palms and fingers
I think it boils down to personal preference.
Many famous drummers wear gloves too.
Some of them include: Phil Rudd (AC/DC), Johanne James (Threshold) and Carter Beauford (Dave Matthews Band).
Start drumming!
I hope this article has helped you with choosing your first drumstick.
Remember!
When choosing your first pair of drumsticks, you should consider the weight, feel and durability of the drumsticks that you are considering.
Let me know which sticks you chose, in the comments below!