Ok, so after getting over the excitement of finally having a drum practice pad to start my drum practice at home with, it was time to start practicing!
(If you missed it, here's my review of the Vic Firth 6 inch Single Sided Drum Practice Pad)
Yay!
There probably are many ways to practice using a drum practice pad, but I started with the rudiments.
A little recap on drum rudiments
(For a quick guide to drum rudiments, here's a previous post that provides a introduction to rudiments)
There are 40 drum rudiments – basic beats and rhythms commonly used by drummers. These rudiments are found in all types of drumming, hence some may not be as useful to us personally.
Vic Firth's website has a great guide on the 40 drum rudiments with accompanying videos too. However, the videos only feature the instructor playing the rudiment at different speeds which is not very helpful when I'm trying to decipher how a rudiment should be played. (1 example, the 'Flam')
3 Things to Note when Practicing on Your Drum Pad
So back to today's topic. While practicing on my drum pad, I had noticed 3 things that had affected my overall enjoyment as well as the effectiveness of the practice session.
I'm sharing it here as a reminder to myself, and as a heads up to new drummers who are practicing with drum practice pads at home. So here goes:
1. Placement of the Drum Practice Pad
Many drum instructors and drum videos suggest placing the drum practice pad on the snare drum during practice. I don't have a snare drum (nor a drum set) at home, so this advice didn't help.
Initially, I had not given this much thought. It shouldn't matter since I'll only be hitting the practice pad right?
But after trying out several different surfaces, I realised that there is a slight difference in the sound and the feel of the bounce.
Soft surfaces : NOT the best
When hitting hard on the drum practice pad, soft surfaces can't keep the drum pad in place. This can be irritating in the long run.
Use a sturdy table instead of the bed. (that's why my practice is now done using the area in front of my computer)
With a sturdy surface, I find that the feedback from each bounce feels way more 'solid'.
2. Body Posture
Body posture can totally affect your practice, especially the aftermath.
I like to seat at a height where the drum practice pad is at the same level as my belly button (or just slightly higher). This allows my elbows to be bent at about 90 degrees, and my back to be kept straight.
At the ideal height, it is easy to control the drumsticks and the strength of each hit. Plus, it ensures that I don't get backaches from the practice.
Problems of placing the drum pad too high
Anything at chest level or higher is too high. When the drum pad was placed too high, you will tend to lift your elbows and tense up your shoulders.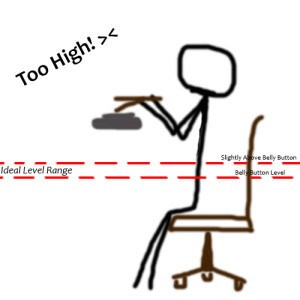 Long practice sessions in this posture can lead to aches in the shoulders and the back of the neck. Not good.
Plus, at this angle, it is very difficult to control my drum sticks, the bounce and the strength used to hit the drum pad. I end up having my sticks hit each other rather than hitting the practice pad at this angle too.
Problems of placing the drum pad too low
Anything at below the belly button is too low. You will tend to bend over and have your elbows pulled back.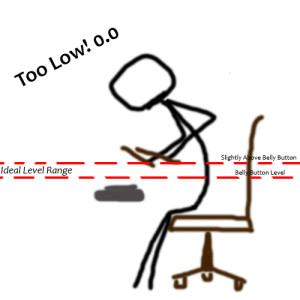 Long practice sessions in this posture can lead to back aches and stiff shoulders as well.
At this angle, I also find that it is difficult to go fast.
Take note of your body posture as you practice!
3. Objective
Last, but in my opinion, the most important: the Objective of each practice session.
You should always set an objective for each practice session, making sure that:
You know what you want to accomplish
Sometimes just hitting the practice pad randomly can be fun. But without an objective, your mind starts to wander and you begin to lose focus. That's why most practice sessions don't amount to anything.
I like to have a clear set of objectives for each practice session to remind myself of what I'm supposed to do. (eg. practice X number of rudiments or practice a particular rudiment to build muscle memory)
You set a maximum duration for that practice session
I don't like to set a fix duration for my practice session because it's too troublesome. However, when the practice session is extended for too long, fatigue starts to kick in and you lose your focus. Plus, it can start to get boring when you are playing the same rudiment over and over again.
Hence, I make sure that each practice session does not last over 20 minutes. (This is just a comfortable duration for me, yours can vary!)
This is the most important. If it's no longer fun, it is very difficult to keep up with the practice. So make sure to keep each practice session fun!
If you are almost ready to start but have no idea where to find a good pair of drum sticks and a drum practice pad, do consider Vic Firth's Fresh Approach Starter Pack. The starter pack is pretty awesome as it comes with a pair of SD1 drum sticks (slightly thicker than the 5A, but touted as a great pair of practice sticks), a 6 inch drum practice pad, the Vic Firth Rudiment Poster as well as an instructional book with accompanying CDs.
Vic Firth's Starter Pack seems very complete!