Although drumming involves the whole body, the weakest spot for most drummers are their wrists and hands. If you've ever felt like you're chasing the drum beats…and losing the race because your hands can't keep up or your wrists are burning, then this article is for you.
Here, I'll share some hand exercises for drummers who want to improve their stamina and hand strength.
So, let's get started building those wrists and hand muscles!
But first, we've got to warm up…
[disclaimer: I'm not a healthcare professional or doctor, do check with your physician to understand if the exercises are safe for you. And if you experience pain while doing them, stop. Know your own limits.]
3 warm up exercises for drummers
Before you start any drumming session, spend a couple of minutes doing these:
1. Loosen your joints
Shake out your wrists for 15 to 30 seconds. Link your hands together and rotate your wrists, 10 rounds in each direction. Repeat these for 3 rounds.
2. Forearm stretches
Now that we've gotten the blood pumping to the hands and wrists, its time to start stretching them.
Hold up your right arm with your palm facing away from you. Using your left hand, pull your palm towards you, make sure your elbow is extended and hold for 5 seconds. You should feel a stretch along your lower forearm.
Next, rotate your right hand down with the palm facing you. Again, pull your palm towards you, hold for 5 seconds. You should feel a stretch along your upper forearm.
Repeat the above for your left hand.
Then, repeat this exercise 3 times.
3. Hand/fist stretches
Now its time to focus on your fists.
With your hands in front of you, clench for fists tightly for 3 seconds. Then open your hands as widely as you can without moving your wrists and hold them there for 3 seconds. Repeat this exercise 3 times.
What you should note when doing these warm up exercises?
Go slow!
Don't jerk, pull or push your muscles suddenly or quickly. We're here to stretch, not to break or tear any muscles.
Why warm up before drumming?
You should always warm up before drumming because it'll help increase blood flow to your muscles and reduce your chances of injury, muscle strains and even soreness the next day.
This is especially important if you're heading into an intensive drumming session! (eg. You're jamming with friends for a couple of hours, you're practicing some fast-paced riffs or a song that requires lots of movements over the drum heads)
I know, stretching may sound over the top for drumming but stretching well also helps to reduce the risk of carpal tunnel and tendinitis which could stop you from playing or destroy your career on the drums.
Such injuries tend to be consequence of bad practices over the years, so don't give yourself the chance to regret in the future. Start by stretching well today.
I've listed basic, beginner warm up exercises for drummers above because I don't want to recommend advanced versions which could lead to injuries if not done properly.
So, if you want more stretching exercises, here're some good resources to refer to:
Stephen Taylor's 5 stretching exercises:
Forearm and Wrist stretch with Drumsticks:
3 drumming hand exercises for drummers to improve strength and stamina
You're probably here because you want to improve your strength and stamina on the drum kit, so here're three hand exercises to consider.
Before we process, please note that these exercises will focus on building those hand muscles, hence you do not need a drum kit to do the following. If you're looking for practice exercises to do on the drum kit, read our guide for 11 drum exercises to develop hand speed and control.
Hopefully we're on the same page here. So, let's get started!
1. Palm strength
This does not require any equipment.
All you need to do is to:
With palms facing you, bring your thumb and pinky together.
Make sure the area under your thumb is tight.
Hold for 3 seconds
Repeat by bringing your thumb together with your fourth finger, third finger and index finger.
This exercise helps to strengthen the abductor pollcis and opponens pollcis which are areas that tend to feel source for beginner drummers or drummers who haven't been on the drum kit for long periods of time.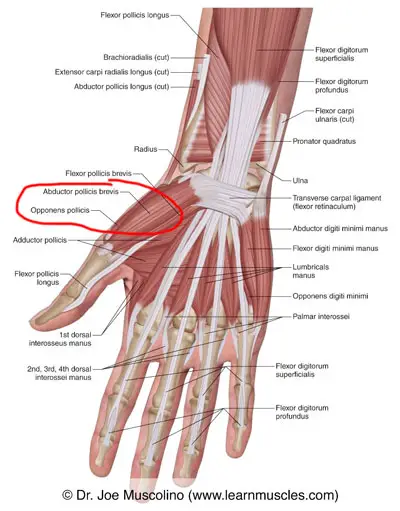 2. Grip Strengthener
Grip strength and stamina is important for drummers, too many drumsticks have been sent flying because of tired hands.
The best way to build grip strength is to get your hands on some good old hand grip exercise trainer like these: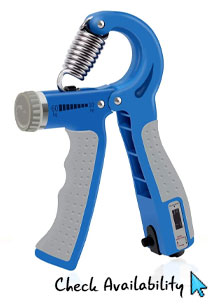 If you have the budget and want to train your finger strength too, then consider something like the Gripmaster Finger Strength trainer: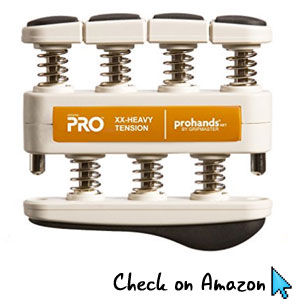 But what if you don't have the budget for grip strengtheners?
Fret not, just get your hands on some tennis balls!
And if you don't have tennis balls lying around, find a small, tight elastic band and do this:
Wrap elastic band around your fingers
Open your fingers as wide as possible
Repeat until you feel the burn (this depends on your current level of strength and how tight the elastic band is)
Rest and repeat for at least 10 rounds
You can do this easily while watching Netflix.
3. Push ups
Before you start rolling your eyes off, give me a chance to explain.
When done right, push ups can help to build your forearm muscles which help with grip strength too (it's not all in the hands for this one).
There are many variations when it comes to push ups, each targeting different parts of the arms and body. To build forearm and grip strength, these are the variations you'll want to be doing:
Shoulder wide push ups
Facing the ground, position your palms in front of you. Make sure they are in line with your shoulders
Push palms against the floor to lift your body up.
Do 10 to 15 pushups per cycle for a start.
Repeat for 3 cycles.
You can use your knees as support.
Extended finger push ups
Here, you want to use your fingers as support instead of the palms
Get into push up position with hands spread out shoulder wide
Have your fingers out in a claw position, so that your fingers do not get injured.
Do your push ups.
This will be tough, start by using knees as support and start slow.
Here's a video explanation:
If you have the budget, you could also explore kettle bell lifts, but that's a topic for another day.
And if you're looking for more hand exercises, this is a good resource from eMediHealth.
3 exercises to strengthen your wrist
Other than grip strength, drummers should pay attention to their wrists. After all, you'll inevitably rely on your wrists as you move your sticks across the drum kit.
So, here're three exercises you can use to strengthen your wrists:
1. Gyroball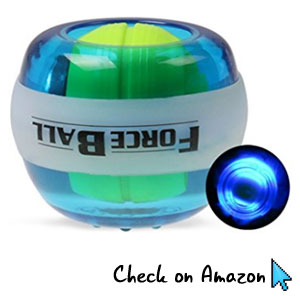 The Gyroball helps to build endurance, especially on the muscles surrounding your wrists. It looks easy but provides a surprisingly good workout for the wrists and forearm muscles.
I won't go into how to use a gyroball, so here's a video instead:
2. Bodyweight wrist extensions
Now, not everyone has a gyroball lying around nor wish to invest in one. So, here's a simple bodyweight exercise that doesn't require any equipment.
Find a table or elevated surface that is about waist level.
Get into an inclined push up position against the surface with your weight resting on fingers.
Push your bodyweight against your wrists.
Repeat 15 times.
Go slow! and feel the burn in the muscles along your wrist.
If you want to up the challenge, attempt 3 or more cycles.
Here's a video demonstration (see 5:35 to 6:15)
Remember, you want to go slow with this one to reduce potential injuries and to maximise your results!
3. Dumbbell eccentric Wrist Extensions
The bodyweight extensions are great but they don't really provide you with a full range of wrist movements. So, you should complement the above with a dumbbell wrist extension.
Here's how:
Use a light 1kg dumbbell or fill up a 500ml water bottle as an alternative.
Rest your forearm on a surface with your wrist hanging off
Hold the weight in your hand
Lift the weight as high as you can while keeping your arm on the surface
Hold it there for 3 seconds
Slowly lower the weight completely
Repeat for 10 to 20 times per wrist
Go slow! And feel the movement in your wrist.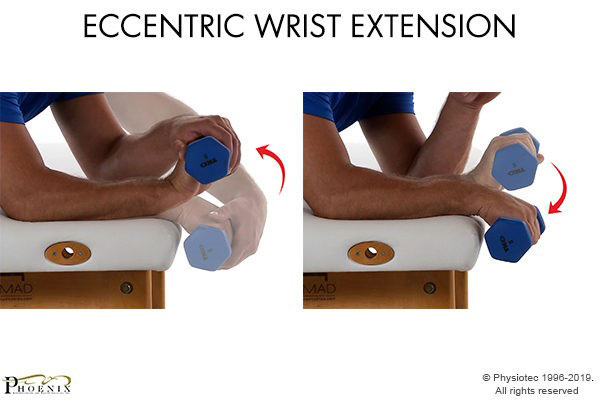 Likewise, remember to go slow for this one. You don't want to be jerking or tearing any muscles, instead your aim here would be to feel the movement in your wrist. If done right, you should feel the muscles along your forearm working.
Start putting in those hand exercises!
Wrist and hand muscles are a key component to strength, stamina and speed on the drumkit.
I've personally used the hand exercises shared here to improve my experience on the drums, so I hope you've found them insightful.
Plan your day and try to fit some of them into your daily routine. You should see some improvement if you're doing these hand exercises frequently.
And if you don't take anything away from this article, please at least remember this:
Always stretch your hands and wrist before drumming!