Your drums and cymbals are driving you up the wall with their overtones and leaving a ringing sound in your head?
You'd probably need to dampen your drum kit.
Drum dampening gels have been in the market for ages. They gave drummers a way to dampen their drums without leaving sticky residue that was commonly associated with the use of duct tape.
SlapKlatz Pro Drum Damper Gel Pads
The SlapKlatz Pro Drum Damper Gel are one of the newest kid on the block, and today we give you our honest take on it:
| Value for Money | Dampening Ability | Cleaniness | Ease of Use |
| --- | --- | --- | --- |
| | | | |
| | | | |
Pros
Cons

Comes in Various Sizes to allow find tuning of dampening

Does not leave sticky residues
And sticky enough to stay put during drumming session
Washable, without losing its ability to stick

Colored Versions might stain drum heads / cymbals
Might not provide sufficient dampening effect to some drum kits
Might collect dust and small hair particles over time
What I Liked About the SlapKlatz Pro
1) Efficient Dampening Ability
Well, you're probably considering the SlapKlatz Pro because you are looking to dampen your drums.
And I got to say, I am very happy with how well it worked on my drum kit.
The SlapKlatz Pro – Big 10 pack of Drum Damper Gel Pads came with 10 pieces – 6 small, 2 medium and 2 large pieces.
I followed the SlapKlatz drum damper gel guide and used 2 of the small pieces on my snare drum as such:
And the difference was very obvious when playing the drums live.
The overtones that caused ringing and extended delay on my snare drum were almost completely dampened.
I couldn't get a sound recording that was obvious on playback.
But you can hear the difference of various SlapKlatz Pro gel placement from this equally satisfied drummer:
You might be looking to dampen your drums to modify your overtones in slightly different ways.
Explore our Best dampening devices guide for the wider range of drum dampening options.
2) Versatility
Dampening options for the cymbals are not as common, compared to drums.
And I've noticed that cymbals tend to 'over ring' or create an echo like decay that lasts very long, especially in small, enclosed rooms.
The best part about the SlapKlatz Pro is that it works on cymbals too.
You can choose to stick them on the top or the bottom of the cymbals, and they will stay there throughout your drumming session.
It sticks and stays on my cymbals and can get rid of the ringing in enclosed rooms, which is a great quick fix for drummers who rent and drum at different studios or drum rooms.
See how well they stick:
3) No Residue
I'm not sure what the SlapKlatz Pro is made of.
I'm just glad that it doesn't leave any residue on the drum heads or the cymbals.
It is a very clean product to use (for now).
This is especially important when you are renting or borrowing a drum kit, or jamming with your friends at a rented studio.
I've been fined once for using lousy duct tape to dampen a snare once.
With the SlapKlatz Pro, I just place it on the drum heads before the session and remove them after jamming. No more drama, and no more struggle to remove the dampening tape.
4) Other 'nice-to-have' features
3 Sizes To Choose From
Previously, moongel was highly recommended.
However, they only came in one size and drummers had to cut it down to size when using it.
The SlapKlatz Pro comes with 3 sizes that allows us to pair and customize the amount of dampening we need, without having to cut the dampener gel up.
Convenient Carrying Case
The SlapKlatz Pro – Big 10 pack of Drum Damper Gel Pads came with a storage box that was a handy way to store and carry the gels around.
I loved this thoughtful gesture.
I've placed my drum key along with the SlapKlatz Pro gel pads and bring them almost everywhere with me now.
What I Was Worried About the SlapKlatz Pro
1) Color Might Leak?
The SlapKlatz Pro originally comes with 2 colors: Alien Green and Clear.
Recently, they had launched 2 new colors: Black and Pink (They call it the 'Anika Nilles' Edition)
I was tempted to purchase the Alien Green version previously. But I was worried that the color might leak and stain the drum heads, like the moongel does.
If you are like me and have to play on rented drum kits at studios at times, just get the Clear version. The 10 piece pack is sufficient for a well tuned drum kit.
The color merely enhances the look of your drum kit.
2) Might be Dirty over time
There have also been reports from users who mention that the SlapKlatz drum dampening gels can collect dust and small particles over time.
This was one of the main worry for me because I didn't want to spend too much time maintaining the gels.
I made sure to keep mine in the container that came with the 10 piece SlapKlatz pack.
And, I rinsed them periodically to make sure that they remain clean.
For now, the condition of my SlapKlatz gels are still almost pristine.
*Edit* A SlapKlatz user told me that he used the plastic dividers that come with the packaging to keep the top surface of his SlapKlatz clean.
Sounds handy, although I suspect it might affect the dampening effect.
Give it a try and let me know.
SlapKlatz Pro drum damper alternatives
| Drum Dampening Gel | Price | Dampening Ability | Cleanliness | Ease of Use | Check today's price |
| --- | --- | --- | --- | --- | --- |
| SlapKlatz Pro | $$$$ | 4/5 | Clean. No Residue. Can wash and reuse. | Easy to use. Stays on drums or cymbals. | |
| Drum Dots | $$$$$ | 4/5 | Clean. No Residue. Can wash and reuse. | Easy to use. Stays on drums or cymbals. Very similar to SlapKlatz, but slightly more expensive. | |
| Moongel | $$$$ | 4/5 | Clean. No Residue. | Easy to use. Limited to snare and toms. | |
| Vater Buzz Kill Extra Dry | $$$$$ | 3/5 | Clean.Extra dry version seems to last longer than the regular version. | Easy to use. Mixed reviews on whether it stays on drums. | |
| Drum Tacs | $$$$$$ | 3/5 | Clean. No Residue. Non-gel material, will not collect dust. | Easy to use, and also reusable. | |
Comparison of Drum Dampening Gels
Of course, there are other similar products to the SlapKlatz Pro in the market.
I'll list those that I had considered and share some of the key considerations for each of these drum dampening gels below.
Drum Dots
Very similar to SlapKlatz Pro.
Comes in a pack of 4 in a jewel case. All drum dots come in the same size.
Pros:
Good at dampening drums.
Relatively affordable.
Doesn't leave residue on drum heads.
Cons:
Slightly more costly than SlapKlatz Pro.
Only available in 1 size
Why I Didn't Buy Drum Dots
These were very similar with the SlapKlatz Pro at first glance.
However, drum dots had 2 things going against it for me.
Relatively more costly than SlapKlatz Pro – I could get more dampening gels for a similar price
Only available in 1 size – not versatile for the entire drum kit, you might need to get the Mini Drum Dots.
Plus, there were mixed reviews on its dampening ability and its ability to stick to the drums while you play. Hence, I decided not to take the risk with Drum Dots.
Moongel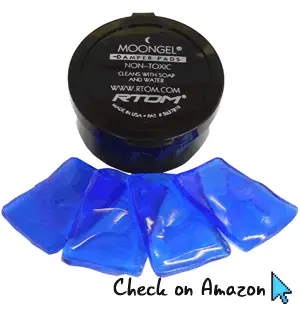 The original drum dampening gel.
Comes in a pack of 6, with a container as well.
The Moongel was popular with many drummers as a dampening gel pad.
Pros:
Efficient at dampening drums.
Relatively affordable.
Doesn't leave residue on drum heads.
Cons:
Works only work on the snare and toms. There have been complain that it can't stick and hold well on bass drums nor can it stay on cymbals.
Blue color might leech and stain drum head.
Not sticky enough to stay on drum heads over long jamming sessions.
Why I Didn't Buy Moongel
A friend who plays in a band had complained that the moongel doesn't stick well after several uses. And this was what broke the deal for me.
I wanted a drum dampening gel that I could bring along to studios or use on other drum kits, hence it has to be reusable over multiple uses.
Vater Buzz Kill Extra Dry
Tweaked and created to muffle drums and give an 'extra-dry' sound.
Can also be used on cymbals, rides and crash.
Pros:
Cons:
Might melt in higher room temperature, make sure you store it well.
Might leave oily residue.
May lose ability to stick after several use.
Why I Didn't Buy Vater Buzz Kill Extra Dry
Again, there were mixed reviews that discouraged me from getting this product.
Plus, it was more expensive than the SlapKlatz Pro.
Drum Tacs
Not officially a drum dampening 'gel', the Drum Tacs function in similar manner.
Only one side of the drum tac is sticky and the adhesive can be reused to stick the drum tac onto your drum kit.
This means that the drum tac will not collect or trap dust overtime, nor will it stick to your drum bags if you are transporting it along with your drums.
Pros:
Good at dampening drums.
Clean.
Cons:
Most expensive option at the point of writing.
Have tendency to over dampen smaller drums and hi-hat, probably due to the material.
Why I Didn't Buy Drum Tacs
It was down to cost and quantity for the Drum Tacs. Although it was attractive because it will definitely be cleaner than the gels, the Drum Tacs lost out due to price.
Plus, there were reports of over dampening which was worrying.
What other SlapKlatz Pro drummers say
Of course as a curious consumer myself, I went on to read more about the experience that fellow drummers had with the SlapKlatz Pro.
It seems as though most of them agree that:
it is a good substitute for moongel
it sticks very well and stays on the drums and cymbals while you drum
it allows you to personalize your level of drum dampening
it sticks on the underside of cymbals…and stays there!
Read what 38+ drummers think about the SlapKlatz Pro
Final Verdict
I started search for a drum dampening solution because of 2 issues:
my drum kit had a buzzing sound that I couldn't get rid off by tuning my snare drum,
and it creates an undesirable high frequency ringing.
After comparing and getting the opinion of drummers who had experience with the various products, I decided to go with the SlapKlatz Pro.
The winning feature for me would be the availability of different sizes that allowed me to control the degree of drum dampening.
Also, it is the most value for money option among the rest of the drum dampening gels.
If you're looking for a quick, convenient and transferable solution to dampen your drum kit, or any drum kit that you'll be using, I would think the SlapKlatz Pro provides comfortable range of dampening to work with.