So, you want a beginner electronic drum kit that doesn't suck?
The Yamaha DTX400K might just be the one for you.
This review will highlight both the pros and cons of the Yamaha DTX400K electronic drum kit, and hopefully pinpoint any gaps that you might have missed.
Before we jump into the rabbit hole, here's our verdict:
The Yamaha DTX400K is great for beginner drummers. It is durable, comes with a good sound library and is equipped with features that will help you improve as a drummer. The DTX400K is a small e-drum, perfect for space constrained drummers but not the best option for larger players. If you have experience on an acoustic kit, this will feel slightly different in terms of pad positioning and feedback.
Click to check out what others say about the Yamaha DTX400K on Amazon now
tl;dr
Summary of this Yamaha DTX400K Review
Pros
Cons

Minimal space requirement (only takes up about 2.2ft x 3.7ft), good for drummers who have space constrains
High quality sound library
High quality build
Fairly priced
Metronome function
Coaching function for beginners
Comes with a mobile app that expands your customization options
Relatively silent for an electronic drum

No MIDI input or output
Does not come with any dual zone pads
Bass drum pad not included, the DTX400K only comes with pedal
Cymbal pads has no chock function
Mobile app requires a cable that is sold separately
What's inside the Yamaha DTX400K box?
Yamaha DTX400 module

10 pre-set drum kits
10 play-a-long songs
169 percussion sounds
Metronome
Coaching Function

4 x 7" drum pads (Rubber pad, 1 zone)
3 x 10" Cymbal Pads (Rubber pad, 1 zone)
Hi-hat pedal (open/close/half-open)
Kick pedal (aka bass drum pedal)
Yamaha DTX400 Touch App can be installed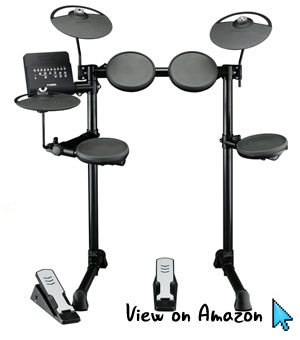 Why is the Yamaha DTX400K a great option for beginner drummers?
We think the DTX400K provides beginners with a e-drum kit that provides great value for its price point.
Here are 6 reasons why we think it is a great option that all beginner drummers should consider;
1 – Great sound quality
You'll find 10 preset drum kits to choose from in the Yamaha DTX400K sound module which features great sounding drums, cymbals as well as a range of percussion sounds.
Listen to the kits via this playlist.

Video from Yamaha
With the Touch App, you can also assign sounds to different drum pads on your drum kit. You can choose from 169 sound triggers.
With its experience in drum making and electronics, you can be sure that there will be some quality to the sound library provided in the Yamaha DTX400K's module.
2 – Durable build quality
Not all rubber pads are made the same.
With Yamaha DTX400K, you get sturdy drum and cymbal pads that respond well to your drumsticks.
However, the frame of the DTX400K tends to sway when you are playing with speed. This is common in most e drums due to the way the force is being dissipated along the frame.
A common feedback in user reviews is that the DTX400K is durable and lasts for years.
3 – Size
This is a double-edge sword really.
The DTX400K was designed for efficient use of space, which means you'll only need a small area of about 2.2ft x 3.7ft to store and play the kit.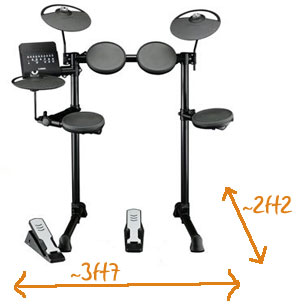 Due to this feature, you'll find that this e drum does not provide much adjustment options on its height and width.
Hence large size drummers (>6ft tall) may find the drum kit too small for them.
On the other hand, if you do not have much space to spare, this is the perfect kit because it takes up so little space.
You'll have to note that the DTX400K does not come with a drum throne. Depending on the chair or throne you use, you might need slightly more space.
4 – Provides excellent feedback and playing feel
If you are an absolute beginner, you'll appreciate the feel of the DTX400K as compared to the rest of the beginner e-drums (of the same price point).
You get a great rebound that you can immediately pick up when you are drumming. This helps to tune up your sensitivity to the reactions of your drum sticks.
Do take note that there will be relatively lesser rebound on an acoustic drum kit. If you'd like something more accurate, consider getting a mesh head drum pad.
The DTX400K is response and we did not detect any lag in the trigger while we were playing.
You should be able to go pretty fast on it, I was not able to cause a lag or a skip at my fastest speed…although I'm really not the fastest drummer around town.
5- Coaching Function
The Yamaha DTX400K comes with 10 different training modes that will help you develop the key skills of a drummer – rhythm, timing and speed.
You can get a taste of the training modes via this playlist.
I've personally used similar training regime while I was trying to improve my timing and speed to.
Here's one training mode that I think most, if not all beginner drummers will find beneficial:

Video from Yamaha
On top of these training modes, you can choose to play along with the 10 pre-loaded practice songs that come with your DTX400 module.
Of course we all dream of drumming along to 'real' songs, you can load your own songs (MIDI only) into the module using Yamaha's musicsoft downloader.
6 – Minimalist design
This may not apply to everyone, however if you are living in a really cramped space and need to put this e-drum away when you have friend over, it really isn't all too difficult.
It's minimalist design allows for quick set up and storage, once you are used to setting up the DTX400K.
The DTX400K's frame is held together with two types of joints (the keys are provided in the box too).
What we do is leave the drum and cymbal pads on to their main support frames for quick tear down. We also label the joints and the corresponding keys for quicker set up.
You'll also want to label the snake cable for quicker set up. We use colored post-its to label each drum and cymbal pad as well as both ends of the cables. All you need to do is to match up the colors during the set up.
3 considerations you must take before you purchase the Yamaha DTX400K
Despite the points we raised in the previous section, the DTX400K isn't a perfect e-drum kit. We doubt there'll ever be one.
We like to keep our reviews fairly neutral.
Hence, here are some of the considerations that might sway you against getting the DTX400K:
1 – No advanced triggers
All the drum and cymbal pads on the Yamaha DTX400K are single zone, this means you will only be triggering one sound per pad.
You'll not be able to play drum edge shots or bell sounds along with the regular drum or cymbal sounds.
Plus, the cymbal pads do not come with choke functions neither.
On top of the pad triggers, you'll not be able to play double bass unless you decide to assign the hi-hat pedal as another bass. Doing so means you'll not be able to control the open or close state of your hi-hat.
Our thoughts on this: 
The lack of advanced triggers really isn't a big deal for beginner drummers.
However advanced drummers will find this electronic drum kit lacking.
2 – Yahama DTX400 Touch App Pre-requisites
*Update* The Yamaha DTX400 Touch App now works with Android devices along with iPhone 3GS, 4, 4S, 5, iPod Touch (4-5th Gen), iPad (3-4th gen), iPad 2, iPad Mini. You'll need to be running on iOS6 or later.
However, you'll probably need additional cables to use the app:
a lightning to 30 pin adapter (aka Yamaha's i-UX1) is required to connect to lightning equipped iPhone devices
a USB OTG cable is required to connect to Android devices
The Yamaha DTX400 Touch App allows you to customize the sound profile of each individual pad as well as to tune its sound and sensitivity.
You can select the pre-set drum kits via the module, however you're not able to customize the drum or cymbal pads via the module.
You'll want to check the requirements of the app (iPhone / Android) to make sure that your phone or device can support it. Otherwise, you'll not have the ability to customize individual drum or cymbal pads on your Yamaha DTX400K.
Our thoughts on this: 
This function will give intermediate drummers more control over the sound of their drum kit.
However, the lack of this customization function will not inhibit or tamper the progress of a beginner drummer.
3 – Size
The first 2 considerations would not be considered as deal breakers for beginners who want a relatively affordable electronic drum kit that lasts.
This third consideration however, would be the deal breaker for any drummer if you're taller than 5ft9.
Our thoughts on this: 
The Yamaha DTX400K was designed to be efficient with its footprint. Hence, bigger players might find it a little cramp and small to drum with. And this can lead to bad posture if you do not have to experience to optimize your seating position.
Therefore, our recommendation for people who are taller than 5ft9 is to avoid this drum kit unless you have limited space and are willing to play on a smaller drum kit.
Real User Feedback on the Yamaha DTX400K
We've included some of the common feedback from real users that we've seen, here they are:
Durable – "I've been using this for more than a year now, still love it!"
Small size – "I'm 6ft and this is a small drum kit that isn't the most comfortable one"
App – "Can't use the app on my phone, do check before you purchase!"
Click to check out what others say about the Yamaha DTX400K on Amazon now
Frequently Asked Questions for the Yamaha DTX400K
The pedals alone are not noisy, however the neighbour living in the apartment beneath yours might hear some noise due to impact sounds.
No, amps or headphones are NOT included. However, there is a jack that allows you to amplify the sound of the electronic drums to these outlets. The kit itself does not come with any built in speakers either.
No, neither is the drum throne.
Is the power adapter included?
It may not be included depending on your particular area. Please check with your Yamaha dealer.
Where can I find the manual and other resources?
You should receive the manual along with your Yamaha DTX400K kit. Otherwise, you can also download the soft copy on Yamaha's website.
Conclusion
In summary, the Yamaha DTX400K (check on Amazon now) is an affordable electronic drum kit that is suitable for beginners.
It is fairly durable and gives you a suitable range of features and functions that will help you grow as a drummer.
If you are an intermediate drummer and want more from your e-drum, this may not be for you. That is unless you want something compact and functions well as a practice drum kit.
Cheers! We hope this was useful.
Drop us a note in the comments below if you have experience with the DTX400K or if you have questions on it!