The Alesis Nitro checks all the boxes that a beginner wants in an electronic drum kit.
But is it the perfect choice for you?
And are the marketing material you've been reading overselling the kit or hyping up the true value of the Alesis Nitro?
In a nutshell, here's our verdict of the Alesis Nitro:
The Alesis Nitro is the most value for money beginner electronic drum kit in our opinion. You get a wide range of triggers and functions for a very competitive price. With that said, you have to keep in mind that you will get what you pay for. Don't expect the best quality nor expect the drum kit to last for decades.
Check how much Alesis Nitro cost today here
tl;dr
Pros and Cons of Alesis Nitro
Pros
Cons

Value for money
Full sized electronic drum kit
Large sound library with 40 preset drum kits to choose from
Almost complete range of drum triggers.
Good range of drum pads and cymbals for beginners.
Kick pad with pedal is a steal at this price range.
Has coaching function that is beneficial for beginners
Has metronome function build in
Relatively silent for an electronic drum

Sound quality isn't the best
May not be durable
There have been complains of malfunction within months of purchase
In the next few sections, we aim to provide you with the most balanced review on the Alesis Nitro you'll find. We reveal:
Let's jump into it now:
Alesis Nitro Kit Review – The Product Features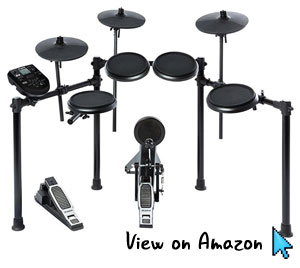 What you get in the box:
Alesis Nitro Drum Module
1 x 8″ Snare Drum Pad (Rubber pad, 2 zones)
3 x 8″ Tom Drum Pads (Rubber pads, single zone)
3 x 10″ Cymbal Pads (all single zone, only crash cymbal has choke zone)
Hi-hat Pedal (open/close/half-open/splash)
Kick drum pad with Pedal
Drum key
Drum Sticks
Additional Features
40 pre-set drum kits
60 Play-a-long drum music tracks
385 percussion sounds
Metronome Function
Coaching Function
Sequencer
Performance Recording
Has MIDI input and output
Has AUX input and output
Other key specifications to note
The Alesis Nitro was build to mimic a full sized drum kit.
It will take up a floor area of about  4ft x 3ft to 6ft x 4ft.
You should also give a buffer of about 2ft around the kit to allow for easy movement.
If you are facing a space constrain, you might need to check if the Alesis Nitro will fit.
With the Alesis Nitro's design, you will set up your kit on a sturdy frame.
This frame allows you to adjust the width and height of the kit to suit your playing style.
Based on our experience, it should allow children above 11 to play comfortably, as well as adults who are up to 6ft tall.
You should note that the Alesis Nitro does NOT come with a drum throne, hence you might need to purchase one separately.
Or, just use any comfortable stool that you have at your apartment or studio.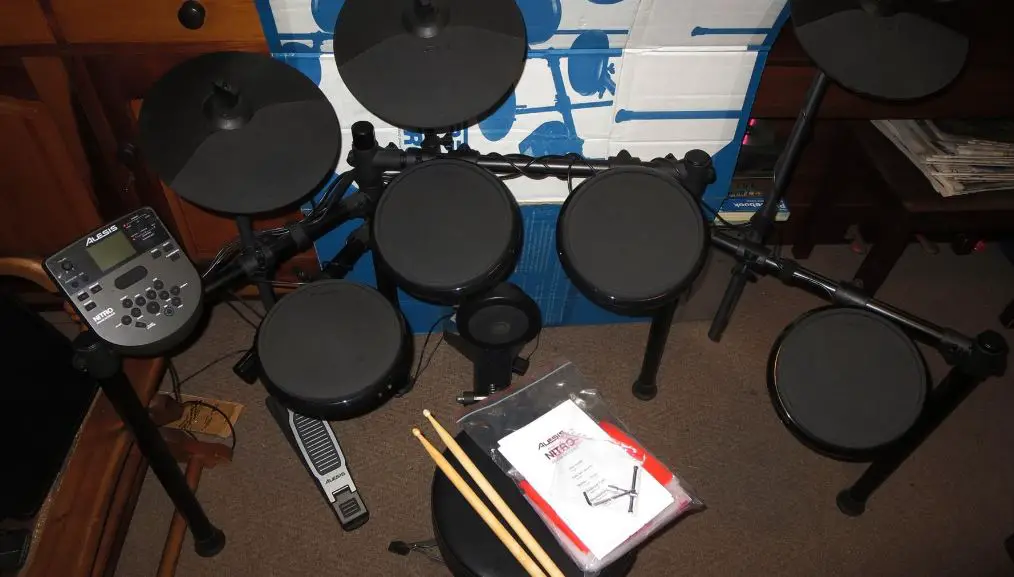 Why beginner drummers are going crazy over the Alesis Nitro?
Now that we've listed the features and specifications of the Alesis Nitro, we've dive deep into the reasons why we think the Alesis Nitro is a great option for beginner drummers who want an affordable electronic drum kit.
Wide Sound Library
The Alesis Nitro module comes with 40 different preset drum kits for you to choose from.
For a beginner, this is a double edge sword.
On on hand, it gives you the freedom and ability to test out different musical styles.
However, on the flip side, it can also become a source of distraction as you might end up spending too much time playing with this feature instead of building up your fundamentals in drumming.
For experienced drummers, this is definitely an advantage.
You have the option to trigger a wider variety of sounds from your drum kit and hence the ability to express yourself better through your drumming.
Here's a taste of the preset drum kits:
On top of the preset drum kits, there are 60 play along tracks for you to choose from.
Now, this is a useful feature for beginners and even intermediate drummers.
Using these tracks, you can develop your ability to keep time, to create drum fills on the fly and to play with other instruments.
The Nitro also comes packed with 385 percussion sounds that you can assign to any of the drum or cymbal pads.
Again, this may not be the best feature to have for beginners.
However it does allow experienced drummers to use it as an extended tool to trigger more sounds if you are performing.
Comes with useful functions that will speed up your growth as a drummer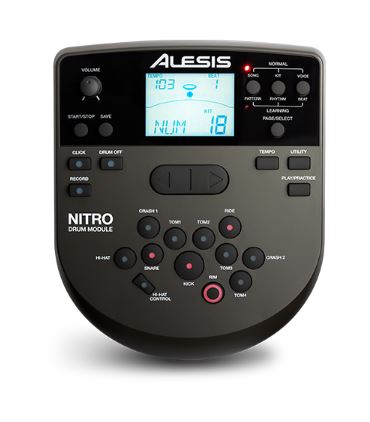 On top of storing a wide variety of sounds, the Alesis Nitro module also gives you access to useful functions like:
The Alesis Nitro comes with a click track metronome. You can use this to develop your ability to keep time.
We've shared our own practice regime and drum exercises that will help you keep time better here.
You can select from a range of tempo (in BPM), and a range of time signatures.
If you are a beginner who wants to master drumming on your own, you should find the learning exercises very useful.
You can play along to beats, rhythms or patterns that comes with an optional scoring system.
Use the scoring system to monitor your growth as a drummer.
With the Alesis Nitro brain, you can record your performance or your drumming.
This gives you the most direct feedback to your timing, sense of rhythm and development as a drummer.
This input allows you to feed your own playing tracks into the module so that you can drum to any track you want to.
Closely mimics an acoustic drum kit with its pad triggers
With the Alesis Nitro, you are getting an almost complete range of pad triggers that are usually not available on electronic drums of similar prices.
Drum Pads
Although the Tom drum pads are single zone, you get a dual zone snare pad.
A dual zone snare pad will detect when it is being hit in the middle and also on the edge of the drum pad.
This means that you can practice your rimshots and other slightly advanced drumming techniques on your snare drum pad.
Cymbal Pads
With the Alesis Nitro, you get not 2 but 4 cymbal pads.
One will be used as the hi-hat cymbal.
Another should be dedicated as a crash cymbal because it has the choke function.
On top of that, the drum module (aka brain) also allows you to control:
Pad sensitivity: How easily it will be to trigger the sound of each pad.
Velocity curve: How well the pads will detect the impact strength of you hitting it and how loud it will trigger.
Kick pad and bass pedal gives a realistic playing feel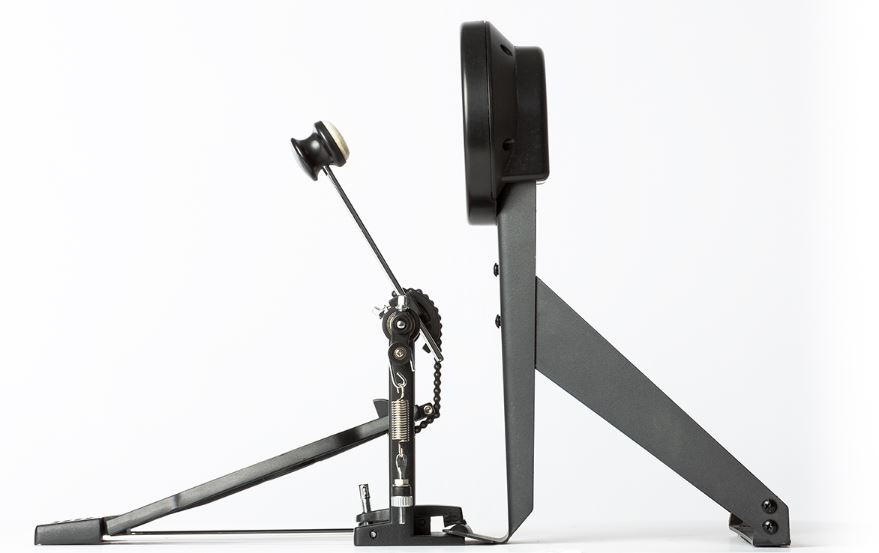 With the Alesis Nitro, you also get a kick pad and bass pedal that mimics the set up you'll find on an acoustic drum kit.
This set up will give you a realistic feedback and allow you to develop the right kick techniques.
The kick pad trigger is rather responsive, so you can even train your double kick technique which most beginners will struggle with initially.
Plus, you don't have to waste time trying to muffle or tune your bass drum physically.
Price
As mentioned above, the Alesis Nitro is an affordable electronic drum kit.
In fact, it is the most value for money e-drum kit that a beginner can get.
You can check the latest price package for Alesis Nitro here.
However, we would like to highlight that you'll get what you pay for. Don't expect this drum kit to last a lifetime.
2 flaws of the Alesis Nitro that you must note, before you buy it
Although it does sound pretty comprehensive, the Alesis Nitro isn't perfect.
Here are 2 potential deal breakers that you must note before you commit to getting an Alesis Nitro into your life!
#1 – Unreliable durability
The build quality of the kit isn't the best.
However, keeping the price in mind, you should be prepared to accept a product that may not last a lifetime.
If you just want a cheap e drum to start playing with, the Alesis Nitro is a great starting point.
However, if you want something that will last you for years or decades, you might want to consider other electronic drums instead.
We have compared the Alesis Nitro with the Yamaha DTX400K previously as well, you can consider that if you want something that is more reliable. (and don't mind spending a little more for peace of mind)
#2 – Poor set up instructions
Alesis Nitro comes with a user manual that will guide you through the set up process.
However, it isn't very clear.
Hence, if you have ZERO experience with drums, you'll find it a challenge to set up.
There are also video guides on YouTube that can take you through the process.
This is a one time pain, so we don't think its that big of a deal breaker.
However, you should be mentally prepared before you attempt to set up this electronic drum kit.
Real User Feedback
We've shared our thoughts about the Alesis Nitro kit above.
Here, we've compiled a series of reviews and feedback about the Alesis Nitro from over 415++ sources of real users and buyers.
Again, we aim to provide a neutral review.
The Good
Unbelievable value for money
Perfect for beginners and casual hobbyists
Bass pedal feels like that on a real drum kit
You can feed your own backing tracks to drum with
Wide customization options with the pre-installed sounds
Can be adjusted for children too
Potential Deal Breakers
Unreliable – about 9% of users reported that components of their kits stopped working after a few months
Poor quality control – about 4% reported that their kit came with defective parts
Volume issues – the hi-hat and ride may be too soft
Slow Support – some users have reported that the Alesis support was slow to respond to their issues
Frequently Asked Questions
We've also received and noticed several Frequently Asked Questions regarding the Alesis Nitro.
Hence, we've compiled and answer them for you in this section.
How much space will the Alesis Nitro Kit take up?
It will take up an area between 4ft x 3ft to 6ft x 4ft.
If you are facing a space constrain and need a compact e-drum kit, you might want to consider the Roland TD-1K instead.
Is the Alesis Nitro Kit suitable for my child?
Children above 10 should be comfortable playing the Alesis Nitro kit. You can adjust the height and width of your set up accordingly.
Does the Alesis Nitro Kit lag when you drum?
No, we have not experience any lag or sound delays with the Alesis Nitro.
Is the Alesis Nitro drum kit expandable?
On the Alesis Nitro drum module you have two extra outputs that will allow you to add an extra drum and cymbal pad.
You can also choose to change the rubber snare pad to a mesh snare pad instead as well.
What is the Alesis Nitro box size?
The dimensions are 27.6 x 47.3 x 43.3 inches.
It's shipping weight is 40.4 pounds .
You might not be able to carry it up a plane.
Might have to check it in as a fragile item, if you are planning to transport it with you on a flight.
Can I upgrade the bass pedal to a double kick pedal?
No, we don't think the Alesis Nitro module can do that directly.
The bass kick pad cannot detect a double bass pedal accurately due to the positioning of its trigger sensor.
How quiet is the Alesis Nitro? Can I use it in an apartment?
The Alesis Nitro is quieter than an acoustic drum kit for sure.
However, there will still be noise produced as you hit the pads with your drum sticks.
Here's a video on now it sounds without the music:

Video from DRUM ON
You might also want to note that the pedals will create some noise for the neighbors living below your apartment.
This is inadvertent for any drum kit due to the transfer of the energy from your feet into the ground.
You might need to use a noise absorbing mat to reduce that.
Conclusion
We've shared both the good and the bad of the Alesis Nitro kit in this review.
Check availability of the Alesis Nitro on Amazon now
We hope that we have helped to highlight the key considerations that you have in mind.
Let us know if you have further questions about the drum kit in the comments below!