Some of the best rock songs can be remixed into acoustic tracks that give audiences a very different experience.
For these 'unplugged' sessions, you may want to substitute your drum kit with a cajon to provide a 'softer' but equally clear beats that hold the music together.
But which is the best cajon for acoustic rock?
We asked several rock drummers and verified that the main feature they'd want in their acoustic rock cajon is something that produces:
strong low and mid range tones
Taking that and several other factors (listed below) into consideration, we dug deep, tested over 38+ cajons and finally we present to you:
Best Cajon for Acoustic Rock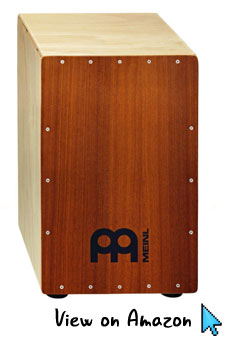 Meinl Cajon Box Drum with Mahogany Frontplate / Baltic Birch Body,
tl;dr: here's our review of the Meinl Mahogany cajon, in a nutshell:
Pros
Cons

Strong bass tones from the Mahogany front plate
Wide range of tones can be triggered near the edges
Adjustable sizzle effect (from snare)
Adjustable top corners
Easy to mic from both front and rear
Comes with anti-slip seat (not obvious in photo)

Average size for a cajon, new cajon players might take a while to adjust
Not newbie friendly – does not have user guide included
Real user feedback suggests inconsistency in build quality – about 2% experienced this
Now, if you are still reading, thank you!
I'll make it worth your while because here's the most important part of this article:
Why did the Meinl Mahogany Cajon won?
In this section, we'll reveal all our thoughts and analysis to let you know why this cajon won the 'best cajon for acoustic rock'.
Sound Quality
This Meinl Cajon features a Mahogany front plate and a Baltic Birch Wood resonating body.
It produces a warm bass tone that can be easily brighten and layered with the snare sizzle.
This is how it sounds:
Snare sounds
As a 'string' cajon, it's design includes snare wires within the cajon.
This allows you to trigger a sizzle effect that is very similar to what you get on a (rather loose) snare drum.
You should have noticed the effect in the video above when the demonstrator hits the edge of the cajon.
The amount of snare sizzle effect you get can be adjusted via the tuning gear at the bottom of the cajon using a hex key (provided with cajon).
Control over the cajon's sound
On top of being able to adjust the sizzle effect from the snare wires, you are also able to adjust the top corners of the cajons via the screws.
This gives you control of how 'snappy' you'd like your cajon to sound.
Easy to mic up
If you are performing live to a large audience, this is important.
You'll need a cajon that can be mic up easily to amplify the sounds.
The Meinl Headliner Mahogany cajon has a sound port located at its rear where you can easily place a microphone to capture both the cajon and the sizzle sound.
If you are slightly more particular about your cajon's sounds, you can also choose to use a couple of condenser microphones to capture tones of different frequencies on the same cajon.
Distinct sounds
If you are using the right technique and you have the cajon tuned up properly, you'll find that it is rather easy to trigger distinct bass and snare sounds from the Meinl Headliner Mahogany cajon.
This is also an important factor, especially if you are performing live.
It will give you the ability to play different riffs at your key portions of the song.
1 feature that we didn't really like…
Despite everything mentioned above, the Meinl Headliner Mahogany cajon is no perfect instrument.
The most annoying feature would be its size.
The model we picked is the medium sized cajon that is 11.75″ wide, 18″ tall and 12.25″ deep.
It's comfortable for most experienced cajon players, but most newbies would find it difficult to trigger the bass sounds on the center of the frontplate consistently.
If you are a new cajon player or if you are just a tall drummer, you might want to consider full sized version (11.75″ wide x 19.75″ tall X 12.25″ deep) or jumbo version instead (13.5″ wide x 19.75″ tall x 13.75″ deep.).
One more thing
There has also been user reviews that mention the poor build quality of their Meinl Headliner Mahogany cajon.
This only seems to be a small group of reviewers (at about 2%), hence we think these could be due to slight glitches in their QC processes.
You should always check to make sure you can get support where ever you choose to buy from.
5 Features That We Look For In a Cajon for Acoustic Rock
There are many cajons out there in the market, so how did we pick Meinl's Headliner Mahogany cajon as the winner for Acoustic Rock?
It wasn't a random pick.
Rather, we considered four features and compared a range of cajons before coming to our final decision.
These are the 5 features:
1) Tones
We're not sure about you, but upon talking to a couple of rock drummers, we found that many prefer a cajon that produces:
warmer tones
stronger low and mid range tones
We've wrote an article on the best wood for cajon previously where we shared this info-graphic on the sound characteristic of popular woods used for instruments: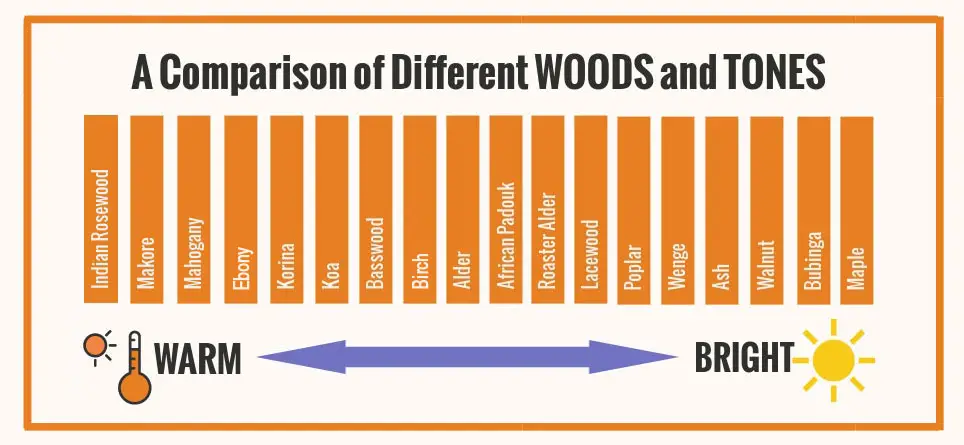 2) Snare Wires
Depending on the song, you may want the sizzle effect from the snare wires, when you are playing on the cajon.
We look out for cajon with the ability to tune and change the snare wires easily so that you have greater control over the snare sound produced from your cajon.
We also want the ability to disengage the snare on the fly without having to reach into the cajon in the middle of a live performance. (unfortunately this feature is rare in affordable cajons)
3) Top Corner Adjustment
Most modern cajons would allow you to adjust the top corners of the frontplate.
This gives you control over the degree of the 'snap' you get when you play the cajon. You should be able to tweak between a softer beat and a tighter snap.
4) Distinct difference from various trigger points
At its core, the cajon is just a wooden box made from wood with good resonance and sound quality.
Because of this simplicity, a cajon player is limited to just a couple of techniques on the instrument.
A good cajon for acoustic rock should provide the player with the ability to trigger different types of beats clearly, which will allow for a more versatile playing experience.
Here's a great example from One Ok Rock's Studio Jam series:
You'll notice the distinct difference when the drummer, Tomoya plays different part of the cajon.
This also ties in with features 2 and 3. We looked for the ability to tune these various parameters on the cajon for maximal control over the resultant beats you get.
Of course, the cajon player would need to have a strong understanding of how to play the instrument in order to fully utilize these features.
You can also read what other (real) users say here
5) Price
This is usually a sensitive factor, even for a drummer with the most flexible budget.
Hence, we searched for cajons that provide the best value for their price point.
Conclusion
After researching on 38+ cajons, Meinl Mahogany Cajon has outshone the rest of the competition for the 'Best Cajon for Acoustic Rock'. [You can get it on Amazon now]
We used the 5 features listed above – tones, snare effect, snap adjustment, distinct tones, and price to evaluate and compare across the cajons available at the point of writing.
If this is not what you're looking for, we've also covered the best cajon for worship in a separate article too.
Let us know what you think about Meinl's Mahogany Cajon in the comments or experience with this cajon below!