The Best Wood for Cajon is Maple, in our opinion. It produces a bright, balanced sound that most cajon players love. We covered the sound characteristics of other wood for cajon in the image below.
So…you want to buy or build a Cajón. If you've been shopping around for one, you'd probably have been overwhelmed by the choices there are in the market.
With are so many options out there, which is the best wood for a cajón?
This article was written to help you choose the best wood for your cajón, whether you decide to buy it off the shelves or build your own.
Here's a quick glance at what we'll be covering in this article, if you are looking for specific information.
What is a Cajón?
If you've seen drummers seating on a wooden box and slapping the front of the box, that's probably a cajon.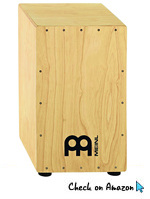 Cajóns are easy to play with and produces well accepted tones, hence they have started gaining popularity in the recent years…among the younger drummers.
There are a few key considerations to make when you are selecting your cajón.
In this article, we'll focus on the type of wood – and helping you decide on the most appropriate wood for your cajon.
First up, let's look into the key features you should consider when selecting the type of wood for your cajón.
3 considerations when selecting the type of wood for cajón
When it comes to choosing the best wood for your cajón, these are the 3 key considerations:
Durability
Tone
Density
1) Durability
You wouldn't want to have to replace your cajón after every 3 sessions due to damage or warping.
Hence, durability in our opinion, is one of the most important factor.
If you are buying cajóns off the shelf, you shouldn't have to worry too much about this.
However, if you are planning to build your own cajón, this is something you have to look into.
Ask your wood supplier:
how was the wood processed?
can it hold at least 70kg? (you will be seating on it)
has it been treated to withstand constant impact?
will it absorb moisture and warp drastically over time?
2) Tone
Depending on the wood and its properties, you will get different fundamental tones from your cajón.
Here's a quick overview of the different types of wood and their tones: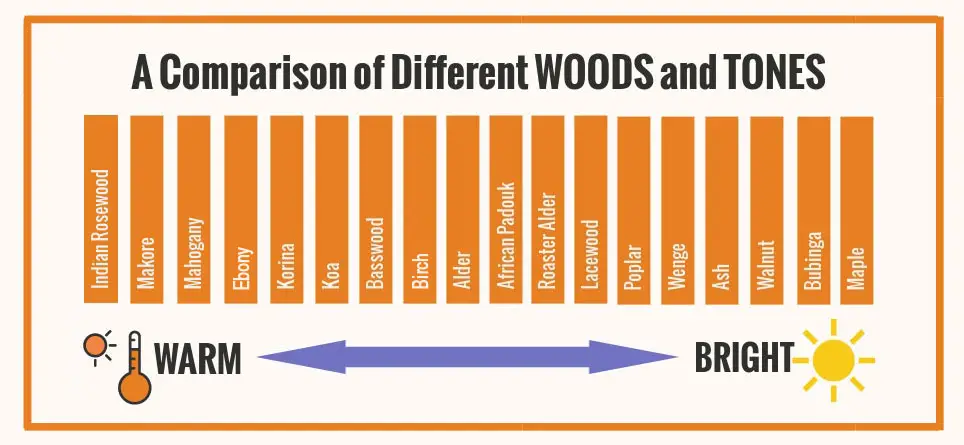 Information was obtained from Warmoth. Updated on 24 Jul 2018
The cajón's design and sound generation is very similar to a drum on your drum kit.
Hence, you can refer to information on drum shells and tones, as a reference.
Here's a list of wood and their sound properties: Drum Shell Wood Types and Their Tones
If you have an idea of the type of sound you'd like from your cajón, you will want to take note of the characteristic tones of woods in order to choose the best wood for your cajon.
3) Density
The density of the wood you choose also affects its sound.
In a nutshell;
Lower density absorbs more higher frequency than lower frequency sound waves.
Higher density absorbs more lower frequency than higher frequency sound waves.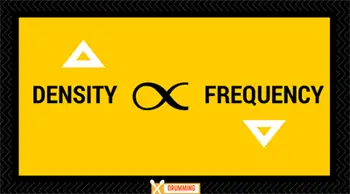 In short, wood of lower density tends to produce sounds of lower frequency as the higher frequency sound waves get absorbed.
You should keep this in mind, if you are looking to purchase or make a cajón that produces sounds of a specific range.
Best Wood For Cajón
Maple
Maple is known for producing a balanced sound, featuring a bright tone.
If you are looking for a all purpose cajón, we think you should start with maple.
A good maple cajón to start with is the Ecolab Vintage Cajón with a Maple wood frontplate, and a Oak body (there are limited sets available, read its details on Amazon here)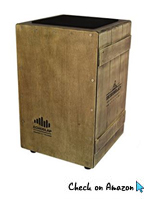 Based on research [4], Maple is also well known as a sound radiator and has sufficiently high characteristic impedance to act as a reflector for air oscillations in the hollow body.
In non-geek terms, this means that Maple can produce and amplify distinct tones.
Maple Wood Pieces:
If you are planning to make your own cajón, you can purchase maple wood on Amazon.
A better alternative is to check out your local lumber store for more options.
They would also be able to help you cut your maple wood into smaller sizes that are easier to work with.
Common types of wood used to make a cajón
By now, you'd know that different woods produces different sound properties.
Here we summarized the properties of common woods that cajón manufacturers use today:
| Wood | Ash | Birch | Maple |
| --- | --- | --- | --- |
| Tone Profile | Warm. Middle tones. | Higher notes more prominent. Generally louder. | All purpose. Even tones. |
| | | | |
| Specifics of wood used | Stained American White Ash Cajon | Birch Wood Cajon | Maple Front Plate, Hardwood Bodied Cajon |
| Price Range | $$ | $ | $$$ |
Now, whether you are building your own or purchasing a cajon off the shelves, it would be good to understand what you're getting yourself into.
Here's a quick introduction to the Cajon as an instrument:
2 Main Parts of the Cajón
#1: the Tapa
Aka the 'Front plate'. This is the surface that you hit.
The front plate of a cajón is usually made with a thinner piece of wood.
Because it is the main source of sound production, you'll want to choose a wood with your desired tone characteristics for this surface.
Considering that they were created during the periods of slavery[1], original cajóns were made from scrape wood, and were not equipped with snare wires. Traditionally, they were known for their heavy and 'bass-y' sound.
This is how a cajón sound like without snare wires:
In the modern evolution of the cajón, snare wires were added.
They provide a additional depth of complexity to the sound of the cajón, by creating the characteristic lingering buzz.
This video features a cajón equipped with snare wires. Notice the buzzing sound with each beat:

Depending on your budget, your choices of cajóns might be limited to birch.
Of course, if you have a larger budget, you might want to consider cajóns made from maple or even mahogany.
#2: the Frame
AKA the 'resonating body'. Refers to the rest of the cajón.
The material of the body is less prominent as compared to the front plate.
However, in my opinion, i think you should keep the following features in mind:
A) Sound quality of the selected wood
Sound waves created on the tapa will bounce off the body of the cajón, hence the material of your cajón frame does affect its sound.
If you are a beginner, this might not be a key point to look out for.
However, if you have a well trained ear or want a specific sound from your cajón, do take note of this.
People have also noticed that the final sound can be affected by the materials used in the construction of the cajón.
For example, drummers have noticed that glue can dampen the sound of the cajón. You might want to look for cajón that are put together using wooden screws or rivets.
B) Weight
If you are looking for a cajón for its portability, then this would be a key consideration for you.
Denser wood tend to be heavier, so you'd probably want to avoid those.
Alternatively, if size is also a factor, you can consider a Travel cajón like the Mugig Travel Cajon: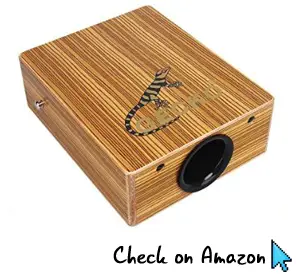 C) Visuals / Design
The Frame of the cajón is usually made of solid wood and the finishing helps add to the visuals of the final cajon.
Wood can come with naturally occurring wood patterns that are presentable without too much additional work. (Exotic woods are usually processed to highlight their beautiful wood patterns.)
This may only matter to you if you are a performer. There are manufacturers who design unique looking cajóns, to suit your needs too.
Sidenote: Wood and their sound properties
There have been many studies on the sound radiating properties of wood, especially for string instruments[5,6,7].
If you'd like to learn more about woods and their properties, I would think that those studies are good reference.
Other than the type of wood, if you are building your own cajón, you might want to select the exact wood that you use.
What do I mean by 'exact' wood?
Different woods have different resonance properties.
Wood from the same tree can have different resonance properties, depending on which part of the tree it originated from as well as the how it was processed.
We'll probably explore wood and their resonance properties in another article.
Looking for cajons for specific purposes?
We've analysed and researched over 200+ cajons for different types of users.
If you're looking for a cajon for your church, check out our best cajon for worship article.
If you are looking for a cajon for those unplugged/acoustic sessions, check our our best cajon for acoustic rock selection.
Still lost?
Here's our guide to the best cajon for beginners, it might provide you with some ideas to start exploring the world of cajon.
More Resources