I remember being blown away at the very first jazz performance I've ever been to.
Jazz drummers are one of a kind, don't you think?
How do they make such captivating music from such a lean drum kit?
I've searched for the best Jazz drum set since then and I think I've found it!
Best Drum Kit for Jazz
Click on the names to skip to the section where we discuss the drum component in detail
If you do not have the stands and hardware, consider the Gibraltar 4700PK Drum Hardware Package and an extra cymbal stand if you decide to go with an additional ride cymbal!
Quick Disclaimer
Before you go crazy in the comments section, let me place a quick disclaimer here.
This selection was based on a few criteria:
Sound quality
Ease of purchasing
Ease of setting up
Suitable for the intermediate jazz drummer (if you're a beginner, read our Best Beginner Drum Set article)
We TRY not to go too deep down the rabbit hole with this article because really, we could give you individual components that we think would make what we think is the perfect jazz drum kit.
And we'd still have drummers who'd be offended.
As a jazz drummer, you'll probably have your personal playing style with specific components to your kit.
There's no absolute right in Jazz, so let's take a chill pill and just enjoy the music yea?
Now let's get back to this Jazz drum kit!
This is how it should sound:

Video from Simone Formato
Best Jazz Shell Pack
Gretsch Drums Renown 4-piece Jazz Shell Pack
*This is a drum shell pack. It does not come with the cymbals or stands shown in the image above!*
Gretsch is well established in both drum and guitar manufacturing. They were also the ones who created the first warp free drum hoop in the world.
Between the 1950s and 1960s, they started attracting top jazz drummers like Elvin Jones,Max Roach and many others into their artist line up with their be-bop drum sets and jazz drum shells.
Having a direct communication with some of the world's most renowned jazz drummers, you'll notice that Gretsch's Jazz drum shells have the characteristics that a Jazz drummer would want – open, bright, natural tones.
The Renown series also brings back the USA classic features very similar to the kits used by the renowned Jazz drummers in Gretsch's artist line up.
Here's what you get in the Gretsch Drums Renown Jazz Shell Pack
update: the Gretsch Renown 4-piece Jazz Shell pack seems to be out of stock, the closest you can get now is the 3-piece Jazz Shell which comes with the following:
14″ Snare drum
12″ Tom (mounted)
14″ Flo Tom 16″ Flo Tom
18″ Bass Drum
Floor Tom Holder
Tom mounts
Comes with Remo Drum Heads

Snare: Coated USA Ambassador Batter, Gretsch by Remo Resonant
Toms: Clear Emperor Batter, Gretsch by Remo Resonant
Bass: USA Clear Powerstroke Batter, Coated white Gretsch head with muffle ring resonant
Click here to check availability of the Gretsch Renown 3 piece Jazz Shell Pack now
If you're still curious about what's included in the box, here's a pretty awesome ASMR unboxing video by ericBdrums, watch it at 2x speed:
Why did we choose the Renown 3-piece Jass drum shell?
The Renown 3 piece Jazz drum shell pack features 7-ply maple shells that are known for their bright sound profile.
An advantage of choosing the Gretsch Renown 3 piece Jazz drum shell pack is that it comes paired with compatible drum heads, selected with Jazz drumming in mind.
The search for the perfect drum head will be a journey that will probably take a lifetime.
Conversely, drum heads tend not to last a lifetime and will need to be changed at least once a year.
I was satisfied with the stock Remo drum heads that came with the pack, hence I went with the easy way out on this.
If you want to improve and customize the sound of your Gretsch Renown shell pack, read our guide on choosing drum heads.
If you have been following Jazz for a while, you'll also love the classic Gretsch 302 drum hoops that come with the Renown shell pack. These hoops' design originated from the classic Gretsch drums that were popular with Jazz drummers in the early 1950s.
They are also designed to be less rigid than most drum hoops and help to bring forth the open sounds of the toms and snare drums.
The Gretsch Renown series comes in various other configurations with varying drum sizes, as well as an option without the snare drum.
Best Jazz Cymbals
I picked cymbals from the Zildjan K Constantinople Series mostly due to their sounds.
Zildjian has been making cymbals since 1623, and are an industry leader known for producing high quality cymbals that last.
*on that note, if you find that your cymbals crack frequently, you might want to relook into your stick technique.
On top of that, I love the fact that they are hand-lathed which retains a very nostalgic tone quality that you get from older Jazz drum sounds.
Here's a quick looks at these cymbals:
Zildjan K Constantinople 22″ Bounce Ride Cymbal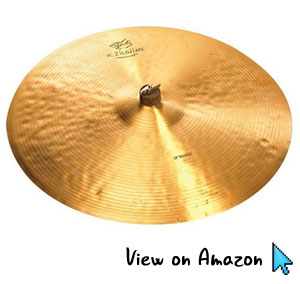 This was designed by Zildjian along with Kenny Washington, a Jazz Drummer.
The K Constantinople Bounce Ride features a unique clustered hammering.
It has grooves that help create controlled sustain and decay. It has a dark sound with a low to mid pitch that helps you stay above the rest of the band, no matter the size of the band.
This is how it sounds like:
Click here to check the availability of the K Constantinople 22″ Bounce ride now
I love the how the tones on this ride sound with its openness and overtones.
If you've listened to Zildjian's sound lab video above, you'll notice that it has a very crisp and bright bell tone that stands out against its darker overtones.
You can definitely use that to add variety to your fills.
Zildjan K Constantinople 20″ Medium Ride Cymbal [Optional]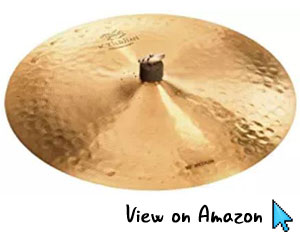 The 20″ medium ride features a dry tone with some degree of overtones.
It has a slightly lower tone than the 22″ bounce ride and pairs well with the 22″ bounce ride to provide you with a wider drumming variety.
This is how it sounds like:
Zildjan K Constantinople 17″ Crash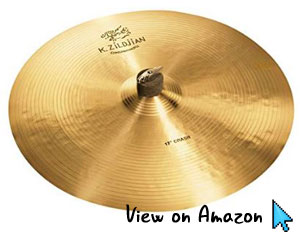 The Zildjian K Constantinople 17″ Crash is a thin cymbal that features a darker sound with more overtones.
This is how it sounds like:
You can get these in 16″ or 18″ as well.
However, the 16″ crash sounded way too high for my liking while the 18″ crash was a tad too low.
You can listen to samples of the various K Constantinople crash cymbals on the Zildjian website.
Do you need a crash cymbal in a Jazz drum set?
In Jazz drumming, you can opt to skip the crash cymbal. Jazz drummers tend to crash their ride cymbal when playing on a leaner drum kit.
The reason I chose to include the crash cymbal in the 'best jazz drum kit' selection is that a crash cymbal this size will widen the range of your drumming significantly.
You'll get the option to include a brighter tone with this crash cymbal.
If this sounds too similar to the ride cymbals I've suggested, you may want to substitute for an 8″ splash instead.
Zildjan K Constantinople 14″ Hi-Hat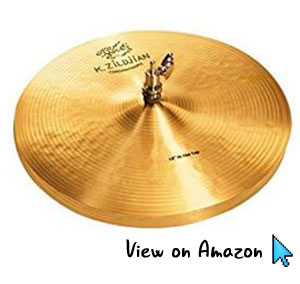 I'm not particularly picky when it comes to the Hi-hat ever since I realized my technique makes a greater difference.
However, for a jazz drum kit, I'd seek out darker hi-hat cymbals with distinct overtones.
Since the K Constantinople range has a hi-hat that is made using the same hammering technique, I decided to go for it. Really love the dark sound from these hi-hats. They really help to ground the music and provide a sense of stability.
This is how it sounds:
With the K Constantinople cymbals, you're getting one of the top ranged drum cymbals in the industry.
As a drummer however, you can mix and match your cymbals depending on your music preference and budget.
So, here's an alternative to the K Constantinople 14″ Hi-Hats: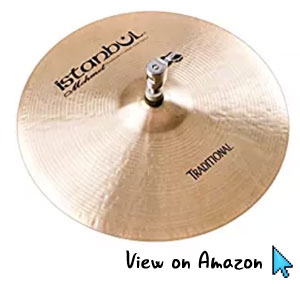 Istanbul Mehmet traditional Series 14″ light hi-hat cymbals
These are hand crafted cymbals made in Turkey as their name suggest.
You can expect a dark, warm hi-hat tones from these cymbals.
Here's how they sound:
My only peeve is that they sound very muffled or stiffed when closed across all the demo videos I had listened to.
This could be due to the recording quality or the playing style of the drummer in the demo videos.
How do the K Constantinople cymbals sound together?
Although this video does not feature the same exact cymbals recommended, I think you'll enjoy this K Constantinople cymbal demo video from Memphis Drum Shop very much.
Take a quick 4.5 mins break to enjoy it:
A Cheaper Cymbal Alternative
The K Constantinople Cymbals sound lovely, but they may not suit everyone's budget.
So, here's a wallet friendly alternative:
Zildjian's K Series Cymbal Pack
First up, here's how they sound:

Video from Memphis Drum Shop
With Zildjian's K Series Cymbal Pack, you'll get 4 cymbals:
14″ K Hihats
16″ K Dark Crash (Thin)
20″ K Ride
a free 18″ K Dark Crash (Thin)
I love the sound of the 20″ K ride and believe that a larger dark ride cymbal may just improve the sound of this Jazz kit even more.
A little about Jazz Drum Kits
Jazz drum kits tend to be a little more compact, possibly due to the small amount of space that jazz drummers had at the bars in Chicago in the past.
You'll notice that a typical jazz drum kit would feature a smaller bass drum paired with a rather wide ride cymbal.
Drum shells for jazz
The bass drum (between 14 to 18″) tends to be tuned higher while the snare drum head slightly tighter for that extra crack.
You may have also noticed that jazz kits are usually fitted with single ply drum heads without coating. These tend to give the kits a little more 'ring' in its sound by allowing the overtones to come through.
Cymbals for Jazz
The ride cymbal (between 19 to 24″) tends to be of a wider circumference for increased resonance, overtones and ring as well. This ring is key in providing the characteristic crash sound in jazz music.
The ride cymbal also tends to be the 'hero' of the Jazz drum kit, hence you may notice that smaller jazz drum sets only come with a ride and a hi-hat.
You'll notice that the cymbals used in jazz kits tend to sound deeper with a lower fundamental pitch, these are also classified as 'dark cymbals'.
Drumsticks for Jazz
As a jazz player, you'll probably value speed and creativity over strength and volume, hence you'll probably want sticks that allow you to 'fly' across your drum kit.
I'd suggest that you start with a lightweight drumstick – a pair of 5A drumsticks is a great starting point.
You can read about our pick for the best beginner drumsticks here if you are not sure where to start.
Size of jazz kits
Jazz drum kits are definitely one of the first practice of minimalism.
Jazz drummers are good to go with just a 3 piece drum kit with 2 cymbals. These include:
bass drum
snare drum
tom
hi-hat
ride cymbal
An even smaller variation known as the "Bop drum kits" are also frequently used by jazz drummers due to their small size. However these only appeared later in the Jazz music scene.
Conclusion
Till today, I'm still in love with the freedom, open sounds, energetic tones and seemingly random grooves from Jazz drumming.
If you're an aspiring Jazz drummer, I think you'll love this set up too~
Let me know what you think below!