If you're a concerned parent who wants to support your child's interest in drumming, this article was written for you.
Getting the right drum kits and finding the perfect drum teachers for your kid are important, but in my opinion, the most essential item in your checklist should be getting the best ear protection for your child. You'll definitely want your child to avoid any noise induced hearing loss, as they enjoy themselves on the drum kit.
Here're the
Best Ear Protection for Young Drummers
For young drummers below 6, over-the-ear options are easier to work with. For children above 6 year old or those accustomed to the use of earplugs, consider high fidelity earplugs.
Hearing Protection
Type
Effectiveness
Ease of Use
Audio Input?
Price Range
Check Availability Now
1. Etymotic Research ER20 XS




My pick

Reusable Earplug
Great
Easy
No
$$
2. Decibullz High Fidelity Earplugs


Custom Earplug
Best
Mid. Will need help from parent to mold earplugs before first use.
No
$$
3. UE 5 Pro


Custom In Ear Monitor
Best
Easy. Will need to do a custom ear impression prior to getting the custom earphones.
Yes
$$$$$
4. Eargasm High Fidelity Earplugs


Reusable Earplug
Great
Easy
No
$$
5. 3M E-A-R Classic Earplugs


Foam Earplug (Disposable)
Great
Mid. Will need help from parent during fitting.
No
$
6. Vic Firth Kidphones




Best for young drummers below 6!

Earmuffs
Great
Easy
No
$$
7. Alesis DRP100


Headphones
Great
Easy
Yes
$$$
8. Vic Firth Stereo Isolation Headphones


Headphones
Great
Easy
Yes
$$$$
Please take note: Age is a very important factor here. Your child will need to be able to adapt to and accept their ear protection, or else they'll resist using them while drumming. Do be patient when you introduce ear protection to young drummers!
If you are looking to protect young drummers below age 6, I find that over the ear options are easier for them to adapt to. You'll want to skip right onto the sections on earmuffs or drumming headphones. For young drummers above 6 years old or those who can sit still while you put earplugs on them, consider high fidelity earplugs like the Etymotic Research ER20s or custom earplugs.
There is a wide range of ear protection products designed to protect your child's hearing. Here's a list, in order of effectiveness:
Most Thorough: Custom Earplugs / Custom in-ear monitors
Great: Earplugs / Universal In-ear Monitors
Good: Earmuffs
Basic: Drumming Headphones
Each of these ear protection options have their pros and cons, let's explore them and find the best ear protection for the young drummer you want to protect.
Custom Earplugs or In-ear monitors
Custom earplugs or in-ear monitors (IEMs) are designed to fit the ear of its users, delivering maximum comfort and noise reduction capabilities.
The best custom earplugs or in-ear monitors are high fidelity, meaning they reduce sound across all frequencies equally. For the user, the surrounding would sound exactly the same, except way softer. These are usually costly and are more suited for professional musicians.
| Advantages | Disadvantages |
| --- | --- |
| Custom fitting to the ears of the user. | May be used wrongly which negates its noise reduction capabilities. |
| Maximum comfort. | Non high-fidelity earplugs muffle sounds, leading to a bad experience. |
| Maximum noise reduction. | High fidelity versions are usually more costly. |
However, there are also cost effective solutions that provide similar benefits.
Best custom earplugs for young drummers
Decibullz High Fidelity Earplugs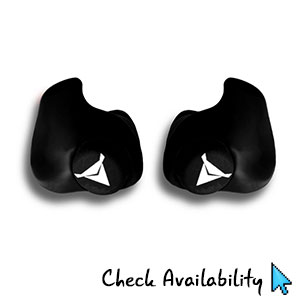 These custom molded high fidelity earplugs are one of the most valued for money options in the market, at the point of writing. A pair costs less than $40 and have a NRR of 12 dB, with high/mid attenuation.
We selected the Decibullz High Fidelity Earplugs for 2 reasons;
Value for money – High Fidelity feature at an affordable price
Re-moldable earplug material
Value for money
At about $40, the Decibullz earplugs comes with high fidelity filters that costs a fraction of its competitors which could cost you anyway from $200 or more.
High fidelity reduce noise equally across a wide range of frequencies which means that the user would still be able to hear accurate sounds and tones, but at a lower amplitude (aka loudness). This is particularly important for musicians especially if they are playing in a band. This means that your child can play along with a band or playalong tracks from an external speaker with ease and safety using these earplugs.
Here's a review from a fellow musician (video starts at 12:39, after all the unboxing stuff):
Re-moldable earplug material
As your child grows, the shape of their ear bowl may change ever so slightly, affecting the fit and efficiently of the earplug. Decibullz uses a easily re-moldable material that allows you to reshape the earplug when necessary.
The molding process is relatively easy too:
After molding, the Decibullz earplugs will harden and the earplugs tend to stay in place. Few people have mentioned that the harden plastic can be a little uncomfortable. If your child has the same experience, you may want to gently press down on the mold while it is cooling down. This will give the mold some leeway to expand as it cools. Just make sure that the earplugs remain effective and help to block out loud noises if you decide to do this!
Decibullz was started in 2012 by a professional gymnastics coach, their products are made in the US.
If you're looking for an affordable ear protection that offers maximum protection and is easy to use, the Decibullz is definitely the first and best option.
Other custom in-ear monitor options
But, earplugs are just…earplugs. They do not come with music playing capabilities or audio input. If your child or young drummer requires audio input for play-along tracks, you'll need to shop for custom in ear monitors instead. Decibullz has a range of custom in ear monitors that you can choose from as well.
However, the audio quality on their earphones isn't my favorite. I would recommend the following instead:
Best custom in-ear monitor for young drummers
UE 5 pro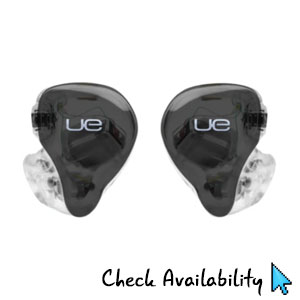 Versatile with great isolation, the UE 5 pro comes with 2 drivers that deliver a balanced, full range of sounds.
Ultimate Ears is a trusted in-ear monitors brand used by many performing artists and celebrities. They provide the option of a DIY ear fitkit which you can easily use at home to get your custom ear impressions. With the customized ear fitting, the noise isolation on the UE 5 pro is excellent – it becomes silent when you put it on. (unfortunately there isn't an official NRR rating on this earphone)
The UE 5 pro is a great investment for young drummers who are committed to a lifetime of drumming and music.
That said…
Most custom in-ear monitors are priced at $500 or more and require a fitting either at a local audiologist or via a fitting kit (done at home). These in-ear monitor fittings are usually done once and the shape cannot be adjusted thereafter due to the material used (usually light weight acrylic).
If you are not sure if your child will be into drumming for the long term, save up and skip the custom in-ear monitor options!
Also, as mentioned above, a young child's ear shape may be constantly changing, and hence require constant monitoring and modification of their in-ear monitor fit. If your child is below 12, you may want to consider a cheaper, remoldable option like the Decibullz instead:
Decibullz High Fidelity Earphones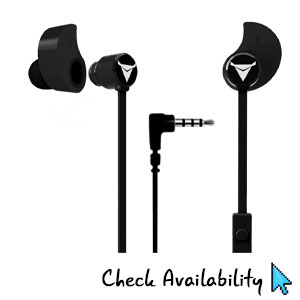 Like its sibling, the Decibullz high fidelity earphones come with a custom, remoldable design which makes it economical and user friendly for the young drummer.
The audio quality from the Decibullz earphones is passable but nothing spectacular.
Earplugs
Earplugs are designed for the sole purpose of protecting its user's hearing. It is a common hearing protection product used industrially, there's little doubt that earplugs are great ear protection options.
That said, the main downside of earplugs is that it can be uncomfortable for children. Incorrect application or wearing of earplugs will negate their hearing protection effect, make sure that your child wears them correctly!
The two most common options are disposable foam earplugs and reusable earplugs (usually made with silicon or a soft material that is easy to clean), each has its own pros and cons:
| Disposable Foam Earplugs | Reusable Earplugs |
| --- | --- |
| Single use | Multiple use, easy to clean |
| One size fit most | Usually comes with S, M, L sizing |
| May be difficult for young children to fit on their own | Easier to use |
| Foam will expand to fully cover ear canal for excellent noise reduction | Must make sure the right size is selected for maximal noise reduction |
| Less environmentally friendly | More environmentally friendly |
Best earplugs for young drummers
This is the best earplugs for young drummers, in my opinion: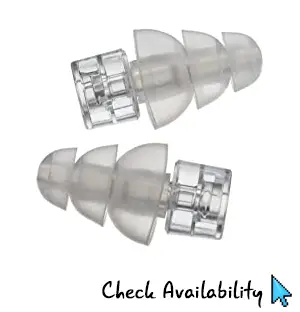 I'm using these personally.
They are reusable, affordable, high fidelity, comfortable for sessions lasting 2 hours and are pretty durable. You can get replacement tips if it starts to get loose or when your child feels that it no longer blocks out as much noise.
Etymotic Research is one of the first to design high fidelity earplugs, giving musicians adequate ear protection without losing sound quality.
The ER20 XS have a NRR of 20dB. They come with tips of 2 sizes, the standard ones are one size fit most.
I prefer the XS model because they are designed to be used with a helmet or hat and they don't stick out of the ear too much. This increases the safety for child drummers, especially for those who are more active. It also give us an option to put on an additional earmuff when necessary.
For about $20 (at point of writing), you'll get 3 tips (2x triple flange and 1x foam) that fits on the ER20 XS filter, a carrying case and a neck cord. Here's an unboxing video:
And here's a video review of the Etymotic Research ER20 (predecessor of the XS):
Another up and coming brand in the ear protection space is: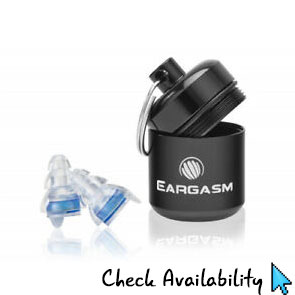 Eargasm produces high quality earplugs with high fidelity filters which are designed with their patent pending attenuation technology. This means that your child gets to hear accurate sounds and tones without the ear damaging loudness. These come with a NRR of 16dB and they are easy to use, with a push to fit design.
You'll want to note that eargasm provides a "smaller ears" version of their high fidelity earplugs (NRR: 15dB) which is suitable for many young drummers. Refer to their sizing guide to make sure you choose the right size for efficient noise reduction: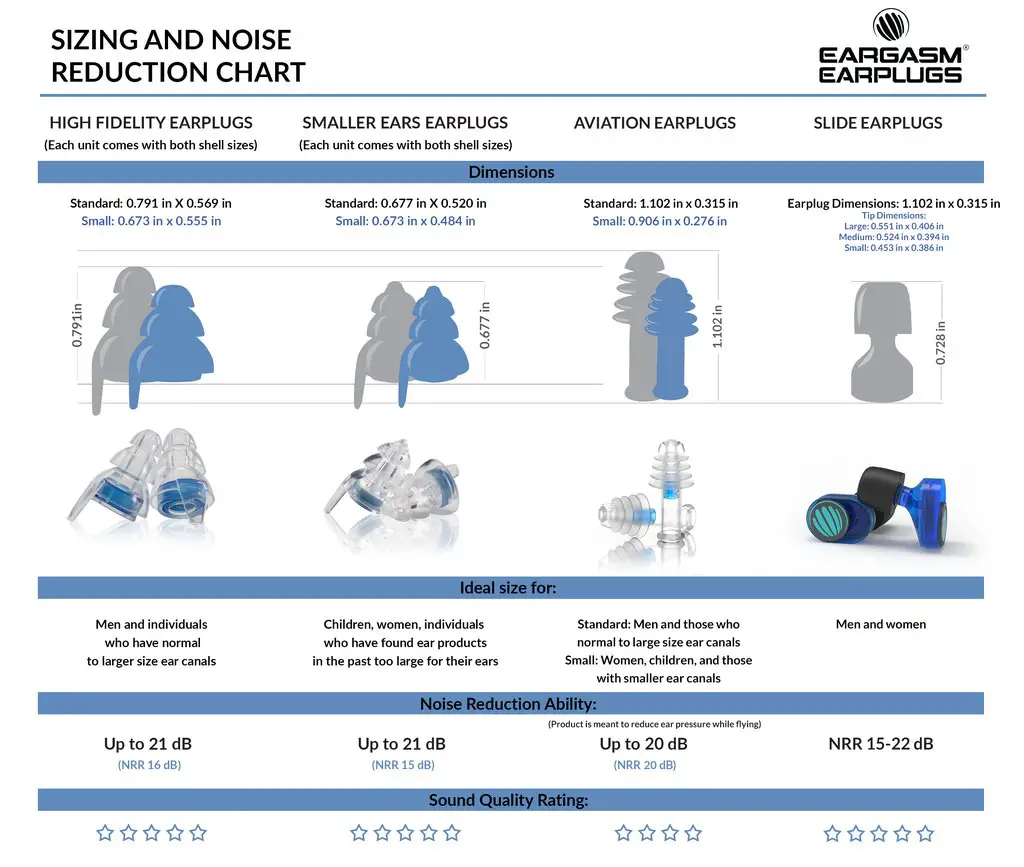 These earplugs are made from silicon and are washable. If you are worried about your child losing them, you can get the connector cord.
The best part?
Eargasm earplugs come with a nifty carrying case which makes them easy to carry along. You don't have to worry about your child's hearing even if they were to attend a heavy metal concert, as long as they wear their earplugs.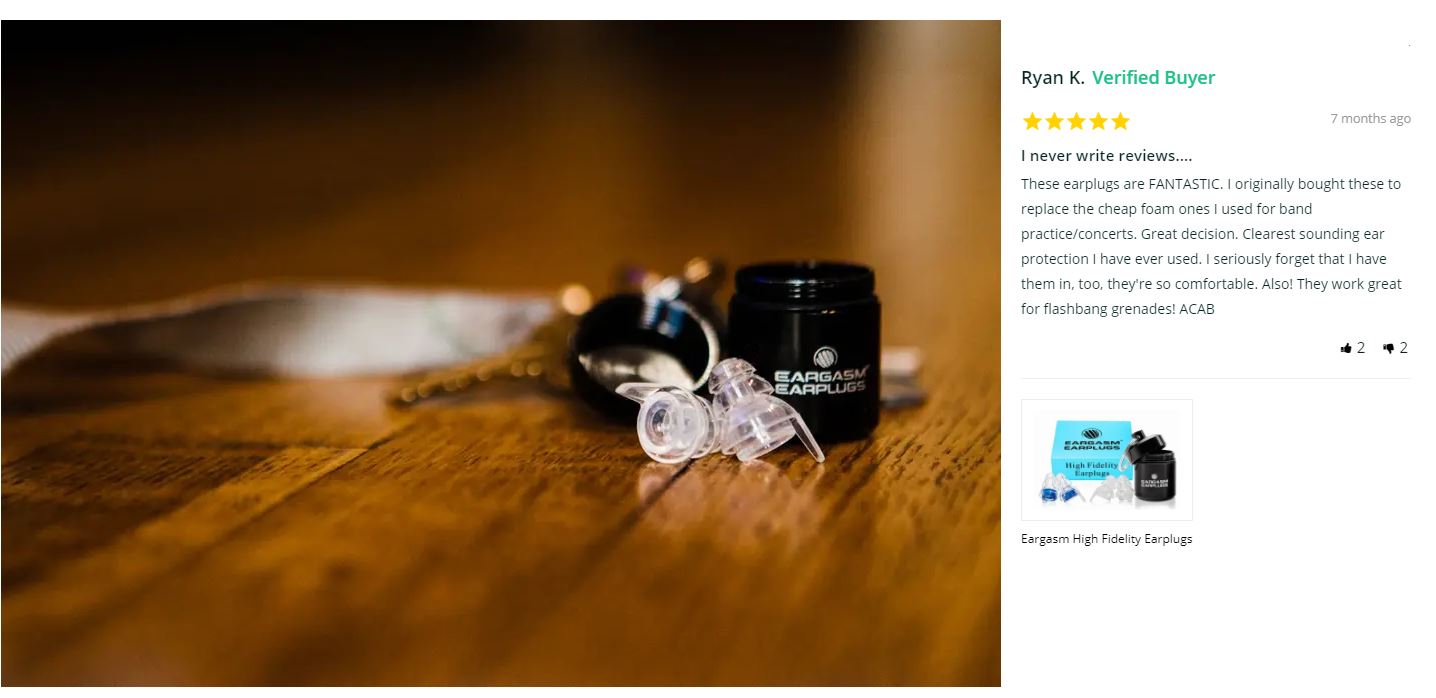 Now, if you prefer a cheaper alternative, you can consider disposable foam earplugs. These tend to be general purpose.
These are definitely a winner for me:
3M E-A-R Classic Earplugs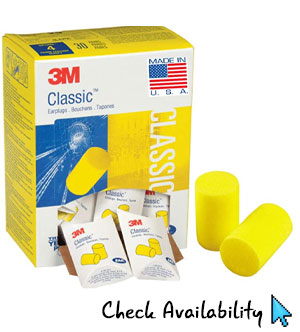 3M is a market leader in the foam earplugs industry, they have been manufacturing this same product for decades. The 3M classic earplugs has a NRR of 29 dB and is the preferred option for people across many industries and uses – from protecting the hearing of workers at construction sites and in industrial settings, to people who are sensitive to noise when sleeping.
And they are pretty affordable – you can get a box of 30x single use disposable foam earplugs for less then $20. You get more savings if you purchase larger quantities too.
BUT!
The main issue of using foam earplugs is that younger children may not be able to fit them on by themselves. You or your child's drumming instructor may need to help them insert the earplugs AND make sure that it is offering effective noise reduction.
Here's how it is fitted:
Side note:
There are a lot of similar looking foam earplugs to those by 3M. For the safety of your child or the young drummer you wish to protect, I would avoid cheaper alternatives and go for a trusted brand instead. Other than 3M, you may want to consider brands like Mack's or mpow.
Another downside of the disposable foam earplugs is that it isn't very environmentally friendly. 3M now offers reusable earplugs as well:
3M Reusable Earplugs (Corded)
3M reusable earplugs features a tri-flange design which is easy to put on, especially for children. There is not need to roll down these earplugs before fitting. The earplugs are made with soft material that is washable for repeat use.
The 3M reusable earplugs have a NRR of 25dB and come in corded and non-corded variants. I prefer the corded version as it reduces the chance of losing one side of the earplugs.
That said, 3M isn't the best in the reusable earplugs category in my opinion.
Earmuffs
Basic earmuffs reduce noise by covering the outer ear. If you have a bigger budget, you may choose earmuffs with additional noise isolating functions or noise cancelling functions. Earmuffs also provide an additional source of noise reduction when used in conjunction with earplugs or in ear monitors.
Earmuffs are easy to wear but can get uncomfortable over long periods of use, especially if the user is bespectacled.
When looking for a earmuff for hearing protection, do consider products that are built for that purpose. My pick would be:
Vic Firth Kidsphone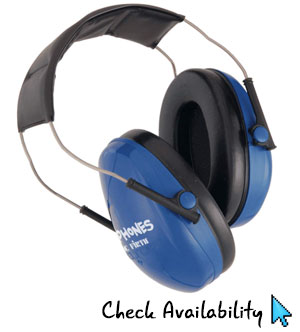 Vic Firth is a trusted brand in the drumming space, personally I use many of their products and can vouch for their quality. The Vic Firth Kidphones are a no frills, non electronic earmuffs that is suitable for kids aged 4 to 12. Its headstrap is adjustable, the ear pads come with a comfortable sponge and the material feels durable.
You can read what 240++ parents say about the Kidphones here.
Vic Firth's isolation drum headphones are built specially to protect young drummers, and at around $27 I think its a steal.
But if you prefer something cheaper, consider the general purpose:
mpow Earmuffs for kids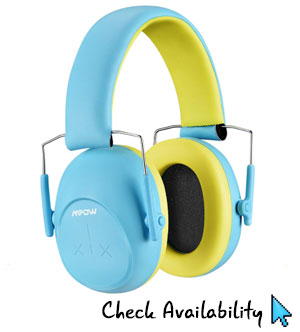 Designed for kids between 3 to 12 years old, the mpow earmuffs comes with comfortable sound proof sponges and soft ear cushion. It has a NRR of 26 dB and is lightweight at 6.5oz (or 185gm) making it suitable for longer use.
Earmuffs are easy to put on, but you'll need to make sure that your child's ears are completely covered for maximum noise protection.
mpow also made sure to use durable material to manufacture these earmuffs, so that it can withstand tough use, plus they provided a carrying case for it. You can read what 4,100++ parents say about the mpow earmuffs for kids here.
Drumming Headphones
Drumming headphones tend to be designed mainly for drummers to play along to accompanying tracks, hence most of them don't perform spectacularly when it comes to hearing protection.
Therefore, if you're looking for a dual purpose drumming headphones (i.e. able to provide hearing protection and provide audio input), do be alert!
That said, there'll always be exceptions and in this category, I think this drumming headphones are offer the best of both worlds:
Alesis DRP100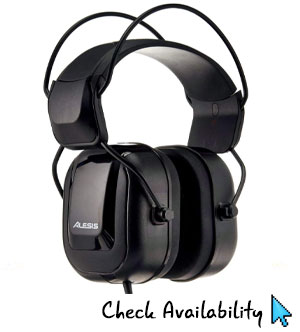 The Alesis DRP100 is a value for money studio monitoring headphones which provides excellent sound isolation. It is built specifically for drummers to extract accurate sounds and tones from their electronic drum kits, and it allows drummers to play along with the rest of the band.
Its over the ear design comes with large ear cups for maximum coverage and comfort. The head strap is also designed for maximum support which allows for extended use.
The sound quality is not bad, given that these monitor headphones are powered by a 40mm driver. You get good low tones and balanced mid and high frequencies.
The DRP100 could be a tad too big for kids below 6 but they are built to last, so if you're looking for easy to use, no frills headphones with noise isolation for an older child, this is the first choice to consider.
Alesis is another trusted brand for drummers, they are known to produce good quality products at super affordable prices, a great example is their Alesis Nitro Kit which remains my all time favorite budget electronic drum kit.
Vic Firth Stereo Isolation Headphones
Designed for live performances or playing along with recorded tracks, the Vic Firth Stereo Isolation headphones can reduce noise by up to 25 dB. Like the Alesis DRP100, it comes with large, comfortable earcups and an adjustable padded headstrap. The material on these headphones feel very durable.
I've got to mention the earpiece on these headphones again – they are relatively large and definitely provide complete coverage of your ears which means there's almost no noise leaking in. This is particularly important, especially if you are looking to protect older children or want a noise isolation headphone that can continue to protect your child as they grow. That said, this might be too large and heavy for younger kids.
The audio quality is worth mentioning as well – powered by a larger driver you get superior sound from this headphones.
The only reason I can't recommend this as the best of the headphones category is its price tag and availability. At the point of writing, it costs around $99 at online stores and may cost slightly more at your local music store. If you are not sure how committed your child is to drumming, this may be too much of an investment. Also, for some reason the Vic Firth stereo isolation headphones don't seem to be readily distributed, you may try swee lee or sweetwater if you can't find them on Amazon or your local music store.
Conclusion
If you're looking specifically to protect the hearing of your child or a young drummer, my suggestion is to go with the Decibullz High Fidelity Earplugs. Their custom re-moldable design and high fidelity filters are totally undervalued at their current price point. You'll just need to make sure to help your child with the first fitting.
Your child can play along with a band or playalong tracks from an external speaker with ease and safety using these earplugs.
Of course, there'll be times when you prefer to not have to listen to the playalong tracks. That's when you may need to consider earphones or headphones with audio input. In such cases, consider the Alesis DRP100 headphones which are value for money, built for comfort, comes with noise isolation and can definitely last.
And if you're looking for a pair of headphones with trustworthy sound protection features AND good audio quality for a
How these ear protections were selected
I used some key criteria when selecting the ear protections for young drummers, they are:
Effectiveness at protecting hearing
Fidelity
Value for money
Ease of use
Effectiveness at protecting hearing
The main reason you're reading this article is probably because you're worried about the negative impact that drumming could have on your child's hearing. Hence, this criteria is the first and most important feature I looked at and tested for.
A good reference to determine the effectiveness for ear protection would be to use the NRR as a gauge. The higher the number, the more noise a product blocks out. You can read more about NRR in the FAQ section below.
Having said that, I also wanted to differentiate between ear protection that merely provided a physical barrier to sound against those that are able to reduce sound frequencies equally. This feature is particularly important for musicians because they'll want to be able to hear sounds and tones accurately, despite having ear protection on.
This leads us to the next criteria:
Fidelity
In the audio world, 'fidelity' simply refers to the accuracy to reproduce sounds. In the ear protection space, a high fidelity earphone or headphone refers to lack of distortion to tones and frequencies while reducing the amplitude or loudness of sounds.
Musicians will want and need a high fidelity ear protection solution that allows them to hear other instruments (or a play-along track), and converse with others (at a higher volume) while protecting their ears.
Even if your child may not be committed to becoming a drummer or musician, having a high fidelity earplug on hand will be handy when he or she attends a live concert.
Value for Money
This really boils down to your budget, but I believe that a good product should be value for money regardless of its price tag.
All the products listed here provide great value for their price tags.
You should pick a suitable one depending on your requirements and budget – for example, you may want to skip headphones or earphones with audio input but give priority to an effective high fidelity sound isolating earplug. Your child can still play along to tracks from an external speaker.
Ease of use
Last but not least, ease of use would ultimately determine how frequently the ear protection solution would be put to effective use. We wouldn't want to be spending our time searching for a good product that doesn't get worn or fitted properly by the young drummer.
You'll need to balance the tradeoffs depending on the personality of your child.
Some may not like the feeling of an over the ear headphones and may resist putting them on. Others may find foam earplugs a hassle to put on for every practice session – they may skip the earplugs on shorter session which could ultimately harm their hearing.
Personally, I find the tradeoff for a one time molding process with Decibullz worthwhile, for a relatively easy to use and fitting earplugs. But it's ultimately down to the preference of the young drummer whom you wish to protect.
You can read more about choosing the right hearing protection here.
Frequently Asked Questions
Common questions on the loudness of drums, suitable level for kids and more…
How loud is too loud for kids?
According to John Hopkins Medicine, constant exposure to noise levels above 90 dB can negatively affect your child's hearing. (As a point of reference, regular conversation is about 60 dB.)
The noise level of a drum kit really depends on your environment. As a gauge, an acoustic drum kit ranges between 100 to 120dB in a small room. You may want to download a free sound level meter phone app like Decibel X to get a measurement.
Can loud noises cause hearing loss in kids?
Long exposure to loud noises and/or exposure to extremely loud noises can cause noise induced hearing loss in children.
The most worrying issue is that it can be difficult to detect. Noise induced hearing loss can take place when a child is constantly exposed to noise levels that adults may not consciously identify as 'loud' such as hair dryer and blenders. Such hearing loss takes place over time and is often painless, but permanent.
What is NRR (noise reduction rate)?
NRR is the unit of measurement, measured in decibels (dB) that indicates the effectiveness of a hearing protection product or device.
A hearing protection product will often come with its NRR rating. The product NRR rating cannot be used directly. Instead, you'll need to subtract 7 from the product NRR, and then divide it by 2 to get the practical NRR.
Practical NRR = (Product NRR – 7) / 2
Subtract the practical NRR from your surrounding noise level to get the actual noise exposure.
Why the math? In short, the product NRR is calculated using a C-weighted sound level (dBC) which accounts for a full range of frequencies while the human hearing is closer to the A-weighted sound levels (dBA) that doesn't account for lower frequencies. Since we are using the hearing protection for human ears, we should ideally convert the product NRR to practical NRR. For more geeky details, read this and this.