If you're young and broke like I was when I started drumming, this could change your drum mastery progress.
I can only wish that I had something like this when I started :S
After looking at several budget electronic drum kits that provide great value, I think that;
The Best Electronic Drum Kit For The Money
is the…
Alesis Nitro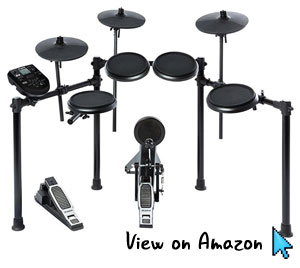 Disclaimer:
Let's set the right expectations right from the get go, so that no one goes crazy and starts flaming everybody in the comments.
This electronic drum kit was chosen based on the criteria that it has the most complete range of features, for its price range.
The term 'for the money' in the title should give you a hint that we selected the Alesis Nitro based on price first, features and quality second.
In short, we're not saying this is the best electronic drum kit ever.
But we're pretty sure that it is the best electronic drum set that a drummer can get at this price point.
Now that we've got the expectations out of the way, let's get into the fun details! 
Pros and Cons of the Alesis Nitro
There's no perfect drum kit out there, here's where the Alesis Nitro did well and areas that we wish could be improved:
Pros
Cons

Value for money
Full sized electronic drum kit
Large sound library with 40 preset drum kits to choose from
Almost complete range of drum triggers.
Good range of drum pads and cymbals for beginners.
Kick pad with pedal is a steal at this price range.
Has coaching function that is beneficial for beginners
Has metronome function build in
Relatively silent for an electronic drum

Sound quality isn't the best
May not be durable
There have been complains of malfunction within months of purchase
TABLE: Pros and Cons of the Alesis Nitro drum kit
2 main reasons why we think the Alesis Nitro wins this category, hands down
Here's a quick look at the specifications of the Alesis Nitro:
| What's inside the box? | Features |
| --- | --- |
| Alesis Nitro Drum Module | 40 pre-set drum kits |
| 1 x 8″ Snare Drum Pad (Rubber pad, 2 zones) | 60 Play-a-long drum music tracks |
| 3 x 8″ Tom Drum Pads (Rubber pads, single zone) | 385 percussion sounds |
| 3 x 10″ Cymbal Pads (all single zone, only crash cymbal has choke zone) | Metronome Function |
| Hi-hat Pedal (open/close/half-open/splash) | Coaching Function |
| Kick drum pad with Pedal | Sequencer |
| Drum key | Performance Recording |
| Drum Sticks | Has MIDI input and output |
| | Has AUX input and output |
We wrote a review of the Alesis Nitro previously, you can read that for a detailed breakdown and thoughts about the kit.
1 – Wallet Friendly
When looking for the best electronic drum kit for the money, this was the first thing on our minds.
We wanted to a drum kit that most drummers could:
afford,
practice and drum to their hearts content, where ever they are,
be creative with what they could do with their drum
And that was how the Alesis Nitro caught our attention initially.
At about $350 (accurate at point of writing), you're getting a complete 4 piece electronic drum kit that is ready to go right out of the box.
For the same price, you'll probably be able to get an acoustic junior drum kit, a Calsbro electronic drum kit or a Vault electronic drum kit that both come with narrower sound libraries.
Users have noticed lag when drumming on the Calsbro, while the Vault has been known to be less durable.
2 – Versatile (for the average drummer)
With 40 presets, 385 percussion sounds and 60 play-a-long drum tracks, you'll not be bored with the Alesis Nitro.
For the beginner drummers, you'll also find the coaching and metronome functions very useful when you are practicing on the Alesis Nitro. You'll also find the Nitro remains relatively sufficient even as you progress and improve as a drummer.
For the drummers who aspire to gig or release drum covers on YouTube, you'll find the 'performance recording' function that comes with the Alesis Nitro useful.
For the advanced drummers, its wide sound library will allow for some seriously creative drumming.
Pro drummers or touring musicians however, may not find this kit sufficient.
If you have a bigger budget, go for Yamaha or Roland electronic drums as their sound library will probably sound better.
Wondering if there are other alternatives?
Well, you'll find comparison of the Alesis Nitro against other popular electronic drum sets here:
Check Amazon for availability of Alesis Nitro here
2 considerations you need to take before getting the Alesis Nitro
As mentioned above, the Alesis Nitro is not a perfect product. It has its flaws.
We think that you should be aware of the following considerations before you purchase the Alesis Nitro:
1 – Build Quality
A small number of users have pointed out that different parts / components of their Nitro kit have broken at different points after shortly after their purchase.
The hi-hat and the cable joints seem to be the weakest part of the kit.
However, this issue was only reported by a handful of users and might be due to shortfalls in the quality control…maybe.
2 – Slow Support
Most Alesis Nitro kits are sold by distributors.
And users have complained that they have had issues getting support for their kit.
Hence, always check if you can get additional technical support when you purchase the kit.
What to look out for in a budget electronic drum kit?
Drummers choose electronic drum kits for various reasons.
Whatever your reason, drum kits have never been cheap options.
Before you jump onto the cheapest electronic drum kit you can get your hands on, here are 2 key considerations that you should take note of;
i) Hardware
On an acoustic drum kit, individual drum pieces provide different sounds that gives you the ability to create your riffs.
On the electric drum kit, more drum pieces simply means that you get to trigger more sounds per set. Unless you add a sample trigger pad of some sort.
Number of Drum Pads
In short, having more drum pieces means you have more options when you drum.
Hence, the number of drum pieces on an electronic drum kit is a key consideration.
Most electronic drum kits would come with 4 drum pieces (bass drum, snare, tom tom and floor tom).
Active zones on pads
On an acoustic drum kit, you can create a wider range of sounds by hitting the edge of the drums or cymbals, hitting the bell of the cymbals, etc.
Not all of these possibilities are translated onto every electronic drum set.
Cheaper e-drums tend to feature single zone pads that will only allow you to trigger one type of sound per pad.
This capability is usually specified by the number of zones on the e-drum pads. Both drum and cymbal pads can have up to 3 trigger zones, depending on the e-drum kit you are looking at…and your budget.
For example, Yamaha DTX has a 3 zone drum pad, here's what you can do with it:

Video by Yamaha
Brush Effect
Not every electronic drum kits will work with brushes, nor are able to produce the light, relax sounds that a brush would otherwise create on an acoustic drum kit.
This is an advanced feature that you will not find in most budget electronic drum kits.
Hence, be warned!
If you intend to use a brush with your electronic drum kit, you'll probably want to consider e-drums that are not in the 'budget' or 'inexpensive' category.
For example, the Roland TD30K:

Video by: Maxmainstrim
I'd say its a pretty cool feature, although most hobbyist drummers wouldn't need this function.
Unless you're into jazz…
Pedals
Bass drum / Kick drum pedal
If you've done your research on the best budget electronic drum kits, you'll notice that most e drums will only include a bass drum pedal instead of a bass drum pad.
This helps to cut the cost of production as the manufacturer no longer needs to spend resources to make an additional drum pad with a stand.
Hi-Hat pedal
With an acoustic drum kit, you can play the hi-hat at 3 'settings'; open, closed, half open.
Again, some of the budget electronic drum kit might not have the half open hi-hat option.
Although it sounds restrictive, most beginners might not need this function.
It's more important to find a balance between your budget and the features you get with a suitable e-drum.
ii) Sound Library
Electronic drum kits work by triggering a pre-recorded sound when you hit the drum/cymbal pad.
Hence, it's little wonder that the library of pre-recorded sound is an important feature that you'll want to take note of.
Quality of sound library
The quality of the sound library makes a key difference to your drumming experience. Depending on the source of the drum sound, you might end up with digitally synthesized sound or well recorded drum sounds.
There is little doubt that budget electronic drum kits do not provide the best sound library quality.
However, if you're using the drum kit as a learning tool, this would not be a key decision factor.
On the other hand, if you're planning to record drum covers or compose music using the electronic drum kit, the quality of the sound library will be an important consideration.
You'll want to listen to sample tracks that are usually found on the manufacturer's website or on YouTube, before you make your purchase.
For example, Danny Hauger has sampled all the pre-set drum kits in the Alesis Nitro in this video:
Range of sound library
Being an electronic device, it is possible for you to trigger sounds beyond those that are created by an acoustic drum kit.
For example, the Alesis Nitro comes with percussion sounds that you can select and trigger during your practice or performance.
Having a wide range of sounds to select from, is particularly useful for drummers who want to compose their own music or perform live.
Beginner drummers may not fully utilize the sound library, especially if you've just picked up your drum sticks lately.
Conclusion
If you're still wondering if the Alesis Nitro is for you, refer to our pros and cons table above again.
Yes, we chose the Alesis Nitro, but…
We are convinced that the Alesis Nitro provides the best bang for the buck, at the point of writing.
However, every drummer has their own needs and wants.
The Alesis Nitro has a wide range of features and makes it a very versatile electronic drum kit for a wide range of drummers. However, it doesn't stand out on any specific feature or presets.
Hence, if you want a better drum kit that might have a narrower range of features, do check out our guide on the Best E-drums for Beginners.