As you gain confidence in drumming, you'll start to explore different genre of music and drumming.
And as you explore and evolve your drumming style, you will find a need to move on from your beginner drum kit.
But!
Getting a brand new drum kit can be devastating for your bank account.
Hence before you go all out on a brand new drum kit, we'd recommend that you consider to upgrade the stock drum heads on your starter drum kit as the first option:
Best Snare Drum Heads for Rock
You should be able to click on the name of the drum head to skip to our quick introduction and review below
There's really no risk to start upgrading your drum heads first.
After all, if you are still dissatisfied with your drum sounds thereafter, you will still be able to use the same drum heads on your new kit later.
This article focuses on the best snare drum heads for rock drummers because it will be the most frequently used drum (other than the bass drum) in your rock drum kit.
We'll cover:
a quick reviews of the top snare drum heads for rock,
Oh, before we start, here's a reminder.
Most rock drum kits will have a 14″ snare drum.
The following snare drum heads are available in various diameter, so make sure you check the diameter of your desired drum head before you make a purchase.
Reviews of the Snare Drum Heads for Rock Drummers
Evans Hybrid Coated Drum Head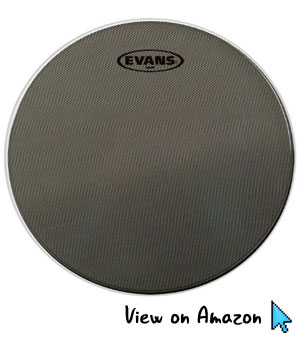 The Evans Hybrid Coated snare drum head was originally designed for marching snare drums.
Instead of the regular drumhead films, the Evans Hybrid drum heads are made using a unique fiber-weave technology that gives it a unique bounce.
It also features excellent durability and maximal attack while retaining sustain.
These qualities have won the hearts of rock and heavy metal drummers, making the Evans Hybrid snare drum head a popular choice among rock drummers.
If you are a hard hitter who wants a versatile drum head that lasts, I think you'll love this snare for its tone and definitely for its durability.
For something so robust, I was definitely amazed at the tone that it produces.
Here, have a listen to it on Ben Minal's kit:
If you are a heavy hitter and find yourself having to change your drum heads too often, this should save you some money over time too.
Here's what 54 other drummers say about the Hybrid coated snare drum head.
Aquarian Hi-Impact Drum Head
The Aquarian Hi-Impact Drum Head is a 2 ply drum head made of 10 mil drum head films. It's design also features the power dot which reduces overtone and sustain. It is a rather thick drum head which helps with durability as well.
And its not all just empty promises, Aquarian actually got their drummers to test the product.
The Aquarian Hi-Impact drum head has a surprisingly good response and incredible tone, for a drum head that thick.
On top of that, it produces a loud tone that allows you to power through the band for the best drum solos while keeping time.
Due to the way it is designed, the Aquarian Hi-Impact drum head also produces a loud rim shot which will satisfy most rock drummers.
This is how the Aquarian Hi-Impact drum head sounds (video in Japanese):
The Aquarian Hi-Impact snare head also comes in black.
Evans Hydraulic Black Coated Snare Batter Drum Head
The Evans Hydraulic Black Coated snare drum is a 2 ply drum head with a 7.5 mil and a 6.5 mil film separated by a thin layer of oil.
It features a warm tone, reduced sustain and high attack.
To top it off, it also has increased durability.
Due to the Hydraulic's design, you will notice that this drum head tends to stay in tune over a longer period of time.
We've also noticed that this drum head is well muffled with some overtones. This could probably be due to the layer of oil that is absorbing some of the sound vibration energy.
Also, it seems to produce a rather 'fat' sound with a thick sounding body.
This is how it sounds:

Video from Drumeo's YouTube Channel. 
The Evans Hydraulic series comes in 3 color options, each with different thickness on the drum head film.
The color options also makes it a great option for the rock drummer who wants a visually attractive drum kit.
Evans Genera Dry Snare Drum Head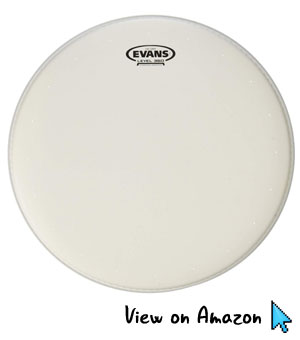 The Evans Genera Dry Drum Head is a single ply drum head (10 mil) that features a 2 mil overtone control ring in the middle.
The Genera Dry drum head has reduced overtones and sustain.
If the sustain on the Evans' hydraulic series is too much for you, you might want to consider the Genera Dry snare batter series.
Here's how it sounds:
From the video above, you will notice that there are slight traces of sustain, this can be fine-tuned when you are tuning your drum head.
You would also noticed that the Genera dry drum head has a well defined attack.
However, some drummers who gig frequently have mentioned that the Genera Dry does not perform as well during live sessions as compared to studio recordings.
Remo Controlled Sound X Coated Black Dot Drum Head
The Remo controlled sound X black dot drum head is a single ply drum head (12 mil) with a 5 mil 'black dot' film in the center of the head.
It has reduced overtones and increased durability due to the black dot. At the same time, it has greater attack then regular snare drum head.
Here's a great demo by DrumshedStudios:
Although he uses a dampening gel in the demo, he does provide a good comparison of the tones from the Remo Controlled Sound drum head under different tuning.
This drum head has a good balance between its sustain, attack and tone making it a great option for the new rock drummer.
If you are still exploring different genres of drumming, this drum head is versatile enough to allow you to play more than just rock music.
Remo Powerstroke 77 Coated Clear Dot Drum Head
The Remo Powerstroke 77 drum head has 2 plies (7 mil) with an additional 7 mil inlay ring that helps to reduce overtones and sustain, and a 5 mil clear dot that helps to increase durability of the drum head.
This is how it sounds:

Source: COOP3RDRUMM3R (YouTube)
It sounds rather dry with great crisp attack and good response too.
Perfect to cut through the bass and guitar players when you are rocking out.
If you want a drum head that is even more durable, consider the Remo Powerstroke 77 marching snare drum head.
It sounds similar to the Remo Powerstroke 77 coated clear dot drum head with slightly better attack and durability.
On top of that, it is generally louder too.
If you drum with a band, you will want to build a custom look for your drum kit to improve the visuals. Plus, it also helps as a way to 'brand' yourself.
You might want to explore the Remo Powerstroke Colortone drum head series too:
Aquarian Triple Threat Drum Head
The Aquarian Triple Threat drum head is a 3 ply drum head made by molding 3 x 7 mil Nu-Brite films together.
This makes it a very durable drum head with little sustain and high attack.
On top of that, it is highly responsive for a 3 ply drum head.
This makes it a great option for rock drummers who want to feature fast speedy drum solos while enjoying the rest of the features of a 3 ply head.
With it's thickness, we were amazed by the tone and responsiveness of the Aquarian Triple Threat drum head provided.
Listen to how the Aquarian Triple Treat drum head:

Source: Drum Fly YouTube Channel
The Aquarian Triple Threat features a very dry and tight sound which is expected of a 3 ply drum head.
Also, it helps to bring out mid range frequencies and has relatively lesser sustain.
We are not the only ones amazed by the Aquarian Triple Threat.
Read what other drummers think about the Aquarian Triple Threat snare drum head here.
Still not sure which drum head to get?
You might want to read our guide to choosing a drum head.
But before that, let's talk about the common considerations you must take before purchasing one.
This will help you choose the best snare drum heads for rock, that will suit your needs!
What Rock Drummers Should Look Out For in a Snare Drum Head
This is our concise buying guide for rock drummers who are looking to improve the sound on their snare drums.
In a nutshell, here's the checklist of features that all you rock drummers should look out for:
Good response for ghost notes
lower sustain and overtones
higher attack
durability (to last through our heavy hitting)
low to mid range tones
Here's why.
Good Response
This can also refer to the sensitivity of the drum head to 'touch'.
A responsive or sensitive drum head will allow you to play ghost notes easily, a light touch of your drumsticks should get it going.
In general, a thinner drum head or a single ply drum head is more responsive and vis versa.
As a rock drummer, you will want a drum head with some level of sensitivity to allow you to play ghost notes.
Plus, it could help you go even faster during your drum solo too.
Lower Sustain
Sustain refers to the ability of the drum to continue vibrating (or 'ring') after you hit it.
Rock drummers tend prefer to have less sustain for a dryer sound which makes their drum solos clearer.
This however is down to personal preference and how you tune your drum head.
High Attack
In rock drumming, we tend to want crisp snare tones that gives our drumming the 'kick' or 'punch' as we drum.
Attack refers to the sound or the crack that you get at the moment you hit the drum head.
In general, thick and clear drum heads have better attack.
If you plan to drum live at a gig, you will also want to be able to cut through the guitar and bass while performing.
Having good attack will allow your sound to punch through the music, which is especially useful if you need to play in 'noisy' environments.
Although not directly related, I've noticed that drum heads with high attack do sound louder as well.
Durable
And yea, I know…you just can't help it when you get into the zone.
Most rock drummers tend to be heavy hitters.
But few drummers like to shop for and change their drum heads.
Hence you'll want a drum head that is relatively more durable, just so it lasts longer.
Conclusion
We've selected 7 drum heads that we think are the best snare drum heads for rock.
Each of them bring slightly different characteristics that will help you create the snare drum sound that you are looking for on your drum kit.
I hope that this has helped you narrow down your options.
Let me know you have questions in the comments below!