You've probably dreamt of being on the throne, behind a drum set and having the freedom to drum to your heart's content while enjoying the music.
But, before you can get there, you'll first need to learn to drum.
And you don't even have access to a drum kit.
So, here you are looking for a cheap drum set to start jamming around with.
Well, you are in the right place!
Because we'll be giving you the low down to 5 cheap drum sets you can get for less than $300 here:
Cheap Drum Sets Under $300
Click on the name of the drum set to read our thoughts and comments on that drum kit 🙂
Now before we take a closer look at these drum kits, you should read this disclaimer:
I urge you to read to the end. Because before you actually decide if you should get any of these cheap drum sets, I'll want to put forth a pre-warning to you as a fellow drummer. You should have the right expectations when you are purchasing cheap drum sets under $300.
Now that's out of the way, let's take a look at the cheap drum sets that you can get for less than $300:
1) Alesis Nitro Electronic Drum Set
*Best deal ever*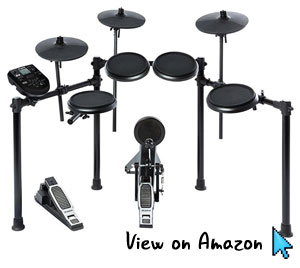 Pros
Cons

Electronic drum sets are generally quieter
Mid level drum kit at entry level price
versatile
Comes equipped with Metronome and Coaching functions, good for beginners
If you are looking for a cheap drum set below $300, you will want to grab this deal fast.
The Alesis Nitro is an electronic drum set that comes complete with 4 drum pads, 3 cymbal pads and 2 pedals.
It works out to be a mid level drum set, available to you at a entry level price tag.
With its drum module, you also have metronome function, coaching function and the ability to select between different drum set sounds to trigger.
It is a valuable deal that you should not miss, especially when it is on offer at this price.
Check Alesis Nitro latest price here now
What you get with the Alesis Nitro?
Alesis Nitro Drum Module
1 x 8″ Snare Drum Pad (Rubber pad, 2 zones)
3 x 8″ Tom Drum Pads (Rubber pads, single zone)
3 x 10″ Cymbal Pads (all single zone, only crash cymbal has choke zone)
Hi-hat Pedal (open/close/half-open/splash)
Kick drum pad with Pedal
Drum key
Drum Sticks
You can read our in depth Alesis Nitro Kit Review here too
Here's a video introduction to the Alesis Nitro electronic drum kit:
Or, if you'd like to explore electronic drum kits, check out our best beginner e-drums list here.
2) BCP Percussion drum set with cymbals
*Best sounding drum set for adults, under $300*
Pros
Cons

Price
Complete kit, comes with everything you need to start drumming
Acceptable sound for beginner drummers, except for the cymbal

Cymbal is the weakest link, could do with a better sounding crash cymbal.
No standalone ride cymbal 🙁
You will probably want to upgrade once you get better, with a larger budget.
If you prefer an acoustic drum set, the Gammon Percussion complete drum set is a budget drum set under $300 that I think has the most 2nd most acceptable sound.
Plus, it is built for adults. This means that it would most likely suit your height, unless you are above 6.5ft.
You might want to check out our compilation of the best beginner drum kits for adults to widen your options.
What you get with this Percussion drum set:
Full Size Real Wood Drums

22″ Bass Drum
14″ Snare Drum
12″ Small Tom
13″ Mid Tom
16″ Floor Tom

12″ Hi-Hat Cymbals + Pedal
14″ Crash or Ride Cymbal
All required stands
Drum Stool/Throne
Bass Drum Pedal
Drum Sticks
Drum Key
3) Ludwig Pocket Kit – Junior drum set
*Best sounding drum set*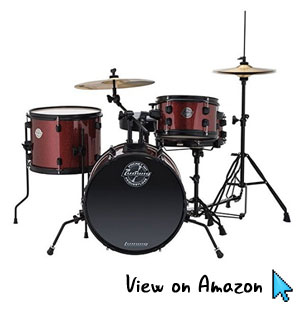 Pros
Cons

Good for both adults and children
Excellent portability due to size and weight
Comes with instructional videos for guided set up
Affordable
Relatively good sounding

Cymbals are also its weakness – i.e. don't sound great
Only has 1 tom drum
The Ludwig Pocket Kit was designed for junior drummers and have also been widely accepted by drummers who have to travel often.
If you want a relatively good sounding drum set for under $300, and don't mind a smaller drum kit, this is a good option.
With that said, the cymbals on the Pocket Kit could be better.
You can read our detailed review of the Ludwig Pocket Kit here (+ comparison with the Ludwig Breakbeats).
What you get with the Ludwig Pocket Kit
16″ Bass Drum + Pedal
13″ Floor Tom
10″ Rack Tom (aka Tom Tom
12″ Snare Drum
12″ Crash / Ride Cymbal
10″ Hi Hat + Pedal
Drum Throne (the seat)
Drum Sticks (7A Ludwig wood drumsticks)
Drum Key
All required drum hardware (the racks, stands, etc)
4) Mendini Complete Full Size 5-Piece Adult Drum Set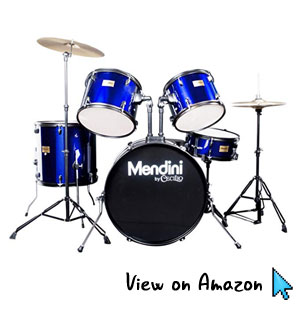 Pros
Cons

Good for both adults and children
Good as a play kit

Not suitable if you want a drum set that can grow with you, as a drummer
Pretty bad sounding cymbals
The Mendini complete drum set comes with a similar drum shell pack as the Gammon Percussion drum set (see above), however it is paired with larger crash cymbal and hi-hat.
Unfortunately the sound of the cymbals ain't the best, so the larger size really doesn't translate to any real advantage.
The Mendini starter drum set is also slightly more expensive than the Gammon Percussion.
What you get with the Mendini complete drum set
22″ bass drum
12″ and 13″ tom toms
14″ snare drum
16″ floor tom
14.5″ hi-hat
16″ crash/ride cymbal
Drum throne
Drum sticks
Bass drum pedal
Hi-Hat stand and pedal
Cymbal stands
5) Lagrima Full Sized 5 piece drum set
*Cheapest Drum Set*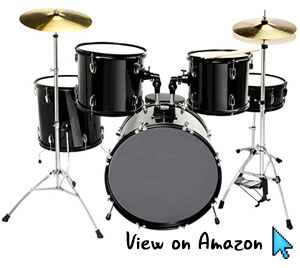 Pros
Cons

Cheapest drum kit on this list
Functions as it is supposed to

Don't expect it to last
Don't expect performance grade sound
Drum throne seems to break easily
The Lagrima full sized drum set is definitely the cheapest option you can find that provides a 5 piece drum kit with cymbals and hardware included!
I was shocked with I first discovered that you can own a drum set for its price tag!
Upon further research, this drum set appears to be one of those OEM products commonly mass produced in unnamed factories from distant lands.
But hey, if you are not chasing after brands and don't mind a cheap drum set that functions, this is it.
I mean the company selling this drum kit doesn't even bother to repackage itself or paste a logo on the bass drum.
And, we'd never know which other cheap drum set out there are actually using this very same drum set, marketed in another brand at a way higher price right?
For being honest about its quality and being sold at a fair price, it has garnered a ton of positive reviews from new drummers like yourself too.
You can read reviews of the Lagrima drum set here.
If you just want to own a drum kit and start drumming fast without fuss, this drum kit is your go to choice.
And at its price point, I'm pretty sure you will not hesitate on upgrading to a new drum kit once you have developed your drumming skills.
I'm also pretty sure that the Lagrima complete kit is also great as a gift for a kid who is curious about drumming.
What you get with the Lagrima full size complete drum set
22″ bass drum
12″ and 13″ toms
14″ snare drum
16″ floor tom
Drum hardware
Drum throne
Our 'Warning' to you.
A price tag of $300 and below looks very attractive, especially for a complete drum kit.
But you before you spend that, you should always keep in mind that you are getting a super budget drum set.
So, don't expect it to sound like what you have been imagining nor like the drum kits that you hear at concerts.
Instead, you should have the right expectations when it comes to this category of drum sets:
2 Key Weaknesses of Cheap Drum Sets Under $300
i) Their Cymbals Suck
More often than not, this will be the case.
At that price point, manufacturers can only afford to package lower tier equipment.
Hence, you'll usually immediately notice that the cymbals sound like plastic, or sounds like super cheap metal with no body or depth in sound.
You have 2 options here, either:
choose a drum set that is between $500 to $800, or
get a cheap drum set under $300 and upgrade the crash cymbal. This will cost you between $50 to $70.
ii) Inconsistency in Drum Head Quality
This is a hit or miss most of the time.
These drum sets are usually mass produced in factories and often are sent out with little to no quality control.
You can minimise getting a 'bad quality' drum head by testing out the drum set before your purchase.
Or, listening to video reviews of the drum set to get an idea of how it sounds.
The downside is that most places wouldn't have test kits available for these cheap drum sets.
Then again, don't expect to get the best drum heads with great resonance or sound at this price point.
Again, you have two choices here;
save a little more and get a drum set from a trustworthy drum manufacturer (Yamaha, Pearl, etc) that is between $500 to $800.
Or get a cheap drum set under $300 and upgrade the drum heads.This will cost you between $30 to $45 for a set of drum heads for the snare and 2 toms.
If you are not sure what to go with, choose something from Evans or Remo.
You should not go wrong with those brands.
Make sure you get drum heads of the suitable diameter for your drum shells.
Conclusion
If you can look pass the weaknesses of these cheap drum sets, you'll find that these drum sets can be suitable for brand new drummers who just want an affordable drum set to start jamming and drumming on.
You'll probably find the drum sets listed here very useful in helping kickstart your drumming journey.