It's time to start learning to drum!
Drum Rudiments are basic beats that make up all the cool drum patterns that we hear. They are the foundation that all drummers should know.
To build a strong drumming foundation, always include some time to practice rudiments.
40 Essential Drum Rudiments!
There are 40 different essential drum rudiments, which means we will never get bored. YAY!
A good guide to the 40 essential drum rudiments I found is: Drum Rudiment Dictionary. It's a great reference for basic drummers.
Although the shape of the book is kinda wacky: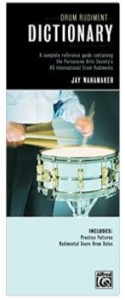 These 40 drum rudiments were compiled by the Percussive Arts Society International and are used in different styles of drumming. You can download the rudiments and print them out at PAS' website: Percussive Arts Society International Drum Rudiments.
Or, if you are a new drummer, consider Vic Firth's Fresh Approach Starter Pack (check it out on Amazon now). The starter pack is pretty awesome as it comes with a pair of SD1 drum sticks (slightly thicker than the 5A, but touted as a great pair of practice sticks), a 6 inch drum practice pad, the Vic Firth Rudiment Poster as well as an instructional book with accompanying CDs.
If you have noticed, the rudiments involves only hand movements through the hitting of the drumsticks. Each rudiment can be played at different pace, from slow to very fast to insanely, out of this world fast.
By practicing the rudiments, beginner drummers can train their coordination, timing and rhythm. All the skills that are required of a good drummer.
Don't rush it!
Although 40 sounds like a whole lot of drum rudiments to practice and master, don't rush it! Aim to practice just 1-5 different rudiments in each of your practice sessions. Start slow and build up your drumming skills steadily.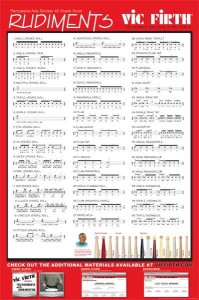 How to practice the drum rudiments efficiently?
If you have taken a look at the drum rudiments, you would noticed that they are categorized into several groups – roll rudiments, diddle rudiments, flam rudiments and the drag rudiments.
When learning the drum rudiments, there is no need to go according to sequence. I find it more find to randomly pick 3 rudiments for each practice session and learn more about them.
There are great videos on Youtube or even via Vic Firth's website which shows you how to play the different drum rudiments. They provide audio recordings of the rudiments as well. These are very useful when a drummer is learning a new rudiment.
Listen to the audio recording and match the rudiment to its musical scale as found on the Drum Rudiment Poster. Take note of the hand that will play each note, the timing of the notes, as well as the volume of each stroke.
Here's a good video guide on How to Practice Drum Rudiments:
I'm going to start practicing the first 2 Roll Rudiments and the easiest paradiddle today! Let me know your progress! 🙂