Previously, I've introduced the drum rudiments.
I'm following Vic Firth's free "40 essential rudiments" guide to master these drum rudiments.
Tip: While you are learning the rudiments, you might also want to learn to read drum scores. Knowing the notes and the duration they represent will help you figure out the various rudiments as well.
How to learn the drum rudiments – A Structure
The guide classifies the various drum rudiments into 4 tiers, specially designed for new drummers. Tier 1 contains the most fundamental beats in the list of 40 rudiments, and the subsequent tiers build up on the beats learnt in the previous tier.
Tier 1
Tier 1 contains the most fundamental drum rudiments. These include: Single Stroke Roll, Multiple Bounce Roll, Double Stroke Open Roll, Single Paradiddle, Flam and Drag.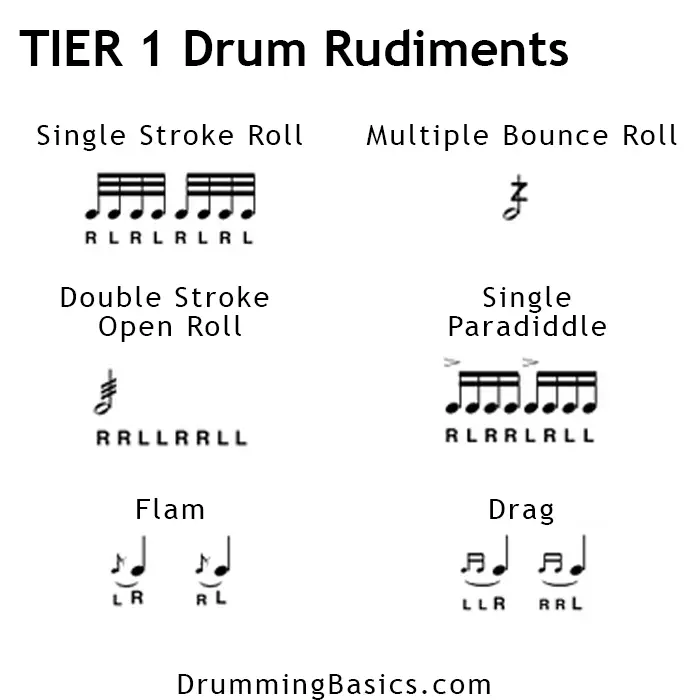 Tier 2
These drum rudiments build on those in Tier 1. Most of them are expansions of the rudiments in Tier 1.
They include: Single Stroke Four, Single Stroke Seven, Double Paradiddle, Triple Paradiddle, Paradiddle-diddle, Five Stroke Roll, Nine Stroke Roll, Seven Stroke Roll, Flam Tap, Flam Accent, Lesson 25 (yes, that's its name), Single Drag Tap.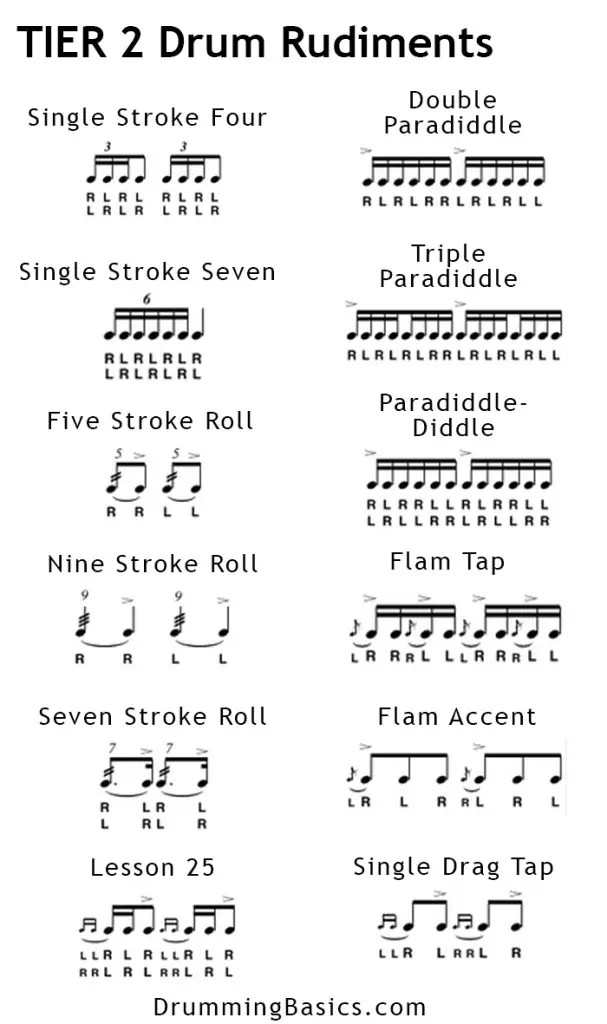 Tier 3
Drum rudiments here build on those in Tier 2.
They include: Thirteen Stroke Roll, Fifteen Stroke Roll, Seventeen Stroke Roll, Six Stroke Roll, Ten Stroke Roll, Eleven Stroke Roll, Single Dragadiddle, Drag Paradiddle #1, Drag Paradiddle #2, Flammed Mill, Swiss Army Triplet, Flamacue.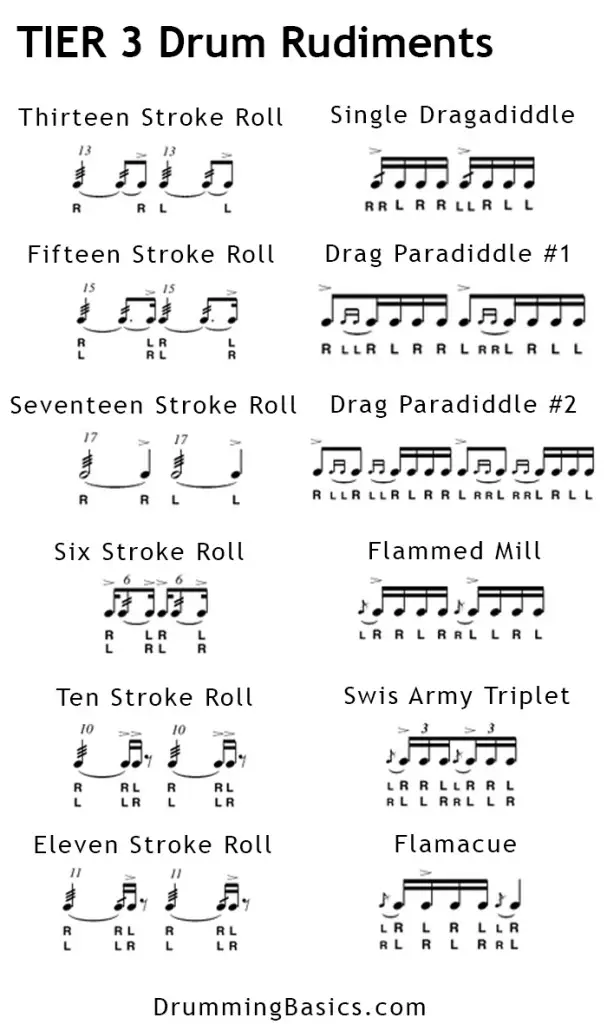 Tier 4
Drum rudiments here build on those in Tier 3.
They include: Triple Stroke Roll, Flam Paradiddle, Pataflafla, Double Drag Tap, Flam Paradiddle-Diddle, Single Ratamacue, Double Ratamacue, Triple Ratamacue, Inverted Flam Tap, Flam Drag.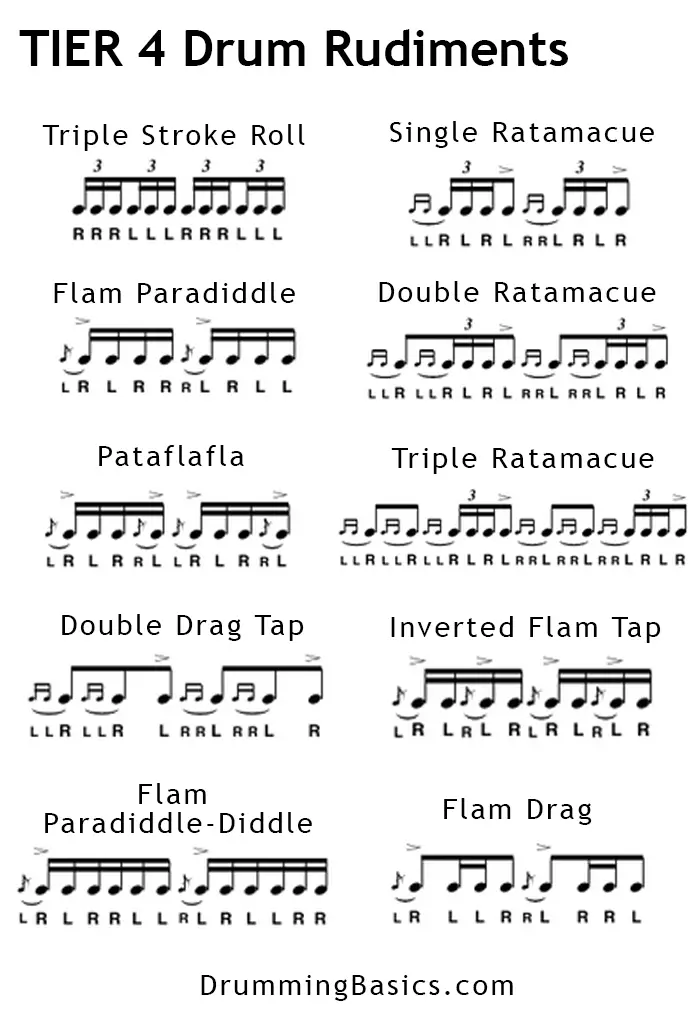 With this learning structure, it is way easier to get started.
Just download the Tier 1 drum rudiment image (Right click > Save Image As) and start picking up drum rudiments.
I will be creating articles about what I have learnt for each drum rudiment. However, Tier 1 rudiments are mostly straightforward (except for the flam and the drag, IMHO). So get started!
How to Practice
If you have access to a drum kit, you can practice the drum rudiments using the snare drum. Otherwise, you can practice using a drum practice pad. I'm using the Vic Firth Single Sided, 6 inch Drum Pad, you can read my review here.
For a start, determine how the drum rudiment should sound like. You can do that using YouTube videos (free), or if you'd like to have a guide with videos all in 1 place, you can get Dr. Throwdown's Rudimental Remedies
 (this is by the same person behind Vic Firth's guide).
Once you've understood the drum rudiment, try playing it at different speeds using a metronome. There are many metronome mobile apps available.
Happy learning!