Wouldn't it be great to be able to drum to any music on the fly?
The cajon might be the answer to your dream.
It is a simple instrument to pick up but can give you the ability to play a wide variety of music genre.
Here, we'll focus on cajons for beginners.
If you are shopping for cajons for different purposes, do read our breakdown of the best cajon for worship or the best cajon for acoustic rock.
Now, let's get down to the main reason you're here for:
Best Cajon for Beginners
Best String Cajon for Beginners
Best Box Cajon for Beginners
Name
Meinl Cafe Snare Cajon
LP Americana Peruvian Style Cajon
Size (Dimension)
12" (W),
17.25" (H),
12" (D)
12 1/2" (W),
19 1/4" (H),
11 1/2" (D)
Wood
Frontplate: Baltic Birch
Resonating Body: Baltic Birch
Frontplate: African Okoume
Resonating Body: Baltic Birch
Latest Price
There are several types of cajons in the market.
For beginners, we're looking at two main types – string cajon and box cajon. We'll explain the differences below, but for now let's jump straight to the best cajon for beginners and the reasons why.
Best String Cajon for Beginners: Meinl Wine Red Cafe Snare Cajon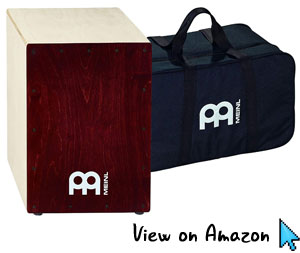 Meinl Wine Red Cafe Snare Cajon
No frills cajon suitable for beginners who want a good sounding functional cajon to start jamming with.
Pros
Cons

Great sound profile for an affordable cajon

Average sized cajon that most adult players can get used to

Comes with a carrying bag – for transport and storage
Sensitive response that provides good feedback for newbies
Cheap for a cajon of its build quality

No user guide provided, as per most cajons.

No adjustment on snare wires, not suitable for those with experience
Features of the Meinl Wine Red Cafe Snare Cajon
Dimension: 12″ wide, 12″ deep, 17.25″ tall
Baltic Birch frontplate with a visually appealing finish and a Baltic Birch resonating body
Fixed internal snare system – you won't need to spend time learning to adjust the snares
Strong attack (snap/crack)
Responsive frontplate – provides great feedback for beginners
Comes with a carrying bag – also works as a great storage option to keep your cajon away from dirt, moisture and other bad stuff.
At the point of writing, the Meinl Wine Red Cafe snare cajon costs less than $100 with limited quantity in stock. You can check its latest pricing on Amazon here
Why will beginners love the Meinl Wine Red Cafe Snare Cajon
Good sound quality for its price
Baltic birch creates brighter tones that goes well with the snare wires.
It also happens to produce good, full bodied mid range tones.
With that, this cajon is capable of allowing you to create enjoyable beats, at a rather affordable price.
Comfortable size for most adults
On top of that, you're getting a full sized cajon that most adults can play comfortably.
This feature is a "double-edged" sword really.
As a newbie, we'd recommend to go for a no-frills cajon that you can immediately start jamming on, right out of its box.
Hence we went with the Meinl Wine Red cafe snare cajon that has fixed snare wires.
However, being a fixed snare system means that you have lesser control over the amount of sound created by the snare wires.
There are ways around this but it involves removing snare wires and will be a permanent adjustment to the snare sound on your cajon.
Storage solution provided
In the form of a carrying bag with internal padding.
Meinl has included a carrying case for the cajon which doubles up as a great storage and protection solution for the cajon.
After asking around, we realised that new cajon players seem to prefer to store their cajon when they are not using it. Especially if they stayed in smaller apartments.
The carrying case helps to keep the cajon clean and dry.
However, you should note that the case provided is not a hard case. Hence, you'll want to make sure that you are not stacking too much things on your cajon while you store it.
2 Things to note before you buy this cajon
Now that we've covered all the benefits of the Meinl Wine Red Snare Cajon, we don't want to leave you with the false  impression that it is a perfect cajon.
No cajon out there is perfect.
Here are 2 things we think you must be able to accept before you buy this cajon:
As mentioned above, having a fixed snare wire system means you get a no frills cajon, right out of the box. No tuning required.
But at the same time, you have less control over the snare sound effect. It might be too obvious for certain songs or too soft for others.
For an affordable cajon to be used by a beginner, we think this is not a deal breaker.
Most cajons just don't come with playing manuals.
We have listed a great learning resource for new cajon players in a section below.
Our thoughts on the Meinl Wine Red Cafe Snare Cajon
We think its a relatively affordable cajon from a reputable manufacturer that focuses on creating great cajons.
If you are a beginner who wants to learn to play a string cajon, this is where you will want to start.
Best Box Cajon for Beginners: LP Americana Peruvian Style Cajon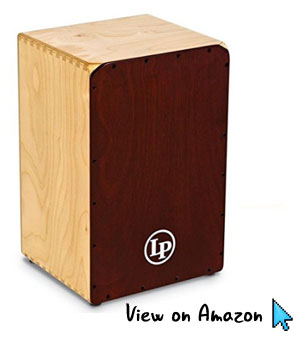 [SOLD OUT] LP Americana Peruvian Style cajon
High quality, no frills Peruvian styled box cajon that produces beautiful tones.
Update: It is difficult to find pure box cajon or Peruvian styled cajons these days. You may want to consider cajons with adjustable snares like Meinl's Cajon Box Drum with Pedal Activated Snare instead.
Pros
Cons

Good value for its price
11 ply Baltic Birch paired with exotic African Okoume wood that allows you to produce complex mid tones
No frills design, just open and play

Slightly costly for beginners, but it will last
Features of the LP Americana Cajon
Dimensions: 12 1/2" wide, 11 1/2" deep, 19 1/4" tall
African Okoume frontplate paired with a 11 ply Baltic Birch resonating body that creates strong mid tones
Thoughtful design for comfortable playing
Good response
This is how the LP Americana Peruvian Cajon sounds like:

Video from LP Music
Why will beginners love the LP Americana Cajon?
Affordable Peruvian cajons are difficult to find these days, because you'll need high quality wood and a well structured manufacturing process to create great sounding box cajons.
LP music is one of the few companies that dedicate their resources to create high quality Peruvian styled cajons.
Good quality materials at fair price
Peruvian styled cajons or box cajons are simple instruments. They are basically wooden boxes that resonant pleasant tones.
Because there isn't much for you to tweak, you'll want the best materials you can afford for your box cajon.
And the LP Americana Cajon provides the best balance between cost and quality.
A box cajon is straightforward which makes it a great cajon for beginners to start with.
You will get immediate and honest feedback from the instrument while you are playing, without additional distractions.
If you are serious about mastering the cajon, you should ideally start with a Peruvian styled cajon.
Unless you purchase a DIY or Build it yourself box cajon, there is basically no set up required.
All you need to do is to unbox the cajon and you are good to start playing.
Because of their design, box cajons are very easy to mic up.
Most of them have a sound port at the rear of the cajon, all you need to do is to stick a microphone in there for a good pickup.
You rarely have to worry about a wide range of tones because there are no additional sounds to worry about in the first place!
Read full details of the LP Americana Peruvian styled Cajon here
1 Thing to note before you buy this cajon
There are no snare wires attached, what you get is a high quality wooden box.
This means that you will get good tones, but you will not have the flexibility to incorporate a sizzle effect into your music unless you modify the cajon in the future.
Keep that in mind!
Our thoughts on the LP Americana Peruvian Styled Cajon
As a box cajon, you'll be getting great value and tones from the LP Americana Cajon.
It is a no frills cajon that most newbies can confidently start playing with.
This size of the LP Americana Cajon is suitable for most adults, so you don't have to worry about the size.
If you are purchasing a cajon for a child, this might not be suitable just yet.
Worth a mention: Amazon Basics Wooden Birch Cajon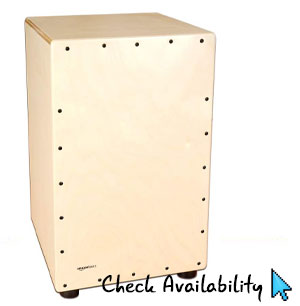 Amazon Basics Wooden Birch Cajon (with internal guitar strings)
Cheap cajon for aspiring cajon players who just want to give it a try.
Pros
Cons

Acceptable sound profile for an affordable cajon

Average sized cajon that most adult players can get used to

Minimalist design – would fit in with most decor

Adjustable Internal Guitar Strings

No user guide provided, as per most cajons.
Features of the Amazon Basics Wooden Birch Cajon
Dimension: 11.2″ wide, 11.8″ deep, 18.9″ tall
Made with solid Birch Wood, with a natural finish
Adjustable internal "snare" system made using guitar strings
Good for those with untrained ears – folks who have been drumming for a while might find this cajon's sound a flat and dull.
Who should consider the Amazon Basics Wooden Birch Cajon?
If you're looking for a cheap cajon just to experience playing with one, or for your child, this might be something you'd want to consider. For a cajon below $100, it does provide an acceptable playing experience and sound profile.
However, if you're looking for a cajon with a depth of tones, this might not be the one for you.
String Cajon vs Box Cajon
Cajons originated as empty wooden boxes that people had left over mostly from the transport of goods.
These boxes tend to be made of thin wood that when paired with an enclosed hollow space, produced musical tones that brought joy to people.
Today, there are various types of cajons in the market.
We'll discuss a little about the two main types of cajons you'll find.
What is a 'String Cajon'?
You'd probably be able to decipher from its name, a string cajon features strings or snare wires inside the cajon.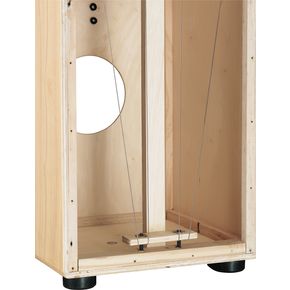 Depending on the manufacturer and the design of the cajon, different material can be used in place of these 'strings'.
You can find snare wires, guitar strings (aka flemenco cajon), brush snares and many more options in the 'string cajon' catergory.
Each of these material will interact with the cajon to produce different ranges of sounds.
In fact, you can start testing out different material and their resultant sounds once you are more familiar with the cajon as an instrument.
As a replacement for the drum kit
The snare wire cajons are popular among drummers who want a cajon that acts like a substitute to their drum kit.
With these cajons, you can almost replicate the sound of the bass and snare from a drum kit.
What is a 'Box Cajon'?
The box cajon (aka Peruvian cajon) is simply a cajon without any strings or attachments inside.
It is closest to the original cajons.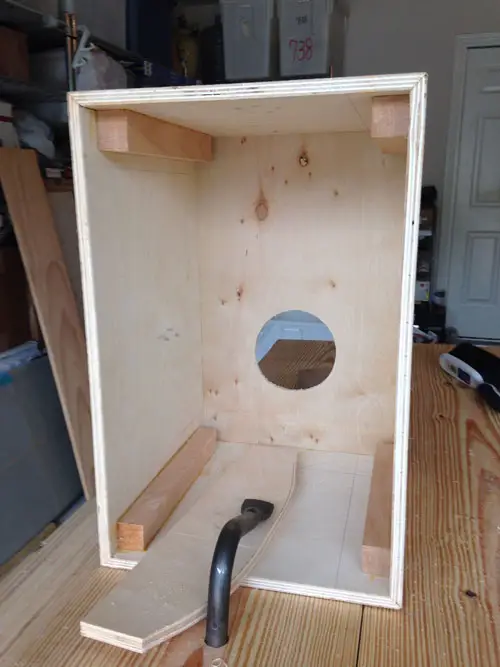 Due to the minimalist design, the material of the wood and the size of the cajon play a major role to the resultant sounds and tones of a box cajon.
Box cajons are relatively less common today due to the lack of demand.
They also tend to be more expensive as they are often being manufacturer with higher quality wood to ensure better tones.
Ideally, you should be selecting your box cajon based on the genre of music you'd be playing.
How should new cajon players choose a box cajon?
We recommend new cajon players to start with a beginner cajon that produces well defined bass and mid range tones.
This will give you the flexibility to drum to a wider range of music.
Of course, if you are an experienced drummer with a good ear, you can pick out cajons that produce tones to your liking.
To get a cajon that produces your desired tones, we'd recommend that you test out cajons live as a music shop.
5 factors that beginners should consider when selecting your first cajon
These are the factors that we look at while narrowing our search for the best cajon for beginners.
You'll want to be checking the dimensions of any cajon that you are interested in.
The cajons we've listed here are for adult players.
They have to be at least 15″ tall (for smaller adults who are 5 foot tall…or smaller).
If you are taller, you'll want to look for cajons that are at least 18″ tall.
The ideal playing position is to be able to plant both your feet on the floor firmly, and be able to hit the center of the cajon without having to bend over too much.
As a beginner, you'll want to keep it simple.
The ideal cajon for beginner should be functional right out of its box.
Hence, we did not analyse any cajon kits that require users to build the cajon themselves.
On top of that, we look for cajons with minimal to no tuning requirements so that you do not have to waste time learning how to tune your first cajon.
Minimal features, maximal playing experience
To add on to the point above, we also place importance on your playing experience.
With a cajon, you'll be playing against the front plate to create beats.
As a beginner, you'll want a responsive front plate that reacts accurately as you play. This will give you direct feedback about your technique which could help you improve faster.
Truth be told, most pro cajon players also prefer responsive front plates as these allow them to create tones of varying volume and textures.
I'm not sure about you, but my parents would not have it if I left my cajon lying around…even though it functions perfectly as a stool.
With this in mind, we looked for cajons that came with storage solutions.
We've noticed that beginners are often price sensitive, hence this is a factor we look into.
We've limited our search to beginner cajons that cost less than $130.
A point you should note is that you might stumble upon cajons that are super cheap – like below $50. 
Always check the size of the cajon because we've noticed that cajons at that price points are usually the mini sized cajons suitable only for kids.
For the sake of your back and neck, don't cheap out on your beginner cajon.
Additional resources for new cajon players
If this is the first time you'd be playing a cajon, these resources are for you.
Hal Leonard Cajon Method (Guidebook)
Due to the way the cajon is played, you risk the chance of developing bad posture that could lead to aches or strains along the back, shoulders and neck.
To avoid such injuries, do ensure that you are picking up the right cajon playing techniques.
The Hal Leonard cajon method book will equip you with the right techniques to not only prevent injury, but to also optimize your playing experience.
You'll learn the best techniques that will allow you to produce well defined tones.
There are limited quantities left, so you will need to check if Amazon still stocks it here.
Otherwise, you might need to search for it at your local music store or book stores.
Why new cajon players will find the Hal Leonard Cajon Method book useful?
The Hal Leonard cajon method book gives you everything you need to know to start playing and mastering the cajon.
You'll learn the fundamentals of cajon playing like:
Seating position
Where on the cajon frontplate should you be hitting
How to execute the foot slide technique
How to change the pitch of the cajon on the fly, using your feet
How to play the cajon with a brush
over 30+ grooves and exercises
and more
This book should get you to the proficiency of being able to jam with friends, on the cajon.
Just remember to take breaks between each cajon playing session, to stretch your body and give your muscles a break.
Cajon Brush
Other than using your hands to create beats, you can create a wider range of sounds by playing around with cajon brushes.
There are various brushes that you can choose from with differing size, length and thickness of the brush. All of these factors creates sounds with different textures.
You can browse for cajon brushes here.
Conclusion
As a new cajon player, you'll probably be looking for a versatile cajon of great value.
We've boiled down your potential options to just two cajons which we think are the best for beginners – the Meinl Cafe Snare Cajon (string cajon) and the LP Americana Peruvian Style Cajon (box cajon).
We've also shared how we ended up with these 2 cajons and the 5 considerations we think you should be making before you purchase your very first cajon.
Got questions?
Drop us a comment below!