You've set up your drum kit and are all ready to go.
But soon after dishing out a couple of hard-hitting grooves, you notice your hi-hat sliding away from you and your bass drum pedal doesn't seem to hit with the same intensity.
Your drum kit is literally slipping away….
Sorry, I over dramatized.
But if you have the experience of drumming on some smooth tiled floors, you might have had a similar experience.
The solution?
Throw a drum rug or mat under your drum kit to keep it in place.
Plus, the drum rug or mat also has an additional benefit of protecting your smooth tiled flooring from scratches, which would keep the non-drumming co-inhabitants happy.
So, here're the best drum kit rugs or mats you can consider. We go into the details below, you can click on the name to jump to the deep dive of each drum rug or mat;
Best Drum Kit Rugs or Mats for Drummers
Drum Rug / Mat
Size
Thickness
Material
Weight
Price
Average Rating
My Thoughts
1) Drum Workshop Drum Set Rug
62" x 78"
(5ft by 6.5 ft)
~0.5"
Carpet like material on top. Rubber bottom.
19.4 pounds
$$
*****
Thick, non-slip, checks all the boxes. Splurge on this and you don't have to worry about any getting a rug in the near future.
2) Zildjian Deluxe Drum Set Rug
62" x 78"5 ft x 6.5ft
~0.4"
Polyester filament. Non-skid bottom.
9.5 pounds
$$
*****
Similar to DW's but this comes with weighted corners. This rug can be quite crinkly, which I personally don't like.
3) Auralex Acoustics HoverMat
48" x 72"
(4 ft x 6 ft)
0.25"
Vinyl
2 pounds
$$
****
For drummers who need to reduce noise transmission across apartments or rooms
4) Aucuda Drum Rug
48" x 72" (4ft x 6ft)
~0.3"
Tightly-woven fabric surface. Rubber bottom.
5.9 pounds
$
****
If you're on a budget, this is the best option.
5) On-Stage DMA4450 DrumFire Non Slip Drum Mat
48" x 72" (4ft x 6ft)
0.25"
PVC
4.4 pounds
$
**
Light weight, good for touring drummer. Durable as long as you don't pierce it with your drum spikes.
On top of being able to stop your drum kit from slipping, a good drum rug should be durable and long lasting, especially if you're drumming at home on a fixed drum kit. I hate having to change my rug or mats too often as that would require de-assembling my drum set which entails to a day of work (and a day without being able to drum).
Hence, I prefer to shop for the best and forget the rest so that I don't have to waste too much time, effort and money replacing it too often.
After exploring 11+ options from cheapest to some really expensive exquisite ones, here's the overall winner:
Drum Workshop Drum Set Rug [Overall Winner]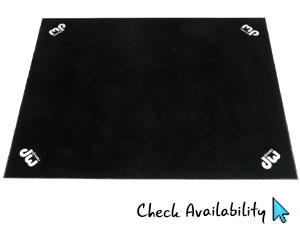 The Drum Workshop (DW) Drum Set Rug is a no-frills rug featuring a minimalistic design that works with any theme. It won our hearts (and wallets) as the best drum rug on this list.
Size: 62" x 78" (5ft by 6.5 ft)
Thickness: ~0.5"
Carpet like material on top
Rubber non-slip bottom
Weight: 19.4 pounds
The DW Drum Rug works for both acoustic and electronic drum kits and it stood out among the sea of drum rug choice for the following reasons;
The DW Drum Rug won on this count – it is durable (and don't just take my word, you can read what other users say here).
This is key because for an underrated accessory like drum rugs, you want something that you can "set and forget".
Easy to clean and maintain
Although I did say that the DW drum rug is duration, it doesn't mean that you can skip out on maintenance. You should vacuum or clean your drum rug regularly because you don't want dust, hair, skin, food crumbs or stick shavings accumulating on your drum rug over time. That's just disgusting (and not the manufacturer's fault).
And if you accidentally get beer or coffee or soda on it, you can simply hose it down with water (mix in a little soap), air dry it or leave it under the sun to dry, and it's good to go again.
Depending on your drum kit, you may have to work with pedal grips or bass drum spikes which could scratch your floor or damage existing carpets. The DW Drum rug provides a good thickness that helps to protect your flooring or carpet from scratches or damage.
The thick rug top works well with both Velcro on acoustic drum kits and/or rubber stands on electric drum kits, preventing them from slipping.
An additional benefit this gives is that it can help to absorb some of that thumping sound. If you live in an apartment building, it could earn you some points with the neighbour that lives directly below you.
Measuring at 5 ft x 6.5 ft (official dimension is 5 ft x 7ft), the DW drum rug is a good size for most drum kits in a home set up.
That said, if you're using a small drum kit or are limited to a compact space, you might find this rug a tad too big.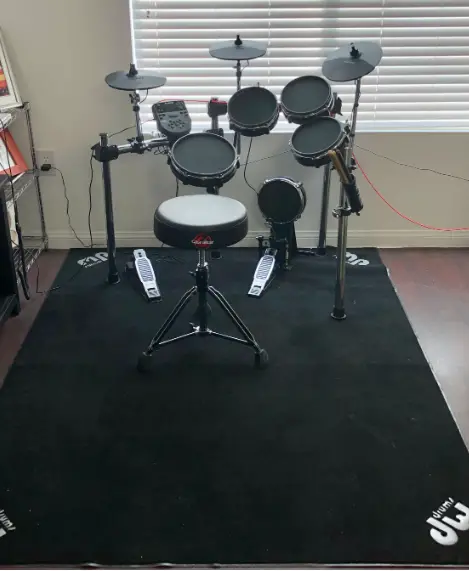 Do measure your allocated space before deciding if the DW drum rug is suitable for your set up!
Non-slip rubber base just works
With a non-slip rubber underside, you can be sure that your drum kit will not slip while you're jamming or practicing.
1 disadvantage of the DW Drum Rug: Heavy
Coming in at about 19.4 pounds (~8.7kg), this drum rug is no light-weight accessory. It makes great sense for use with a fixed drum kit setup for drummers who jam at home (or a studio) but is not the best choice if you have to disassemble your drum kit often or if you're a touring drummer.
It may also be a pain when you have to mop your flooring or clean any carpet that your drum rug seats on.
This brings us to the first runner up on our list of the Best Drum Rugs / Mats for drummers:
Zildjian Deluxe Drum Set Rug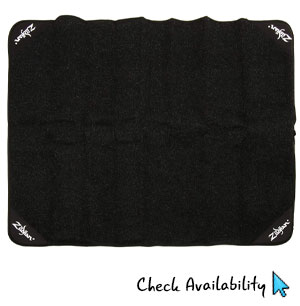 The Zildjian Drum Set Rug is another no-frills drum rug. Its simple design comes with weighted corners to help keep this drum rug flat and immobile, especially during set up.
Size: 6.5 ft x 5ft
Thickness: ~0.4"
Polyester filament top
Non-skid bottom
Weight: 9.5 pounds
Not every drummer has the luxury of space in their living quarters. Some of us work with versatile spaces and will need to rotate between setting up and disassembling our drumming set up each time we practice or jam. If that's you, then you may find the DW Drum Rug too heavy and clunky to work with.
The Zildjian deluxe drum set rug is lighter at 9.5 pounds (~4.5kg), easy to store and will save your back.
Here's what you need to know about the Zildjian deluxe drum rug:
The Zildjian drum rug is durable with good strength and its high-grade polyester filament doesn't come off easily.
It is also relatively easy to maintain – simply vacuum it regularly to keep it clean. Like the DW rug, you can also wash it with soap water in case of spills. Remember to dry them properly to prevent any musty or mildew smells.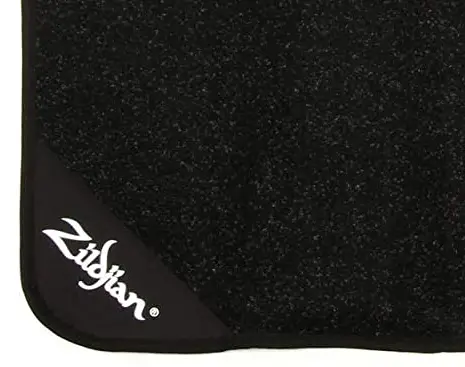 The weighted corners are handy when it comes to setting up the Zildjian drum rug as it prevents the rug from shifting too much while you move your drum parts around.
The drum rug itself creases easily too, so having the weighted corners can really help the keep the rug flat. If you have the urge to ensure that your rug is 100% flushed against your flooring, you would still have to check constantly during your set up to make sure that your drums are not seating on any crease.
Keeps your kit from moving
The polyester filament top provides good friction for drum stands with rubber pads, and provides a good enough thickness for pedal grips and bass drum anchors. This keeps your kit from moving.
Couple that with the weighted corners and non-slip base, the Zildjian drum rug is effective in keeping your drum kit in place while you jam.
At 6.5 ft x 5ft, it is about the same size as the DW drum rug and is a good size for most drum kits. That said, if you have a smaller area to work with, then you may need to roll up the excess or line it against a wall.
The Zildjian drum rug's weight makes it easier to manage. Also, it comes with a nylon carrying case, a built-in strap and latch which makes it easier to roll up and store (or even transport).
You can check out what other users of the Zildjian drum rug say here.
Auralex Acoustics HoverMat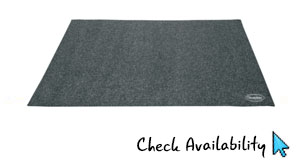 Most drummers would look for a drum mat to prevent their drum kits from slipping. However, there would be a small group who're looking to muffle their drums or reduce sound transmission from their drum kit to keep sensitive neighbours at bay.
If that's you, the Auralex Acoustics Hovermat is for you.
Size: 4ft x 6ft
Thickness: 0.25"
Vinyl
Weight: 2 pounds
Here's what you need to know about the Auralex Acsoutics HoverMat so that you can design if it'll be useful for your set up:
Made with SheetBlok Sound Barrier vinyl material
This patented vinyl material by Auralex is said to help reduce resonance from the surface under your drum kit which helps to improve sound isolation and also helps to make your drums sound better!
The material is quite dense which also works as a barrier between your drum kit and the floor which reduces sound transmission by absorbing vibrations from your drum kit. This could help reduce complains from neighbours who don't like it when you're jamming at home.
Prevents your drum from slipping
While its main focus is on reducing sound and vibration, the Hovermat's surface also provides good friction against the rubber foots of your drum stands. This prevents both acoustic and electric drum kits from slipping while you drum.
Velcro works with the Hovermat and it can withstand the use of pedal grips and drum spikes too.
At 4×6 ft, the Hovermat can accommodate most drum kits. However, you may not be able to fit your drum throne on it if your kit is larger. This could be a concern if you tend to bounce on your throne while drumming as that habit can create quite a bit of noise.
Thanks to its patented material, the Hovermat is the lightest drum mat on this list at just 2 pounds (0.9kg).
This might sound like an added bonus if you're a touring drummer, however it may not make sense to pay the premium for a noise isolating drum mat when you're touring. It's going to be noisy anyways.
Like most drum rugs, you can easily vacuum to sweep the surface of the Hovermat. However, spills are harder to clean off on this mat due to its material. So, make sure you're not drinking while drumming. 😅
Comes with a hefty price tag
Let's face it, you shouldn't expect a product fabricated with a patented material to be cheap. But according to users, it does help to reduce noise transmission.
Advantages aside, both the DW and Zildjian drum rugs will set you back by >$100. And although I personally would save up for them, not every drummer would have the same budget.
Hence, I looked into some cheaper options, and the best one at the point of writing is:
Best Drum Rug if you're on a tight budget
Aucuda Drum Rug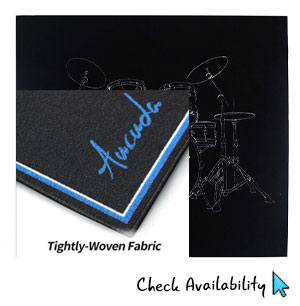 The Aucuda Drum Rug is a drum rug for the budget constrained drummer. It features a fabric top and a non-slip bottom, and has several designs to suit your house.
Size: 4ft x 6ft
Thickness: ~0.3"
Tightly-woven fabric surface
Rubber bottom
Weight: 5.9 pounds
Here's why the Aucuda drum rug is the best budget drum rug or mat to consider:
Keeps your drum kit from moving
Well, it works.
Its non-slip base prevents the Aucuda drum rug from shifting under your kit and its tightly woven fabric top provides good friction against rubber paddings. It also works well with Velcro too if that's an option you'll need.
It also stays in place during the set up which makes it easy for you to move your drum parts arounds.
The Aucuda drum rug is also easy to maintain, as long as you vacuum it regularly. As with the DW and Zildjian rugs, you can hose it down with water and air dry it if there are spills.
Although it is smaller than the DW or Zildjian drum rugs, the Aucuda's 4ft x 6ft frame works for most drum kits as well. You may not be able to fit your drum throne onto the Aucuda drum rug if your drum kit is on the larger side.
With its light weight at 5.9 pounds (~2.6kg) and the Velcro strap provided, the Aucuda drum rug is easy to store and set up. All you need to do is to roll it up when you need to store it.
Overall, the Aucuda drum rug provides great features that'll keep your drum kit from slipping while you play.
However, you get what you pay for. The quality control across Aucuda drum rug varies, with some customers reporting that their drum spurs easily ripped carpet fibers while another reported poor stitching along the edges.
That said, with 4.5 stars across 249 ratings at the point of writing, the Aucuda drum rug had impressed way more users with its affordability. You can read what existing customers say about the Aucuda drum rug here.
On-Stage DMA4450 DrumFire Non Slip Drum Mat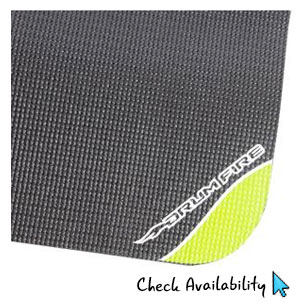 So far, we've featured drum rugs that work great for drummers who typically drum at home. But if you're a touring musician looking for a multipurpose drum mat that can be used at home, in your studio and on tours, then your requirements will differ slightly.
Afterall, no one wants to lug a heavy carpet on tour.
So, price and weight are your top priorities, then the on-stage DMA4450 drum mat might be for you. It is a lightweight drum mat that is easy to store, light enough for frequent transport and is relatively affordable.
Size: 4ft x 6ft
Thickness: 0.25"
PVC
Weight: 4.4 pounds
But before you jump in, here's what you need to know about the on-stage drumfire drum mat:
Keeps your drums from slipping
It works as advertised. The PVC On-Stage drumfire mat is non-slip so you can be sure that your drum kit stays in place. However, do note that you can't use Velcro tapes nor drum spikes with this PVC mat.
The On-stage drumfire's 4ft x 6ft frame works for most drum kits as well. You may not be able to fit your drum throne onto it if your drum kit is on the larger side.
It comes with a nylon bag and travel straps. And its light weight of 4.4 pounds (~2kg) makes it easy to pack and carry with you.
As a PVC mat, the On-Stage drumfire mat can withstand a good amount of rough handling, as long as you do not pierce it with anything sharp. You can read reviews from touring drummers here.
That said, there are some downsides you'll need to consider before going with the On-Stage drumfire mat:
There're compromises to make when you prioritize weight for other features. The on-stage drum mat is made of PVC which comes with some downsides.
Firstly, it is not as durable. Your pedal grips or drum spikes will damage it, so try to avoid using those with the On-Stage drum mat.
Secondly, there have been reports of it sticking to cement floors which resulted in extra restoration expenses for the user. This could have been due to the heat and moisture of the environment and may not be a common occurrence.
Like the Aucuda drum rug, you get what you pay for with the On-Stage drumfire mat. It performs as advertised by if not used or maintained in the right way, it can be easily ripped or damaged.
That said, at the point of writing it has garnered 4.5 stars (out of a full 5) from over 834+ customers which suggests that despite a few bad reviews, most drummers actually love this mat.
Best drum kit mat for me?
The Drum Workshop Drum Set Rug would be the best drum kit mat that would work for most drummers. That said, there isn't a single perfect drum rug out there, it really depends on your needs.
Hence, I've shared 5 best drum rugs / mats above with the aim of helping you decide on the best drum rug for your needs and set up.
I hope you have found this article useful!
Frequently Asked Question
How big does a drum rug need to be?
On average, a 4 x 6 ft drum rug or mat should be big enough for a standard 5 piece drum kit.
However, it would depend on your drum kit, and the amount of space you can afford to allocate for it. If you'd like a size reference, refer to our guide on How much floor space you'd need for a Drum Set.