An average full sized drum kit will take up about 20 sq ft or 1.87 m sq area of floor space. 
Of course, the actual space you'll need depends on the model of drum kit you finally purchase, and the amount of additional accessories or drums you'd like to add to it. We share a table of average floor spaces for different types of drum below.
—
"Drummers need a lot of space…"
No way!
Don't let that blanket statement stop you from owning a drum kit.
Today, you'll discover how much floor space you'd really need to finally have a functional drum set at home.
In fact, look no further because here's our summarized table, compiled just for you:
Average floor space you'd need for drums
Type of Drum Kit
Floor Space Required (ft)
(Width x Breadth)
Floor Space Required (inches)
Floor Space Required (cm)
Compact Drum Kit
2 ft 7 x 2 ft 3
33″ x 28″
84 cm x 72 cm
Full Size Drum Kit
5 ft x 4 ft
60″ x 48″
153 cm x 122 cm
Expanded Drum Kit
7 ft 3 x 4 ft
88″ x 48″ and beyond
224 cm x 122 cm and beyond
Junior Drum Kit
3 ft 2 x 1 ft 9
38″ x 35″
97 cm x 89 cm
We've also penned down some of our thoughts, observations and notes about the different types of drum kits throughout this article.
You can click on the type of drum kit in the table above to skip to the individual drum kit type for more details.
Or, use this navigation table to skip around: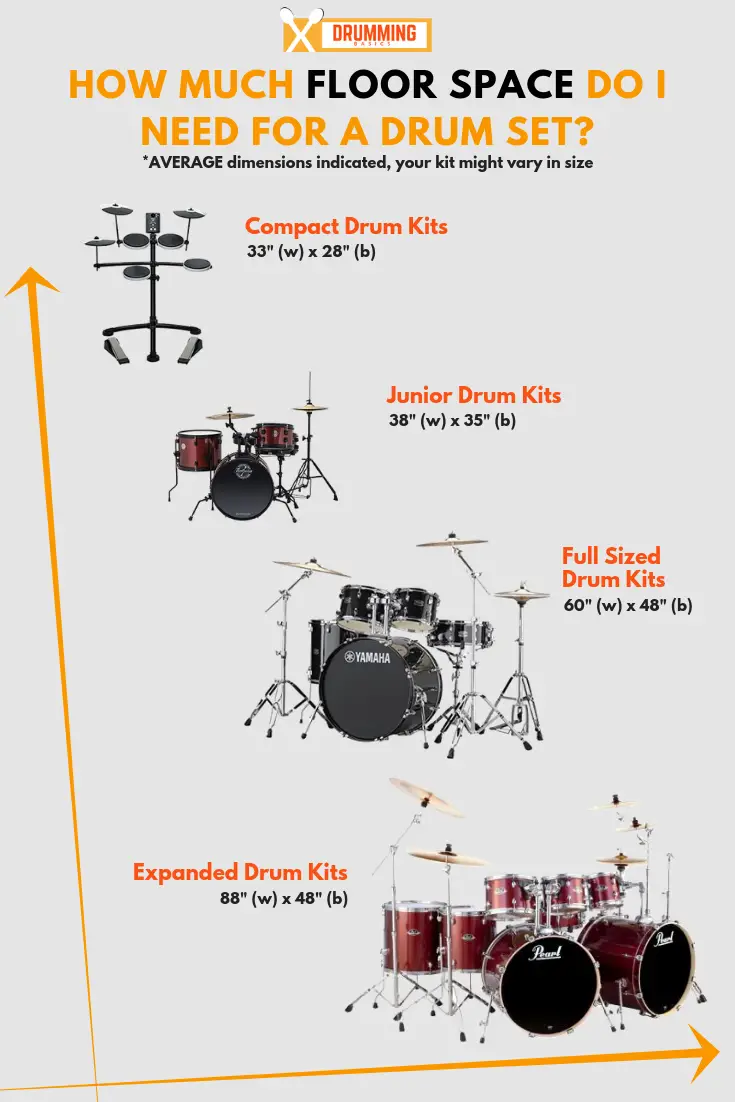 Type of Drum Kit
Truth be told, you'll need to allocate space depending on the drum set you'll using.
It's really pointless for us to give you a single average floor space because there are so many types of drum kits available in the market!
So!
Instead of throwing you an inaccurate average area, we've spent over 17.3 hours researching and pouring over the specifications of different categories of drum sets to give you the average sizes for each category.
The average sizes will definitely be more useful for you when you are shopping around for a suitable drum set.
You can view the average floor space for drums in the table above.
Or move along with us to the next section where we give you a little more details and thoughts about the different types of drum kits available today.
How Much Space for Compact Drum Kits?
On average, you'll need an area that is about 33″ (width) by 28″ (breadth) for compact drum kits.
Under the 'compact' drum kits category, you'll probably notice that there are many electronic drum kits options.
This is because electronic drum pads and cymbal pads are generally smaller than the acoustic drum kit components.
Here are some popular compact electronic drum kits:
Roland TD1K
Yamaha DTX400K


Type of drum kit
Electronic Drum Kit
Electronic Drum Kit
What You Get
Roland TD-1 Drum Module
1 x 7" Snare Drum Pad (Rubber pads, 1 zone)
3 x 7" Tom Drum Pad (Rubber pads, 1 zone)
3 x Cymbal Pads (Rubber pads, 2 zone. Crash cymbal has choke zone)
1 x Hi-hat Pedal (open/close/half-open/splash)
1 x Kick Pedal
Drum key
Yamaha DTX400 module
4 x 7" drum pads (Rubber pad, 1 zone)
3 x 10" Cymbal Pads (Rubber pad, 1 zone)
Hi-hat pedal (open/close/half-open)
Kick pedal
Drum Throne
Not Included
Not Included
Additional Features
15 pre-set drum kits
15 pre-set songs that cover 9 genres of drumming
Ability to modify kit through the use of MIDI pads or pedal
Metronome Function
Coaching Function
10 pre-set drum kits
10 play-a-long songs
169 percussion sounds
Metronome
Coaching Function
Sound Quality
Noise Level
Noise of tapping against rubber pads.
Noise of tapping against rubber pads.
Durability
More durable (mesh snare head)
Less durable (rubber snare drum pad)
Space requirement
About 3.3ft x 3.9ft
About 2.2ft x 3.7ft
Inputs
AUX
USB
AUX
MIDI
Outputs
AUX
USB
AUX
MIDI
Price Range
$$$$
$$$
Some useful resources
Or course, this does NOT mean that you have to limit your options to electronic drum kits.
If you are a purist and want a compact acoustic drum kit, here are some popular compact acoustic drum kits, compared:
Tama Cocktail Jam
Ludwig Breakbeats
Tama Club Jam
Pearl Compact Traveler
Traps A400
Floor space required
29" x 17"

737 mm x 432 mm
37" x 30"

940 mm x 762 mm

*without cymbals
45" x 27"

1143 mm x 686 mm

*without cymbals
15" by 30"
 381 mm by 762 mm
*without cymbals
36" x 23"
 915 mm by 585 mm
*without cymbals
Box Dimension
23" x 22" x 22"
23" x 23" x 18"
28" x 22" x 16"
25.4" x 24.8" x 6.8"
30" x 23" x 9"
Weight
30 pounds

13.6 kg
51 pounds

23.1 kg
44 pounds

19.9 kg
18.74 pounds

8.5 kg
55.1 pounds

25 kg
What you get?
- 6"x16"Bass Drum

- 5"x10"Tom Tom

- 5.5"x14"Floor Tom

- 5"x12"Snare Drum

- Kick Pedal

- Cymbals and hardware not included
- 5" x 14" snare drum

- 7" x 10" tom

- 13" x 13" floor tom

- 14" x 16" bass drum

- Cymbals and hardware not included

- 12"x18" Bass Drum

- 7"x10" Tom Tom

- 7"x14" Floor Tom

- 5"x13" Snare Drum

- Cymbals and hardware not included
- Snare drum

- Bass drum

- Rack

- Hardware and cymbals not included

- drums are shell-less
- Snare drum

- 3 tom drums

- Bass drum

- Rack

- Hardware and kick pedals
- Cymbals not included

- drums are shell-less
You can read more about small drum kits here.
Do keep in mind that compact acoustic drum kits tend to be minimalist in nature.
Due to the need to reduce space requirements, most of them would contain fewer drum components.
These are the common components in a compact acoustic drum kit:
1 bass drum
1 snare drum
1 mid tom
1 floor tom
1 hi-hat
1 cymbal
If you'd like an even leaner drum kit, look out for 3 piece drum sets that come with just a bass drum, tom and snare. Or customize your own drum kit by getting the individual components separately.
Compact Bass Drums
For a period of time, companies were launching compact drum kits with narrower bass drums.
These take up lesser area with bass drum tones that vary slightly from full sized bass drums.
Here's a demo of one of such kit – Skinny Small Drum Kit by Sidekick Drums;
Personally, I feel that it adds an interesting flavor to my drumming.
I'll leave it to you to decide if it suits your drumming style.
How Much Space for Full Size Drum Kits?
Full sized drum kits require an average floor space of about 60″ (width) by 48″ (breath)
We refer to full size drum kits designed for adults in this section;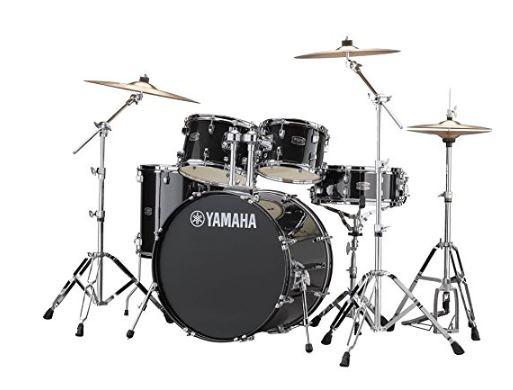 The 60″ by 48″ floor area includes the space required for the drum throne (the seat that the drummer seats on).
If you're a beginner looking for a drum kit, read this compilation of the best beginner drums for some inspiration!
These drum kits typically include:
1 bass drum
1 snare drum
2 tom toms
1 floor tom
1 hi-hat
2 cymbals (ride and crash)
The size average provided here applies to both acoustic drum kits and electronic drum kits.
If you're in the market for a quieter option, an affordable full size electronic drum kit is the Alesis Nitro: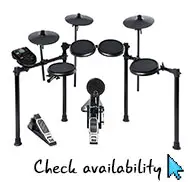 You can read our thoughts about the Alesis Nitro here as well.
Standard Drum Kit Footprint
Before we move on, here's a quick note!
Although there are several types of drum kits available for your consideration, you really should be assuming that the standard drum kit footprint is about 60″ by 48″ (152 cm by 122 cm).
This average floor space would allow you to fit most drum kits (except for the expanded ones). If you end up with a compact kit or a junior kit, this also ensures that you have extra leg space for the drummer to move around comfortably.
How Much Space for Kids / Junior Drum Kits?
Junior drum kits tend to take up an average of 38″ by 35″ area, including the drum throne.
Junior drum kits are usually designed for children between 3 to 10 years old.
They are very cute and tiny drum kits.
As their name suggests, these are designed for kids and hence are generally smaller and shorter.
Another characteristic of junior drum kits is that they ain't the best sounding drum kits out there. By hey, that's why they are so cheap affordable.
If you are full size adult, don't attempt to play on these kits. You might end up with a backache over time.
Here are some popular junior drum kits:
*The Roland TD-1K is an exception. It works well for both kids and adults thanks to the design of its hardware. You're able to adjust the Roland TD-1K according to the drummer's needs.
How much space for Expanded drum kits?
The average floor space that a double bass drum kit takes up is about 88″ (width) by 48″(depth)
But really, no one knows the average size of expanded drum kits.
I mean, the sky's the limit.
If you have 4 feet, or can control 2 sets of drum pedals, you could create a beast of a drum kit with 4 different bass drums!
Soooo…when aspiring drummers tell us that they don't have space for a drum.
We often wonder if they are jumping the gun and lusting for an expanded drum kit.
Or maybe this:
Although most expanded drum kits are usually built through the accumulation of various drum components over the years, here's an example drum kit that you can actually buy: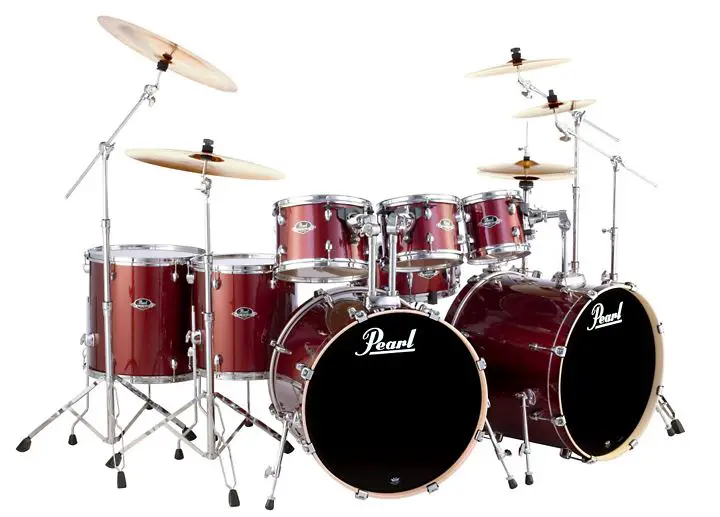 You can find out more at Musician's Friend or Sweetwater, its quite the beast.
Now, if you are restricted by a small space, this is definitely not the best option for you.
Plus, you may start noticing your neighbors avoiding you or giving you the death stare everything you bump into them along the common corridors.
If its your dream to own a large drum kit, you'll probably need to plan for a dedicated music room with effective soundproofing instead.
Major considerations to determining floor space for your drum set
Our role at Drumming Basics is to encourage you to start picking up those drum sticks that you've always been dreaming about.
And now that you have a rough guide to the amount of floor space for a drum set, you'd probably agree that it is quite possible to own your very own drum kit at home.
Right?
Before you jump right in to agree or disagree with me, let's be forthcoming about drum ownership.
Let's look at the 3 major considerations to make before you buy that drum kit.
1 – How much space do you have?
Before you even start shopping around for a drum set, always measure the amount of space you can afford to cater for your drum kit.
For most drummers, the area that you can space is highly depending on your living space.
So, step 1 is always to determine the amount of space you really have, in exact measurements.
Side note
There are hobby drummers who can afford to dedicate their entire garage to their drums.
This means that they are open to the widest options when it comes to their drum kits.
Heck, if their garage is large enough, they could even afford to have a drum set that features double bass drums.
Although that may be the dream of some drummers, most of us just want a functional drum set that allows us to play and practice at our own convenience.
If you have limited space (like me), you'll probably want to look at compact drum kits or even electronic drum sets that generally take up lesser floor space.
If you allow yourself to start exploring compact drum kits, you'll start to realized that most of them pack a punch, despite their smaller sizes.
Of course there would be downsides to these drum kits….
2 – What is your ideal drum kit?
Some drummers have an ideal drum kit in mind.
If that is you, then here are 3 things you'll definitely need to consider.
Size of drum kit
Do you desire to own an expanded drum kit with loads of hardware and drums?
Or would you be satisfied with a functional drum kit…at least for now, in your current situation.
If you are living in a small space, you might want to check out our compilation of small drum kit for adults.
While you are here, you might also want to read up on how to soundproof your room as that is the 2nd most troublesome issue that drummers living in small spaces face.
After all, it doesn't really pay to piss off your neighbors.
Sound profile of your ideal drum kit
If you have some experience with drumming and have an ideal sound profile that you're gunning for, you'll need to take a look at the dimensions of the drum kit that can produce those sounds.
Smaller acoustic drum kits might not be able to produce the exact type of sound profile that you want.
If you have access to a local music store, get to know the staff there and try out the drum kits before you purchase any.
Electronic drum kits vs Acoustic drum kits
Conversely, if you want a versatile drum kit that could provide you with a wider range of sounds, do consider electronic drum kits.
Electronic drum kits usually come with a range of drum presets that let you drum to different genre of music. Some even come with the option to customize and input your own sound files that can be triggered via various drum pads on your kit.
There really isn't any limit to that music that you can create.
Of course, I'm not saying that acoustic drum kits are lousy. They provide the best playing experience and feedback for the drummer. The downside is that you're usually stuck with a single sound profile, and to modify your drum kit, you'll need to purchase additional gear.
Really not my choice of drum kit when living in a small space. Just thinking about the different snare drums I had to store separately brought back nightmares. I had to let out so many of them previously, it was heartbreaking…
If you want to explore electronic drum kits, you might find this article on the best e-drums rather useful.
3 – Accessories
This is a curse that most drummers can't seem to escape from, even if you're using an electronic drum kit.
Overtime, you'll notice that you have bunch of accessories (drumsticks, metronomes, drum heads, muffling devices, stick bags, etc).
I just can't help myself really.
If you notice the same trend, you'll probably need to dedicate space to store these accessories.
I usually have a storage space just next to my drum kit.
These really adds up to the total floor space you'd need!
So it'll be useful to keep that at the back of your mind.
Conclusion
I hope that you've been convinced that you do not need a huge amount of space to actually own a drum set.
Really!
All it takes is some research (which we have done for you here, refer to the table!) and some planning to fit a drum kit at your home, comfortably!
So, bookmark this guide and tell anyone who thinks that drums take too much space to read it.
Finally, stop using 'space' as an excuse to procrastinate on learning the drums.