If all you're doing are rudiments, basic fills or even repetitive counting of beats, anyone would get bored of the drums real quick.
That's where drumless tracks come in!
What are Drumless Tracks for practice?
Drumless Track are music recordings without the drums – the drums have either been EQ-ed out or in higher quality tracks, the music is recorded without the drums. They are also known as 'minus drums' tracks, 'playalong tracks' for drummers or 'backing tracks'.
Drumless tracks allow you to play along to your favorite pieces of music and add the drum portion in yourself which can add so much more to your drum practice.
You can jam along with them on acoustic drums or electronic drumkits easily, with no issues. If you're on e-drums, you could even feed the drumless track into your drum brain and jam along with your headphones.
What can you train with Drumless Tracks?
It's not all about fun, drumless tracks are great for practice because you'll get to train your:
timing
sense of rhythm
creativity – you get to explore freestyle fills
musical sense – depending on the genre of drumless track you use.
Try to end each drum practice by jamming to a drumless track! You'll find that the session becomes so much more fun, plus you get to work on your essential musical skills too.
Best Drumless Tracks (Free)
If you're a new drummer or just started learning to jam alongside other instruments, start giving it a go with some free drumless tracks or backing tracks!
p.s. it may be a little difficult if you're just starting out, try to look for slower or simpler songs like The Beatles' Let it be:
If you prefer something more 'recent', try picking something in the pop music genre 😏.
Over the years, many free drumless tracks resources have either disappeared or converted into sub-par paid resources. So, if you're not sure where to start, I've done the research for you.
Here are all the resources that are still legit free (at the point of writing):
5 places to find Free Drumless Tracks
This website provides a good range of drumless tracks to choose from. Their music library is still be updated at the point of writing.
It is also worth noting that they offer backing tracks for other instruments like guitar, bass, piano and vocals.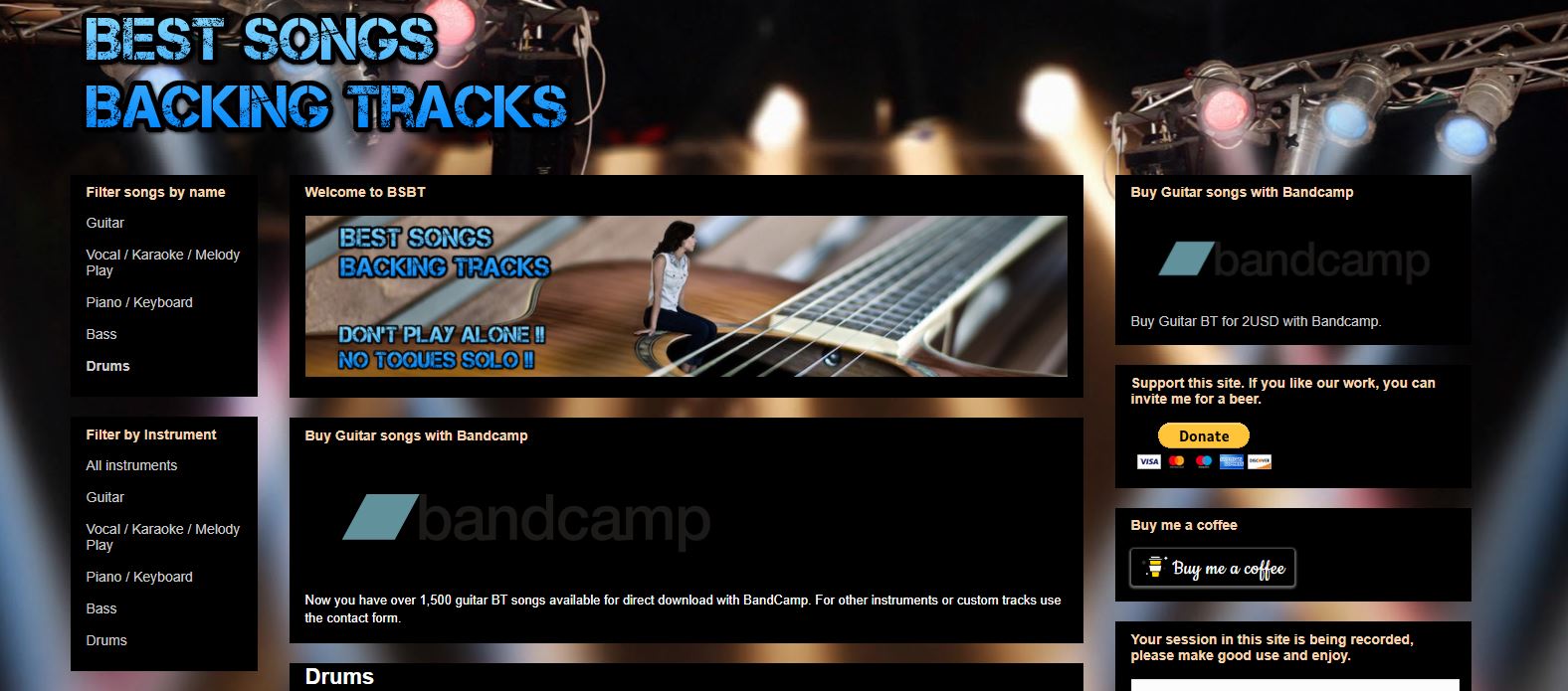 All of their videos are hosted on YouTube. If you find yourself improving using their videos, consider donating so that they remain alive!
Drumeo is a drumming education provider. They provide a range of drumless tracks in different genres, some of them come with a useful click too.
I find the version with the click particularly useful.
For tracks without clicks, just use a metronome while you're drumming along.
Vic Firth need little introduction. They publish drumming guides and play-alongs as well.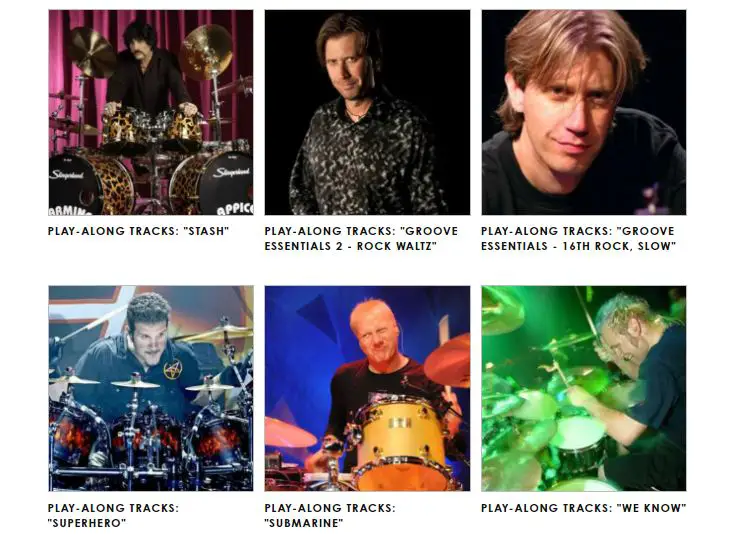 You can get excerpts from their official publications (paid) via the link above. Although these are just excerpts, there is a pretty good range across different music genres.
Some of the tracks are rather long (~4min) and come with free companion notation guides. Definitely useful, even as a taster.
A music streaming service, you can find playlists of drumless tracks put together by fellow drummers.
I'm rather impressed by the range and quality of drumless tracks with and without clicks on there. Some even come with varying tempo which makes it easier to learn a new song!
Here's an example of a playlist you may find useful:
Simply search within the Spotify app or website for more.
There are drumless tracks of timeless classics like 'Don't look back in anger' by Oasis, however, you may not be able to find drumless tracks of latest songs on Spotify.
YouTube
Nope, I did not forget the YouTube.
One of the biggest video resources on the internet, you'll be able to find some drumless tracks on YouTube without a doubt. Simply search for your desired track on the platform.
Availability and quality of drumless tracks may vary on YouTube. However, an advantage of YouTube is that they're likely to have drumming guides or tutorials to the latest songs.
Here're some drumless track YouTube channels you can start from:
Quist
Not saying that you have to drum to this for an hour. But if you're looking to train your creativity on the drum kit, Quist has some good drumless tracks for practice.
If you're looking for drumless backing tracks by music genre, go to Drumless Backing Track's channel for a good sized database that's still being updated: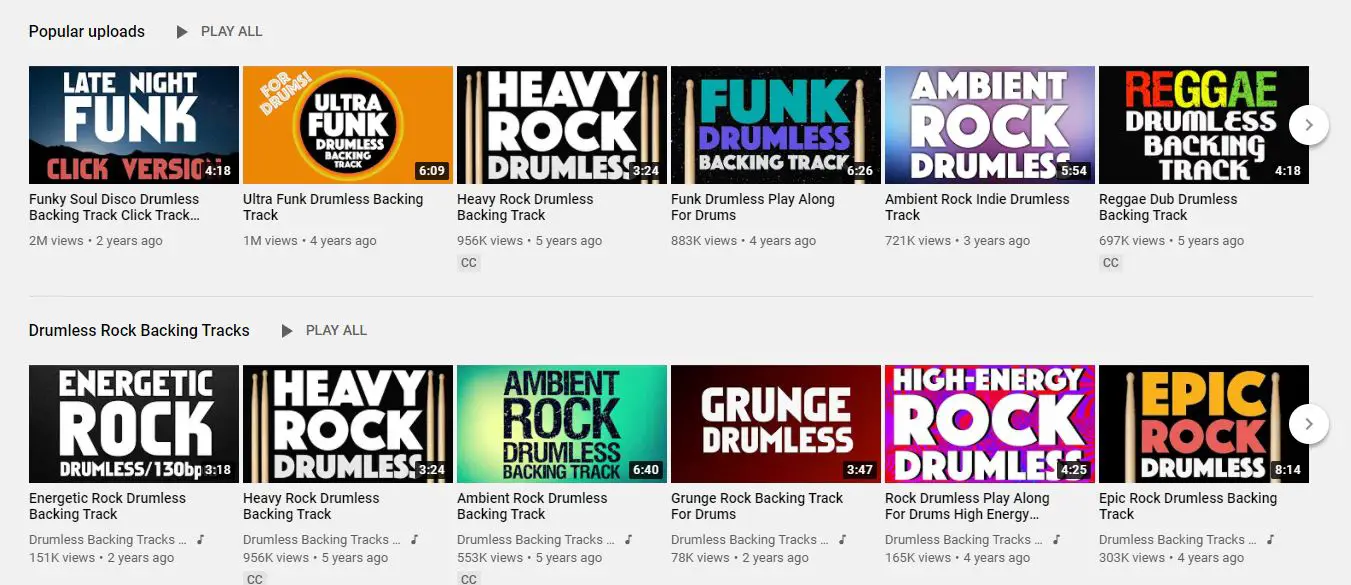 If the above are not enough, drumless practice loops has more! However, they don't seem as active at the point of writing.

Best Drumless Tracks (Paid)
Free drumless tracks are great for practice.
But if you're looking for drumless tracks to record covers, need a backing track to a latest song, or just want something of higher quality, often times you'll need to pay for them.
The paid versions are really not too expensive, they are about $3 on average depending on the sources and the copyrights involved.
Here are:
5 places to find High Quality Drumless Tracks
If you're looking to do covers or to play along to the latest song that's been on repeat in your head, this is your best bet.
Karaoke Version is one of the most versatile sources of backing tracks with a great range of selection from pop music to jazz.
Best part? You can customise the backing tracks which is especially useful if your band wants to practice a certain song: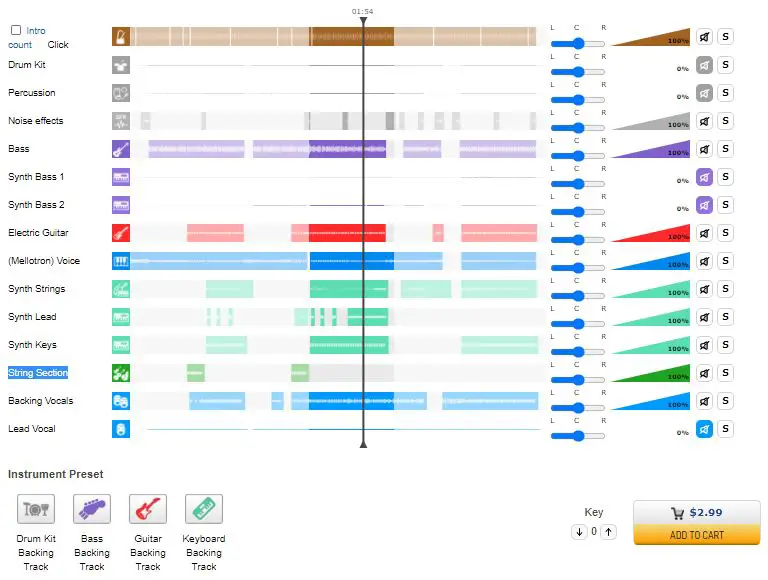 This is suitable for drummers who are looking for drumless tracks for practice.
One of the largest publication houses in the music industry, you can find a good range of drumless tracks packs offered on Hal Leonard's website:

You can browse their playalong tracks by genre or by bands, they offer tracks from the greats like QUEEN and Nirvana.
You can be sure that you'll be getting some high quality drumless track at Hal Leonard. Unfortunately, their range may not be very up to date. (i.e. if you're a pop music drummer or are into the latest rock bands, this may not be the best place for you).
Side note, they do offer some pretty reliable drumming guides too.
Also suitable for drummers who are looking for drumless tracks for practice.
Hudson Music is another major music education resource publisher. They offer a range of play-along tracks based on music genres. You get both the drumless track and a reference track with drums in each pack, along with transcriptions for about $2 (at the point of writing):
This is one of the more affordable source of high quality guided drumless tracks that are great for new drummers.
If you're looking to improve fast in a specific genre, this is a good place to start.
If you want to drum to a familiar drumless track of a song but also want the option to have a reference just to compare your version with the original, this website offers songs that have been 'split' into the left and right channels:
If you're looking for well known, older music pieces, you may find them here. The library isn't very up to date, but each track is just $1.99.
Although they used an image of headphones, I find these tracks more useful if you're listening to the tracks via earphones instead. You can choose to have either one on while you're drumming.
If you're looking for drumless tracks based on your preferred music genres, you can get also drumless track packs from Orlando Drummer:
These are great for freestyle practice.
Conclusion
Drumming practice doesn't have to be boring and repetitive!
Throw in some practice time and jam away to drumless tracks. You'll notice an improvement in your sense of timing, rhythm and most importantly, creativity on the drum kit. Definitely useful if you plan to play with a band in the future.
Whether you're looking to add some fun your drumming practice, to kill boredom or to create cover videos, I hope the resources to find drumless tracks shared above were useful.