Itching to learn to drum but don't want to jump right into getting a drum kit?
You can start building the fundamentals with a good drum practice pad too.
Vic Firth Drum Practice Pad
I've looked through major music stores like Sweetwater and Musician's Friend, and asked for the opinions of several drummers I know, and the Vic Firth 6 inch Drum Practice Pad turned out to be the best option for me.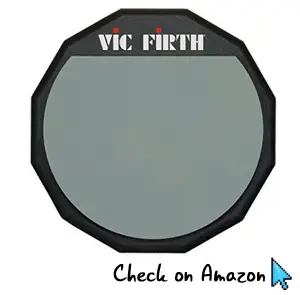 | Size | Mobility | Similar surface to real kit | Value for Money |
| --- | --- | --- | --- |
| | | | |
| | | | |
Pros
Cons

Great Rebounce
Small, Easy to carry around
Relatively Quiet
No set up required
Easy to store and maintain
Good value for money

Smaller playing area might need some getting used to
As I was researching about drum practice pads, there were several key requirements that stood out to me:
Does the drum practice pad surface feel like the original drum heads?
Is it easy to carry around?
Is it easy to set up and store for quick practice sessions?
Is it easy to maintain?
Is it value for money?
This was the 5 point checklist that I had ask myself when I was looking for a drum practice pad.
(this was before I had known of the Drumeo P4 practice pad)
What I liked about the Vic Firth Practice Pad
1) Good Rebounce for great practice and playing experience
Although it might not be as similar to real drumheads, the Vic Firth 6 inch practice pad has a soft rubber surface that provides a great bounce when you are playing.
Here's a short video to hopefully give you an idea of the bounce and feel of the drum practice pad.
You will also notice that it is relatively silent (when played at controlled strength levels)
This is the view from the side. The padding looks thick and is rather hard, giving a good rebound when hitting with a drum stick.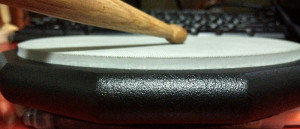 It does provides relatively more rebound that a regular drum head does, but it is perfect for picking up sticking techniques that requires you to use the rebounce.
2) You can achieve a similar setup to a real drum kit
You can also chose to mount it onto a cymbal stand using the 8mm mounting thread located below the practice pad:
This way, you can seat on your throne and practice on the Vic Firth Practice Pad.
Just add a practice cymbal or hi hat to get a better practice experience:
3) (Relatively) Silent
The soft rubber playing surface also provides a relatively quiet playing experience.
You can practice in your apartment without worrying about disturbing the neighbours.
Especially useful if you have the urge to drum at midnight.
4) Great portability
At 6 inches, this drum pad can easily fit into my backpack along with my sticks.
Plus, it's only 1.1 pounds (~500g) and isn't significantly heavy in my backpack. Hence it is relatively easy to carry around.
5) Fast set up, best option for small spaces
If you are restricted to a small space to practice, this size is perfect too.
The full dimensions of the Vic Firth Drum Practice Pad is: 8.2 x 7.1 x 1 inches (about 21 x 18 x 2.5 cm)
It is about half the size of my (computer) keyboard. I find myself slipping in extra sessions in between work, when I am bored.
All I need to do is to shift the keyboard aside and place the Vic Firth Practice Pad in front of me.
The practice pad comes with a non slip rubber base that will also muffle sounds too.
Just make sure your posture is right while you are practicing on the drum practice pad!
6) No fuss maintenance
The Vic Firth Drum Practice Pad features rubber surfaces.
If it ever gets dirty, all you need to do is to use a damp cloth to wipe it.
Then let it dry at room temperature.
1 Issue I Faced With the Vic Firth Practice Pad
1) Might be a tad too small
I choose portability over size.
And the 6 inch practice pad space does take a while to get used to.
In the beginning, my sticks would hit each other while I was practicing on the practice pad.
But I've also noticed that this only occurs when my arm positions were awkward. Maybe it's a good way to correct my drumming posture. 😛
Do pick a suitable sized practice pad based on the space you have to practice.
Last words
If you have tried any of the methods in my previous article on the 'Alternatives to a Drum Practice Pad', you would experience the same degree of appreciation I have for an actual drum practice pad.
The bounce and rebound of the sticks on the surface of the Vic Firth Drum Practice Pad beats all the other alternatives I could think off.
How I practice
I tend to simple place the practice pad on my table.
NOTE: I find it more comfortable to practice on the practice pad when it is placed on a sturdy surface. Placing it on the bed causes the drum pad to shift as I practiced.
I will share some of the key pointers to note when practicing on a drum pad in the next post! Till then, happy drumming!