Your wonder child has been showing signs of being a rhythmic genius.
It's time!
To finally give them the ability to nurture their inborn musical talent.
A cajon is a great instrument to start with.
It's practically fool proof and doesn't require much lessons for anyone to start playing.
But, how do you choose a suitable cajon for your child?
Here, we'll share our recommended process as well as 5 features that you want to look out for when shopping for a cajon for children.
How to Choose a Cajon for Children?
Although it may seem to be intimidating for one who has no experience with cajons, we'd assure you that choosing a cajon for children is actually relatively simpler than getting one for an adult.
Why?
Simply because you have less choices.
If you drop in to any general music store, you'd probably be lucky if they had ready stock of children cajons.
Hence, if convenience is key for you, you'll probably want to purchase the children cajon online or give your local music store a ring before you head over to shop for a cajon.
We use a simple 3 steps process to choose a cajon for children;
Identify the suitable size
Check the specifications of the cajon
Determine if it is within your budget
These three steps are mentioned in greater detail next:
5 features to consider when you choose a cajon for children
If you're not sure where to start, we'd say you'll only need to look at these 5 features. So, let's get into it:
1) Size
When buying a cajon for a child, you'll want to determine the height of the child you have in mind.
And check if the child has been experience growth spurts recently.
To play the cajon, the player will need to be able to seat on the cajon comfortably, with their feet touching the ground.
Hence, knowing the height of the child will give you an idea of a suitable size to go for when shopping for the cajon.
Most full sized cajons are built for adults. So, if the child is relatively taller, you might want to consider an adult cajon so that they don't grow out of it too quickly.
Otherwise, for a child, you'll generally want to look for a cajon that is 15 inches or shorter.
Ideally, you should measure the height between your child's feet and the chair for an accurate dimension.
Design
On top of considering the size, you might want to shop around for cajons specially designed for children.
An example of such design that caught our eyes is Stagg's Kids Cajon with EasyGo Backrest: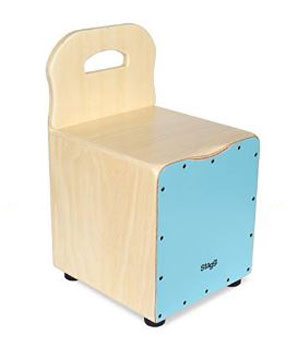 The cajon can be played by lifting the front legs off the ground slightly.
This allows the player to reduce stress on his back and to be able to hit different parts of the cajon with ease.
This Stagg's Kids cajon comes with a backrest that will help your child to master the right cajon playing technique, safely.
Check out the Stagg's Kids cajon with EasyGo Backrest on Amazon now
With the backrest, there is less chance for your child to fall off the cajon.
The edges of this cajon is also rounded for ergonomics.
2) Sound
Given the fact that you'll be the one who will have to listen to your child jamming on their cajon, it makes great sense to choose a cajon that sounds relatively good.
You might want to get a cajon with removable snare wires too.
This will give you the option to remove the snare ring if it becomes too unbearable.
You can read our Best Wood for Cajon guide for a quick introduction to the different types of wood and how they sound.
3) Ease of Set up & Tuning
Depending on your needs, you might want to build a cajon from scratch with your child.
In that case, you can opt for DIY cajon kits that provide you with everything you need to build your own cajon.
However in most cases, you'll want a fuss free cajon that doesn't require any set up.
All you have to do is to make fine tuning adjustments depending on how the cajon sounds.
Here are some general cajon tuning tips that you might find useful:

Video from Keith Lawlor
On most cajons, you can adjust how much 'crack' you get from the cajon by tightening or loosening the screws at the top of the cajon frontplate.
4) Price
Let's face it.
Your child will outgrow their children cajon in time.
Hence, although you want a strong and durable cajon, you'll also want to find a cajon that is value for money.
5) Functions [Optional]
In our opinion, any additional functions on a children cajon is optional since your child will most likely grow out of it.
Reserve the cool functions for when they are getting their own full sized adult cajon instead.
Conclusion
Cajon are great instruments for the child who likes making music with his hands.
If you do not have any prior experience with a cajon, we hope our tips above will help you out when you are choosing a cajon for children.
We have also researched different cajon based on the needs of the player.
You can explore more cajons through those articles: