Cajons are built to be stable and can handle quite a bit of weight. Worried about how much weight can a cajon hold? Well, for good gauge, if you can sit on a regular chair without any worries, you can sit on a cajon safely.
A cajon is a portable drum that has garnered quite a following in the recent years thanks to its versatility and portability. It has also gain popularity as an alternative small drum for adults or for acoustic covers.
I've wrote about the best cajon for beginners previously, you can check out the Meinl Cafe Snare Cajon:
Strength of a cajon
As mentioned above, cajons are built to be stable. Most wooden cajons are made using wood that's been layered together, for additional strength – Birch wood being the most common (and most affordable).
There are cajons made of more exotic woods like Rosewood or Mahogany. Exotic woods used for cajons tend to strong and to produce sounds of a very distinct characteristics. For example, indian rosewood has a crushing strength of 8660 lbf/in2 which means it can handle about 8,660 pounds per square feet, before it starts to break!
Choosing a Cajon
Even if you're larger than average, you should still be able to play most cajons. A good guide is that if you can sit comfortably on a stool or chair (those found in public areas), you don't have to worry.
Instead of worrying about how much weight can a Cajon hold, you'll want to pick a cajon based on the following:
your budget: always spend within your budget!
size of the cajon: if you're relatively tall, you may want to find a cajon that is larger and taller, that way you can minimise back aches from long hours of practice.
Comfort: most cajon players will be sitting on their instrument, you should choose a cajon that is comfortable for you to sit on for as long as you plan to be playing it.
sound characteristics: depending on the wood used to build the cajon and how the cajon is built, each model has a slightly different sound characteristic, which brings us to the next point…
Give it a 'test drive'
Despite the advancements in technology, written reviews and even videos may not give you the full experience of the cajon.
It is best to head to your nearest drum store or music store to test out various models before you decide on one.
Do you have to sit on a Cajon?
Short answer: No.
Most cajon players would sit on their cajons as it would give them maximum access to the tapa while they are performing.
However, a cajon can also be used as an additional instrument activated using a pedal. There are many commercially available pedals built for the cajon: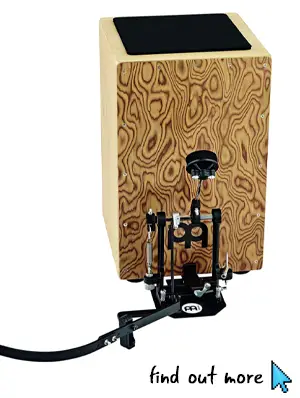 Hence, you can still play the cajon without sitting on it. With a good pedal / kick technique, you could even closely mimic the cajon bass roll. However, you will not be able to carry out other advanced techniques like the foot slide.
Heck, there are even double pedals available for the cajon these days. You can replicate this entire set up without sitting on the cajon itself, if you choose to:
Conclusion
A cajon can handle as much weight as a regular stool. A standard computer chair is said to be able to hold about 250 pounds. You really shouldn't need to worry if you can sit on a regular chair with no problems.
Rather than worrying about a cajon's load, you may want to select a cajon based on your musical needs and budget instead.